Hackers Director Talks About Why They Portrayed The Internet That Way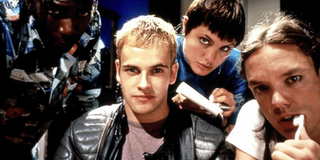 When Hackers was released 25 years ago, cinephiles probably could not have predicted how much of our lives would eventually revolve around the internet. While the movie may look a bit dated, the themes it addresses -- like the way things that happen online can have real-world implications -- still feel pretty relevant today. And it turns out Hackers' director had a very specific reason for portraying the internet the way he did.
Iain Softley was one of many movie directors who tried to tackle the impact of the internet in the mid-1990s. Though Hackers is, in many ways, very much a product of its time, it has amassed a bit of a cult following in the two and a half decades since it first hit theaters. Though it stars future A-lister Angelina Jolie, as well as her future-former husband Jonny Lee Miller, Laurence Mason, and '90s stalwart Matthew Lillard, it also draws fans in with its over-the-top aesthetic. Or maybe it's because it reminds us of a time when the stakes associated with the internet only seemed liked they could get as high as they are today.
The director told Nerdist that he's well aware many of the movie's elements don't quite gel with reality, and there's a reason for that -- the details others hone in on aren't the ones he was focused on:
He also addressed one of Hackers' most memorable pieces -- the way it creates an anthropomorphized version of the internet:
According to Iain Softley, bringing the City of Text to life was a logistical challenge but one that helped him fully realize his vision:
Hackers definitely didn't get everything about the internet right. But the way it made us think about the world wide web can't be discounted. Today, in some ways, it's harder than ever to separate what happens online with what happens in real life. So even if the effects and aesthetic were a little off base, maybe he was onto something after all.
Your Daily Blend of Entertainment News
Thank you for signing up to CinemaBlend. You will receive a verification email shortly.
There was a problem. Please refresh the page and try again.