CBS' Elementary Cast: What Lucy Liu, Jonny Lee Miller And Other Stars Are Doing Next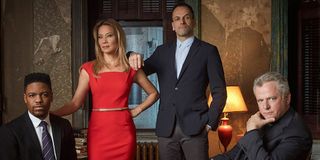 (Image credit: Photo courtesy of CBS)
Elementary has been a popular CBS show both domestically and internationally and it has been a great vehicle for keeping cast members like Lucy Liu and Jonny Lee Miller on our minds each and every week. Yet all good things must come to an end and that was true of Elementary earlier this summer when the modern-day Sherlock Holmes story finally wrapped things up.
This has left a bit of a hole in CBS' schedule, but on the bright side it means that Elementary's cast can look forward to some new and unique projects, of which their schedules are already being filled. So, if you're wondering what Lucy Liu and others have coming up, we've done the sleuthing for you, Sherlock Holmes-style. Take a look at what the main cast members are doing next.
Lucy Liu (Joan Watson)
Elementary has always been big on its detective consultant partnership and Joan Watson – a gender-flipped version of Dr. John H. Watson—has been a major part of the show from Episode 1. Following the CBS gig, Lucy Liu's Joan Watson will be sticking with the Eye Network… sort of.
Lucy Liu is next set to star in Why Women Kill, a brand new series heading to CBS All Access. In it, Liu will play Simone Grove, a socialite living in Pasadena during the 1980s. The series will span multiple decades and will show women who are driven to kill. If that's not enough to interest you (and c'mon it sounds great) it also stars Ginnifer Goodwin (Once Upon A Time, Big Love) and Kirby Howell-Baptiste (House of Lies, Veronica Mars).
I sort of like that the former Joan Watson, an actress who played a character used to solving murders, will commit at least one murder in this new series. Lucy Liu also has movies like Stage Mother and The Last Weekend In May coming up.
Jonny Lee Miller (Sherlock Holmes)
The other half of Elementary's dynamic duo was played by Jonny Lee Miller throughout the show's run. The actor was able to do some work while Elementary was still running on CBS, including T2 Trainspotting. However, the bulk of his has been in Elementary in recent years, although a fun fact about Miller is that he trains and fights in Muay Thai.
Coming up, Jonny Lee Miller has the movie Nine Lives, which will also star Hell on Wheels actor Common. The movie will be based on an Ursula K. Le Guin novel.
Aidan Quinn (Captain Thomas Gregson)
Aidan Quinn, previously of Prime Suspect and a slew of movies, has featured majorly in Elementary over the years. His character Captain Thomas Gregson came into the final season with his fate hanging in the balance after being shot, but he pulled through and re-took over the mantle of Captain before the show bowed in August of 2019.
Next up, Aidan Quinn has lots of movies coming up. Butterfly in Typewriter is one, but he'll also play historical figures in two separate projects. In The American Guest mini-series, he'll play Theodore Roosevelt. Then, in The Gettysburg Address, Aidan Quinn will voice Theodore Parker, an American Abolitionist who would later inspire some of Abraham Lincoln's famous speeches.
Finally, we recently learned Aidan Quinn will appear in the indie flick Spiked. In it, the former Elementary star will star in a plot about former Arizona newspaper publisher Joseph Soldwedel.
Jon Michael Hill (Detective Marcus Bell)
Jon Michael Hill had big roles in Detroit 1-8-7 and Eastbound & Down before landing an even more major gig on Elementary. During his time on the CBS show, he was able to take some side gigs in movies, including a memorable turn in last year's Widows.
Unlike the other actors on Elementary, Jon Michael Hill has moved on to True West, a Sam Shephard play being performed in Chicago at the Steppenwolf Theater. Performances run through the end of the summer. Hill did earn a Tony Award in 2010 for Superior Donuts and has previously said theater is his "first and last love," although he's also said of Marcus Bell:
We can't wait to see what's next for the actor.
Jordan Gelber (Dr. Eugene Hawes)
Another big theater buff, Jordan Gelber was on Elementary as the medical examiner in New York City who often worked with Sherlock, Marcus and Joan. A recurring character, Eugene Hawes first appeared in Elementary in 2013.
Over the summer, Jordan Gelber performed in a MUNY version of Guys and Dolls in St. Louis' famous outdoor theater, which hit its 100th season this year. Next up, the actor will be involved with the development of Broadway Vacation, a musical take on the National Lampoon Vacation series. So, catch Dr. Eugene on the stage and not in a medical coat.
John Noble (Mr. Morland Holmes)
Another recurring figure in the world of Elementary, the CBS series was lucky to land John Noble as the father of Sherlock Holmes. The man only popped up in one episode in 2019, but the cool thing about Sherlock's dad is that he was always a presence in Sherlock's life and on the show, generally somewhat antagonistically, through most episode. So you never really forget about Morland.
John Noble is a busy guy. You probably know him from Fringe or Sleepy Hollow, but coming up he also has the films Call Waiting, Nameless and Guardians of Luna. He has a few other rumored gigs as well, and we can't wait to see how those pan out.
Ophelia Lovibond (Kitty Winter)
Ophelia Lovibond has been in oodles and gobs of notable projects. She's dipped her toes in the MCU as Carina Tivan. She's perfect for musical biopics, or seems to be given she's appeared in the likes of Nowhere Boy and Rocketman. And of course, she played Sherlock's protégé in Elementary, even popping in during the final season of the CBS drama.
Next up, Lovibond has a gig in the flick Timmy Failure. Unfortunately, due to being killed by the power stone, we're unlikely to see her back in the MCU. Still, I can't wait to see what she does next.
There are other people who were recurring on Elementary over the years, including James Frain as Sherlock Holmes' nemesis Odin Reichenbach, Rhys Ifans as Sherlock's famous brother Mycroft Holmes, Ato Essandoh as Alfredo, the guy who helped keep Sherlock's sobriety in check, and of course, Natalie Dormer as the wonderfully twisted Jamie Moriarty.
Those people often have regular acting gigs and are on the show a little less often than the ones listed above. Suffice to say, they are making some big moves in the acting world as well.
Reality TV fan with a pinch of Disney fairy dust thrown in. Theme park junkie. If you've created a rom-com I've probably watched it.
Your Daily Blend of Entertainment News
Thank you for signing up to CinemaBlend. You will receive a verification email shortly.
There was a problem. Please refresh the page and try again.