9 Quick Things We Know About Halloween Kills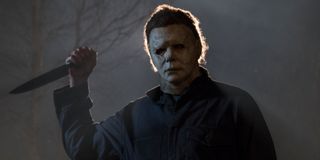 The Halloween franchise has been one of the most influential and prominent forces in the horror since John Carpenter's 1978 classic reinvented the slasher genre with the introduction of the unstoppable force that is Michael Myers. More than 40 years and 10 movies later, the story of Laurie Strode and her family being terrorized by the silent and deadly killer in the small town of Haddonfield, Illinois, a story that will soon continue with the upcoming Halloween Kills.
The film, which sees the return of director David Gordon Green, and most of the principal cast from 2018's Halloween, was originally scheduled for an October 16, 2020 release, but we won't be seeing it for quite some time. So, while we get ready to wait another year before we see how things shake out between Michael Myers and Laurie Strode, here are nine quick things to know about Halloween Kills.
After A Yearlong Delay, Halloween Kills Will Be Released In October 2021
As mentioned up above, Halloween Kills, the second entry in a new trilogy that serves as a continuation of the original Halloween, was supposed to be released in October 2020, but with the COVID-19 pandemic shutting down productions and preventing theaters from opening at full capacity (or opening at all in some cases), the release has been delayed. And according to the first teaser that was dropped in July, it looks like slasher fans will have to wait until October 15, 2021 to see how the second chapter plays out.
Halloween Kills Will Pick Up Where The 2018 Movie Left Off
Anyone who has watched the brief teaser attached to the new release date knows that Halloween Kills will pick up right where 2018's Halloween left off with Laurie Strode (Jamie Lee Curtis), Karen Nelson (Judy Greer), and Allyson Nelson (Andi Matichak) fleeing from Strode's burning house. And according to a 2020 conversation that co-writer Danny McBride had with Empire, the upcoming sequel will in fact take place on the same night as the previous entry in the franchise, stating that it picks up where the last movie ended.
The Upcoming Sequel Is A Bigger, Badder, And Meaner Version Of Halloween
In April 2020, months before the release of Halloween Kills was officially rescheduled, co-writer Scott Teems spoke with MovieWeb and told the publication that not only had he seen a rough cut of the slasher, but that it was like a bigger, badder, and meaner version of 2018's Halloween. Teems also explained that people who liked that movie will be excited to see how the 2021 horror film plays out. And if you go off Teems' words then Halloween Kills sounds like it's going to be one of the most insane horror movies to come out in recent years.
The Story Will Primarily Focus On Allyson Nelson And How Halloween Changed Her
At the beginning of Halloween, Allyson Nelson is a typical teenage girl, but by the time she, her mom, and grandma "kill" Michael Myers, her innocence is all but gone. And it appears Halloween Kills will continue down that path for the younger Strode girl, as Judy Greer explained in a conversation with Total Film (via TheHorrorDude_ on Twitter). According to Greer, Allyson's character is completely changed from what happened in the previous movie and will be leading the charge, much like her on-screen grandmother in previous entries, as she sets out to take on Michael Myers.
Halloween Kills Will 'Unpack' The 1978 Classic
In addition to picking up where 2018's Halloween left off, next year's Halloween Kills will also continue the story of the multiple characters from John Carpenter's 1978 horror classic. And this is an aspect that star Jamie Lee Curtis is most excited about moving forward. In a 2019 conversation with Collider, Curtis explained that the writing team has really gone back to the original movie and "unpack" the first film and bring back the characters who were most affected by Myers more than 40 years ago.
Anthony Michael Hall Is Portraying A Character From The Original Halloween
Tommy Doyle, one of the children that Laurie Strode babysits in the original Halloween, is returning to the franchise for the first time since being portrayed by Paul Rudd in the sixth installment, The Curse of Michael Myers, but Ant-Man won't be taking on the role of the grown-up Tommy this time around. Instead, Anthony Michael Hall, the star of films such as National Lampoon's Vacation and The Breakfast Club will be taking over, according to Variety. However, it remains unknown how Tommy will play into the 2021 slasher film.
Kyle Richards Is Returning To Acting For Halloween Kills
It looks like Tommy Doyle won't be the only kid from John Carpenter's Halloween to return for Halloween Kills as Lindsey Wallace, once again being portrayed by Kyle Richards, will play into the story somehow. Richards, who last showed up in the franchise in 1981's Halloween II (archival footage), has spent much of the past 10 years on The Real Housewives of Beverly Hills and various other reality television series and hasn't made a movie appearance since 2014's The Hungover Games. In a 2019 conversation with Us Magazine, Jamie Lee Curtis applauded Richards for returning to acting again.
Halloween Kills Is About The Outrage Of Haddonfield And How The Residents Handle Evil
The relationship between Laurie Strode (and her descendants) and Michael Myers was front and center throughout 2018's Halloween, but according to director David Gordon Green in a 2020 conversation with Total Film, the 2021 followup will be much more expansive. In the interview, Green revealed that the working title of Halloween Kills was Mob Rules and that it will focus on the way the residents of Haddonfield handle their own outrage and the evil that has returned to their once-quiet Illinois town.
One Scene In Halloween Kills Is The Most Violent Thing Jason Blum Has Filmed In Years
Gruesome and explicit death scenes in Halloween movies are nothing new, but director David Gordon Green tweeted in May 2020 (on the Blumhouse Twitter account) that one moment in particular in Halloween Kills is the most violent he's filmed in years.
We still don't know exactly what the director of Stronger, Halloween, and the noted Pineapple Express means by the very cryptic tweet, but it's safe to say that we'll see plenty of violence come October 2021.
It appears that Halloween Kills will be anything and everything anyone has ever wanted in a horror sequel. But with a year and some change until we pick back up with the residents of Haddonfield, Illinois and their most notable residents, a lot can happen. Make sure to check back for the latest information on the 2021 slasher as well as the other great horror movies coming out in the next year here at CinemaBlend.
Philip grew up in Louisiana (not New Orleans) before moving to St. Louis after graduating from Louisiana State University-Shreveport. When he's not writing about movies or television, Philip can be found being chased by his three kids, telling his dogs to stop yelling at the mailman, or yelling about professional wrestling to his wife. If the stars properly align, he will talk about For Love Of The Game being the best baseball movie of all time.
Your Daily Blend of Entertainment News
Thank you for signing up to CinemaBlend. You will receive a verification email shortly.
There was a problem. Please refresh the page and try again.