Gwyneth Paltrow Goes Nude To Celebrate Turning 48 In Her 'Birthday Suit'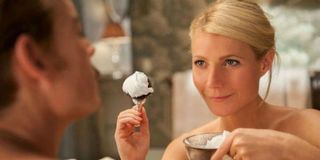 Gwyneth Paltrow has been super active on social media lately, whether that be sharing posts her children have approved of or even spending some time interviewing some other a-listers, such as Cameron Diaz. This week, she tried something new as she was turning 48, however, and went all in on body positivity, going nude to celebrate feeling happy with the way she looks in her forties.
The actress took to Instagram this weekend to celebrate her September 27th birthday (which makes her a Libra, in case that's a point of interest). This year, she turned 48 and she celebrated in her "birthday suit," quite literally. It's safe enough for Instagram, so you don't need to stress out about this one being too NSFW, however.
Many of us probably hope to be able to pull off a photo like that in our late forties. Gwyneth Paltrow actually took the opportunity to promote feeling great with maybe a little help from her Goop brand, which is just all kinds of enterprising and not a terrible advertising strategy. She's not the only actress who has celebrated her body as she's gotten old in recent years, however.
Jennifer Lopez is 51 and still constantly rocking out looks – and exercise routines – women half her age can't pull off. Then, there's Halle Berry, an actress who is still doing crazy stunt work in movies such as John Wick Chapter 3 and who has also shown she is unafraid to show off a little skin on social media. At 54, Berry even has a few more years on Gwyneth Paltrow. I guess what I'm saying is, age is just a number and, body butter or no body butter, Paltrow looks great and will continue to look great down the line.
Lots of Paltrow's celebrity pals or acquaintances also had some positive things to say about her birthday suit post. Courtney Cox called it "inspiring," also noting that Gwyneth Paltrow is "beautiful." Katy Perry and Vanessa Hudgens also commented, with Perry joking "love this low-profile way to celebrate" and Hudgens simply stating "wow."
Meanwhile, Gwyneth Paltrow has generally shown she's unafraid of what people think of her or the projects she is involved in. If she feels something is a good idea for Goop she goes for it, which is how we've even gotten ads where Gwyneth Paltrow has seemed to be standing in the middle of a giant vagina and more. Doubtless, lots of people will likely have thoughts about Gwyneth Paltrow going nude on social media to celebrate looking great at 48, but if I had to guess, she's happy with the photo or she wouldn't have shared it for all the Internet to see this week.
Amazing Race & Top Chef superfan with a pinch of Disney fairy dust thrown in. If you've created a rom-com I've probably watched it.
Your Daily Blend of Entertainment News
Thank you for signing up to CinemaBlend. You will receive a verification email shortly.
There was a problem. Please refresh the page and try again.