5 Black Sci-Fi Writers Whose Books Need To Get Adapted Into Movies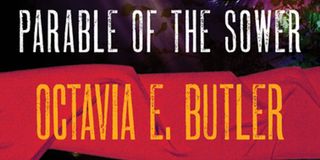 Sci-fi is a very popular genre that's expansive and includes quite a few sub-genres. For example, many superhero movies like Spider-Man: Far From Home would be considered a sub-genre of science fiction. So would Steampunk, so a show like The Legend of Korra technically has some sci-fi elements in it. And with so many different sub-genres of sci-fi, you'll often find a lot of diverse voices involved in the medium when it comes to movies and TV. But not so much when it comes to sci-fi books, which are usually dominated by old, white males. In fact, you could probably count all the prominent Black sci-fi authors, like Octavia Butler and Nnedi Okorafor, on your 10 fingers.
But thankfully, that's been changing a little bit lately. Some of the biggest names in sci-fi right now are Black. Not only that, but a few of their books are coming soon to a TV near you, like Nnedi Okorafor's Who Fears Death, which is coming to HBO, and N.K. Jemisin's Fifth Season, which is still hopefully coming to TNT. But I want to talk about sci-fi books written by Black authors that need to be adapted into movies. Because the more Black sci-fi books that hit the big screen, the more widespread recognition Black sci-fi writers will get. So, with that said, will you step into the future with me?
N.K. Jemisin ("Too Many Yesterdays, Not Enough Tomorrows")
N.K. Jemisin is the only sci-fi writer, IN HISTORY, to have won the Hugo Award three years in a row for her Broken Earth trilogy, which includes The Fifth Season, The Obelisk Gate, and The Stone Sky. And as mentioned earlier, The Fifth Season might be coming to TNT in the future. But N.K. Jemisin is ALSO just as big a fantasy writer as she is a sci-fi writer, as her Inheritance trilogy, which features The Hundred Thousand Kingdoms, The Broken Kingdoms, and The Kingdom of Gods, is probably just as famous as her Broken Earth trilogy. The first book in the series, The Hundred Thousand Kingdoms, was her debut book, and she was awarded the Locus Award for Best First Novel for her stunning tale.
But while N.K. Jemisin is mostly known for her novels, I actually think one of her short stories, "Too Many Yesterdays, Not Enough Tomorrows," which can be found in her collection of short stories, How Long 'til Black Future Month? should be turned into a movie. It's a post-apocalyptic story, but one where the day resets over and over again, and people communicate online all day and never leave their homes. It's kind of like if the isolation of The Social Network met Groundhog's Day, but much, much deeper. It might sound mundane, but it's really introspective and deep like nothing else out in theaters right now.
Steven Barnes (Lion's Blood)
Steven Barnes has a lengthy list of sci-fi, fantasy, and mystery stories to his name. He's written for The Outer Limits (his "A Stitch in Time" episode won an Emmy for actress, Amanda Plummer). If you like Star Wars (and who doesn't?), then he also wrote the tie-in Clone Wars novel The Cestus Deception. He's been nominated for a Hugo Award along with Larry Niven for their novelette, "The Locusts." Oh, and he's married to author, Tananarive Due, who is an established writer in her own right with books like The Between and The Good House. So, yeah. They're a power couple.
And as for his book, Lion's Blood, do you like alternate history stories like Man In The High Castle, as well as the secret world of Wakanda in Black Panther? Well, then put them together, and you kind of have Lion's Blood, which is about Islamic Africa having major technological advancements and the continent of Europe being kind of backward. This would be a cool movie because it deals with a slave revolt, religion, and action. Plus, the Aztecs are involved, so it would be a sci-fi film like no other.
Nnedi Okorafor (Lagoon)
Nigerian-American writer, Nnedi Okorafor actually has a couple projects coming soon. As mentioned up top, her World Fantasy Award-winning novel, Who Fears Death, which is about a wasteland Sudan with light-skinned characters called Naru who rule over the dark-skinned Okeke, will be coming to HBO. And her novella, Binti, which won both the Hugo Award AND the Nebula Award, will be coming to Hulu.
But let's talk about her africanfuturist novel, Lagoon, which should be adapted into a movie ASAP. Lagoon is kind of an alien invasion story, but one where after the violence, the aliens actually work with people to create a new society. There's an alien ambassador, and humans with powers. It has folklore, fantasy, and aliens. What other sci-fi movie can say that?
Samuel R. Delany (Babel-17)
Samuel R. Delany goes back a way, but he's still writing, as his 2012 novel, Through The Valley of The Nest of Spiders, was his most recent book. He's won numerous Nebula Awards and one Hugo Award, and has even written for Wonder Woman. In other words, Samuel R. Delany is a legend.
His Nebula award winning, Babel-17, should be adapted into a movie. It's all about the power of language. Think of it as kind of like an espionage version of Arrival. I mean, could you just imagine that? A sci-fi espionage thriller with language used as a weapon? And not only that, but a poet as the protagonist, who also happens to be Chinese? People are always complaining that Hollywood can't come up with new and exciting ideas, and I agree. That's why they should go back and read old sci-fi novels like Babel-17 from my man Samuel R. Delany, AKA, Chip.
Octavia Butler (Parable Of The Sower)
And last but not least, here's the big one. Octavia E. Butler. Have you ever heard of The MacArthur Foundation "Genius" Grant? Adam Driver's character in Marriage Story received one. It's basically a large amount of money given to somebody so they can pursue what they're best at. Well, Octavia Butler was the first science fiction writer to ever receive one. Another multiple Hugo award winner, she wrote time travel stories (Kindred), vampire stories (Fledgling), and even alien stories, like the oft-called "pregnant man story" Bloodchild.
But it's her most famous work, Parable of the Sower, that should be made into a movie, and it's kind of strange that it hasn't been already. But now would be the perfect time, since it takes place in the 2020s (that's now!), involves climate change (which is happening) and income inequality (was this book written in 1993, or just last week?). And at the heart of it is a character who can feel everybody's pain. This is the story that needs to be told today. So why hasn't it been? That's what I want to know.
Sci-fi will always be popular because it has such a wide umbrella. But next time you want to read something really out there, try one of these books. Who knows, maybe one (or all) of them will be made into a movie one day. Who's to say?
Your Daily Blend of Entertainment News
Rich is a Jersey boy, through and through. He graduated from Rutgers University (Go, R.U.!), and thinks the Garden State is the best state in the country. That said, he'll take Chicago Deep Dish pizza over a New York slice any day of the week. Don't hate. When he's not watching his two kids, he's usually working on a novel, watching vintage movies, or reading some obscure book.
Your Daily Blend of Entertainment News
Thank you for signing up to CinemaBlend. You will receive a verification email shortly.
There was a problem. Please refresh the page and try again.