6 Classic Sci-Fi TV Shows Netflix Should Remake After Lost In Space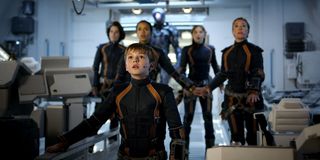 Netflix did what the 1998 theatrical adaptation failed to do: it made Lost in Space cool again. In fact, the streaming service's reboot of the 1960s series is one of the most acclaimed sci-fi TV shows today.
Following the success of Lost in Space, which chronicles the Robinson's struggle to survive on a distant planet, it looks like sci-fi revivals could be Netflix's sweet spot. Black Mirror reignited the anthology series trend pioneered by The Twilight Zone, Stranger Things brought Stephen King-esque horror adventures from a child's point of view back to the mainstream, and it gave Mystery Science Theater 3000 a second chance… before pulling the plug after two seasons.
It makes us wonder which iconic science fiction stories of the small screen should Netflix pick up next. I have six classic properties in mind.
Alien Nation
Science fiction too often gets overlooked for its potential to tell stories with a powerful message that reflects our reality. This series, inspired by the 1988 movie starring James Cann and Mandy Patinkin as cops from other planets thrown together as partners, sees extraterrestrials facing discrimination while attempting to lead a peaceful existence on Earth.
The commentary on immigration that Alien Nation made in its two seasons from 1989-1990, is timelier than ever today, and presenting it through the eyes of otherworldly beings would make the subject all the more fascinating. Plus, it would be a great opportunity for Netflix to try another shot at a fantasy racial allegory that 2017's Bright tried and miserably failed to be.
Knight Rider
Before Baywatch, David Hasselhoff got his big break in 1984 with this cult series about a young crimefighter given a new identity as Michael Knight. His partner is a super-fast, indestructible car fitted with an artificial intelligence known as K.I.T.T., voiced by Mr. Feeny himself, William Daniels.
The problem with Knight Rider is that, as enjoyably cheesy as it is, its cheesiness has a tendency to veer past enjoyable to just plain dumb. A soft reboot in 2008 tried to correct this, and ended up making the Hoff's version look smarter. I believe that, if put in the hands of the right showrunner, Netflix could make this cutting edge concept even edgier.
The Outer Limits
With Jordan Peele's Twilight Zone reboot for CBS All Access and Steven Spielberg's Amazing Stories making a comeback on Apple TV+, it seems that there are enough reboots of sci-fi anthology series out there already. Yet, one that has been overlooked by modern audiences is The Outer Limits, a collection of fascinating one-hour stories framed as a hijacking of your television from another dimension.
The central reason I believe that Netflix should give The Outer Limits a new shot at life among its other bizarre anthologies is that the common trend existing in most of these series is societal and political commentary. I normally adore that, if my mention of Alien Nation is any evidence, but I feel that the genre could use more straightforward, escapist fantasy lately and the The Outer Limits' two season run in the 1960s, and its late '90s reboot, offers just that.
Land Of The Lost
Here is another show that Hollywood tried to give the cinematic treatment to underwhelming effect. Dr. Rick Marshall and his children, Will and Holly, must survive dinosaurs and other creatures after finding themselves thrown into a bizarre world they refer to as the Land of the Lost.
Like the original Lost in Space, Land of the Lost, which ran for three seasons in the mid-to-late 1970s, is known for cheesy special effects that border on comedic despite a relatively earnest execution in the storytelling. The 2009 film adaptation, starring Will Ferrell, went for earnest special effects with cheesy execution in the storytelling that barely passed as comedy. It is clear to me, based on previous successes, that Netflix has the ability craft a reboot that gets both the storytelling and the visual effects right, creating a world that has a lasting, chilling impression on viewers.
Quantum Leap
As far as I can recall, the last thing I have seen that offered a positive outlook on time travel is Avengers: Endgame, while the general consensus in most modern fiction is, essentially, "screw time travel." In the Emmy and Golden Globe-winning series Quantum Leap, the point of time travel was to change the past for the better, but, ironically, against the will of the protagonist.
Dr. Samuel Beckett (Scott Bakula) is cursed to uncontrollably "leap" through time into the body of one stranger after another in order to right the wrongs of the past, aided by his colleague Al (Dean Stockwell) who appears to him in the form of a hologram, hoping that the next leap is the leap home. Bringing back Quantum Leap would give modern audiences a series that show that time travel does not always leave the world screwed up beyond all recognition. On the other hand, reimagining this famously lighthearted show as a dark cautionary tale is an idea that does intrigue me.
Space Cases
On second thought, we do not want Netflix's sci-fi lineup to be completely shrouded in darkness. How about something for younger viewers without the nightmare-inducing visuals of Stranger Things? I think Space Cases, about a group of young students from various planets trapped on a spaceship in deep space, might be the perfect candidate.
Not only does this short-lived Nickelodeon series already have a bit of a Lost in Space for kids vibe to it (which is a good sign), it has the nostalgic appeal to attract grown-up fans from the original's late '90s run. Not to mention, the opportunities for original stars Walter Jones (the original black Power Ranger) and Jewel Staite (also a Firefly alum) to make a cameo is already an exciting enough idea to earn the Netflix green light.
Do you agree that these small screen sci-fi classics serve to be resurrected on Netflix, or should they be left alone? Or do you have a better recommendation? If so, let us know in the comments and be sure to check back for updates on other reboots and bizarre science fiction properties available to stream here on CinemaBlend.
Your Daily Blend of Entertainment News
Jason has been writing since he was able to pick up a washable marker, with which he wrote his debut illustrated children's story, later transitioning to a short-lived comic book series and (very) amateur filmmaking before finally settling on pursuing a career in writing about movies in lieu of making them. Look for his name in just about any article related to Batman.