Why Now Is The Right Time For Scott Westerfeld's YA Classic Uglies To Come To Netflix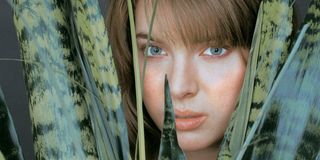 (Image credit: (Scholastic))
Scott Westerfeld's Uglies cover featuring the girl with the burning blue eyes first circled friend group discussions and library checkouts back before my fellow bookworms and I even had our hands on other popular YA series like Twilight and The Hunger Games. When it was published in 2005, it was ahead of its time too, foreseeing the coming trend of the golden age of YA books often grappling its young readers with rich dystopian worlds to wrap our heads around.
15 years have gone by full of big-budget box office hits (and flops) for beloved titles that shared the same shelf as the Uglies series without this series getting a movie adaptation for itself. However, it has finally been announced that an Uglies movie is being developed for Netflix. So let's talk about what we know and why the wait might actually make sense:
How Uglies Is Being Made Into A Netflix Movie
As announced earlier this week, The Kissing Booth star Joey King, who recently led the Netflix sequel, will star and executive produce Uglies. McG, who recently helmed The Babysitter: Killer Queen for Netflix (a huge hit for the platform) as well as the original Charlie's Angels movies, Terminator Salvation and We Are Marshall, will direct the project.
Netflix is assembling a pair of tried-and-true names that have brought success to the streaming service for a high-profile project that will bring together fans of the books who have been waiting for ages for a movie version of the story. Scott Westerfeld is also involved in the project coming together, serving as an executive producer for the Uglies movie.
Deadline's report detailed that Joey King is an established fan of the books, which can only help the series' transition to streaming. Not only is King a well-known name within the genre, but her behind-the-scenes involvement in the movie may be beneficial to the project retaining the youthful spirit, along with staying true to the books. King particularly impressed with the 2019 series The Act, where she played alongside Patricia Arquette in the chilling story.
What Is The Uglies Series About Again?
It's particularly exciting to see Uglies finally moving forward with a movie adaptation because its subject matter actually feels more relevant right now than it has ever been. (I'll get to that in a moment). For myself, it's been a long, long time since I've heard or seen the name Uglies, and has remained in the fabric of my humble beginnings with the YA genre for over a decade. So if you're asking yourself, 'Wait, what was Uglies about again?' Here it is…
The science fiction novel starts by following a teenager named Tally Youngblood living in a dystopian world 300 years into the future, where people are given a plastic surgery operation to become "pretty" on their 16th birthday and then cross to another part of the city to live a carefree life. Ahead of Tally's operation, her friend Shay decides to avoid her "pretty" fate by running away and leaving behind directions to a settlement called the Smoke, where other "uglies" go to escape face-altering surgery.
Because of Tally's connection to Shay, on the day of her operation, she is tasked by the Pretties to locate Shay and the secret settlement she resides in or remain an ugly all her life (and therefore not see the rest of her family and friends). These are the circumstances that set off Tally becoming a key player in between the established society of the Pretties and the rebelling Uglies, which continued into three more novels ending with 2007's Extras.
Why It Is The Best Time For Uglies' Messages To Shine
Uglies' homecoming for a film project (finally) feels right at the moment because it's tackling an issue that many of its intended audience is currently dealing with. Back in 2005, there were certainly high expectations of teens to look a certain way through fashion magazines and sexualization of young women in pop music and the movies. But 2005 didn't have Instagram, Snapchat and its infamous face-altering filters that have become more normalized when it comes to posting selfies and pictures in general than not among the current generation.
These social media applications have become one of the most popular and normalized forms of addictions (just look at Netflix's The Social Dilemma documentary) among teens and young people. Uglies is about the normalization of teens undergoing plastic surgery to fit into society's norms in a current world where changing one's composition of their face as a front to look presentable to the public has become commonplace.
It's kind of the perfect way to bring commentary on social media without the actual implementation of social media on film, especially since that can be a drag to watch in a movie. Uglies author Scott Westerfeld has since recently returned to the Uglies franchise with more books titled the Imposters series. Earlier this year before the film was announced, he discussed the topic of Uglies' relevance to Vice with these words:
There you have it, Uglies predicted it! When Uglies gets released, it will probably fall into Black Mirror comparisons, but what sets itself apart is it's been out there for 15 years and has a huge fanbase behind it waiting for its world to be realized on screen. This is definitely an exciting announcement for fans of the books, YA and science fiction genre and Netflix subscribers. It's also a testament to Scott Westerfeld's work for being able to stand the test of time long enough for his books to be even more interesting to dive into right now.
What do you think? Are you excited for the Uglies movie on Netflix? Vote in our poll below and check out what is coming to Netflix this October.
This poll is no longer available.
Your Daily Blend of Entertainment News
YA genre tribute. Horror May Queen. Word webslinger. All her writing should be read in Sarah Connor's Terminator 2 voice over.