Netflix's The Kissing Booth Star Explains Why She's Confident The Sequel Is Better Than The First Movie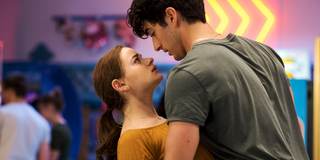 The Kissing Booth was a huge hit for Netflix when it was released in 2018 -- so much so that the platform greenlit a sequel. In The Kissing Booth 2, there's even more drama in store for Elle, Noah and Lee -- definitely enough to have been worth the wait for fans. In fact, according to one star, the second installment of The Kissing Booth is even better than the first.
There was a lot for fans to fall in love with in The Kissing Booth. The charming romantic comedy saw high school student Elle (Joey King) developing big feelings for Noah (Jacob Elordi), which wouldn't be a problem, except that he's her best friend Lee's (Joel Courtney) older brother. It all worked out in the end, of course -- at least, until the events of The Kissing Booth 2.
Joey King told The Hollywood Reporter that the cast and crew had fans of The Kissing Booth in mind when they set out to make the sequel, and the result, she thinks, is pretty special:
That's definitely a good endorsement for The Kissing Booth 2. From what we can tell, it definitely sounds like it will retain a lot of the core elements from the first movie while also raising the stakes a bit. The sequel finds Elle and Noah navigating the ups and downs of a long distance relationship, as she finishes out her senior year of high school and he settles into his freshman year at Harvard. Both have to deal with temptation and suss out how to move forward with their relationship, as Elle makes some big decisions about her future - namely whether she'll be joining Noah at Harvard or forging her own path.
It definitely seems like the team behind The Kissing Booth series know what fans are looking for in a romantic comedy and worked hard to give them a sequel that would check off all the boxes. They didn't stop there, either -- for those who felt like they wanted more after The Kissing Booth 2, there's good news: The Kissing Booth 3 has already been filmed, and it's due to arrive on Netflix in 2021.
The Kissing Booth 2 is currently available to stream on Netflix. Have you watched it yet? Do you think it was better than the first? Let us know in the comments!
Your Daily Blend of Entertainment News