Lovecraft Country: What To Stream If You Like The HBO Show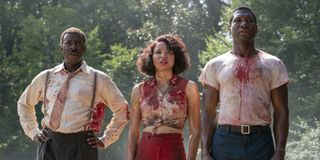 CinemaBlend participates in affiliate programs with various companies. We may earn a commission when you click on or make purchases via links.
Living in fear of things like alien invasions or giant, tentacled beasts is silly in comparison to the monstrous racism of the Jim Crow era, as Lovecraft Country exposes by incorporating both into its story. The spellbinding, brutally honest HBO series is just one of many examples of how the horror genre can shed light on life's true horrors.
Based on the novel by Matt Ruff, developed by Misha Green, and produced by Jordan Peele and J.J. Abrams, Lovecraft Country follows a young, black Korean War veteran (Jonathan Majors) who discovers the fantasy novels he reads are more real than he could have imagined as disturbing secrets of his family history come to light in the late 1950s. The series borrows many themes and concepts pioneered by influential horror writer H.P. Lovecraft (as well as his last name) as an allegorical backdrop of the violent injustices of the era. The brilliant irony of it all is that Lovecraft is known to have been a tremendous racist, so to see his own work used to attack his own ideals makes it all the more intriguing.
Lovecraft Country proves that socially relevant fantasy fiction is, arguably, more popular and important than ever these days, but the genre has a rich history of satire that even dates back to its very roots. The following 13 movies and TV shows, currently available to stream on various platforms, provide insight into the message the behind the mania (or even just invoke traditional Lovecraftian vibes), starting with one of the first horror films praised for its subtext, whether it was intentional or not.
Night Of The Living Dead (Amazon Prime, HBO Max, Shudder)
A group of people taking refuge inside a farmhouse must figure out how to survive the horrors that lurk outside (and each other) when the dead suddenly come back to feast on the living.
Why It Is A Good Option For Lovecraft Country Fans: Despite his claims that any allusions to racial tension were unintentional, the late George A. Romero is still praised for his symbolic representation of humanity's darker side with the birth of the modern zombie in 1968's Night of the Living Dead, which is also the first horror film with a black protagonist, played by Duane Jones.
Stream Night of the Living Dead on Amazon Prime here, on HBO Max here, or on Shudder here.
Us (MAX Go)
A family's summer getaway in Santa Cruz is interrupted by the appearance of their violent doppelgängers, who intend claim their lives as their own.
Why It Is A Good Option For Lovecraft Country Fans: Writer and director Jordan Peele, an executive producer on Lovecraft Country, followed up his Oscar-winning horror satire Get Out with another allegorical thriller in 2019's Us - a chilling tale meant to expose the damaging influence of economic class division and dehumanizing effects of cultural privilege.
Stream Us on MAX Go here.
Black Mirror (Netflix)
A man compulsively reviewing memories on a recording device implanted in his brain, a cartoon character becoming a leading political candidate, and a world in which social freedoms are based on a five-star rating scale are just a few of the various disturbing stories, often set in the near future, on this thought-provoking anthology with five season currently under its belt.
Why It Is A Good Option For Lovecraft Country Fans: The strongest element of Lovecraft Country is how its depictions of racism are scarier than some man-eating creature, much like how the technophobic themes of Black Mirror resonate so well because the protagonists are often more to blame for their downfall than the machines they fall prey to in this Netflix exclusive that barely deserves to be considered fiction.
Stream Black Mirror on Netflix here.
Tales From The Hood (Peacock)
A young, unsuspecting trio hoping to pick up a drug shipment from an eccentric funeral home director (Clarence Williams III) are forced to listen to the sinister stories behind his more intriguing clientele.
Why It Is A Good Option For Lovecraft Country Fans: Speaking of anthologies, 1995's Tales from the Hood, from co-writer and director Rusty Cundieff, is a quintessential cult classic of both anthology film and black horror with four darkly comic segments that, much like Lovecraft Country, provides honest insight into the struggles of the African American urbanite with a supernatural twist.
Stream Tales from the Hood on Peacock here.
Attack The Block (Showtime)
A group of troubled South London teens, led by a pre-Star Wars John Boyega, team-up with a young woman they mugged earlier in the evening (Doctor Who's Jodie Whittaker) to defend their apartment building from a vengeful race of aliens.
Why It Is A Good Option For Lovecraft Country Fans: Speaking of providing honest insight into the struggles of the African American urbanite with a supernatural twist, deep within the fun, splatteriffic, sci-fi action spectacle with a Goonies-esque twist of 2011's Attack the Block is a thought-provoking morality tale at the center of the troubled main youths's redemptive acceptance to prevent any further violence in their poverty-stricken neighborhood.
Stream Attack the Block on Showtime here.
Color Out Of Space (Shudder)
A family falls prey to an otherworldly force causing disturbing changes to their surroundings and within themselves after a mysterious meteorite falls on their secluded farmland.
Why It Is A Good Option For Lovecraft Country Fans: Whatever social or existential commentary there may be in Color Out of Space is open to interpretation, but the captivating visuals and nightmarish thrills of this 2020 H.P. Lovecraft adaptation starring Nicolas Cage are hard to deny.
Stream Color Out of Space on Shudder here.
The Void (Shudder, Tubi)
A night shift cop (Aaron Poole) brings a wounded man to an understaffed hospital, unaware that it is the site of a great evil that begins to emerge from another dimension that begins to turn its patients into psychopaths, or worse.
Why It Is A Good Option For Lovecraft Country Fans: There is absolutely no detectable sign of any deeper subtextual meaning to Jeremy Gillespie and Steven Kostanski's The Void, but for fans of old school Lovecraftian horror passionately brought to life by impressive practical creature effects, it is simply a treat.
Stream The Void on Shudder here or on Tubi here.
Watchmen (HBO Max)
In an alternate version of the present day in which vigilantism has been made illegal, a new group of costumed heroes emerge to put a stop to the corruptive forces lurking within America's justice system.
Why It Is A Good Option For Lovecraft Country Fans: For those who prefer their horror light but their political commentary extremely dark, this nine-episode continuation of writer Alan Moore and artist Dave Gibbons' groundbreaking graphic novel Watchmen from creator Damon Lindelof, which sheds light on the parallels between racial prejudices of today and in the past, is just what the doctor ordered... Dr. Manhattan, to be exact.
Stream Watchmen on HBO Max here.
La Llorona (Shudder)
An elderly fascist (Julio Diaz) suspects that he and his family are haunted by a vengeful spirit while facing allegations of genocide and the angry uprising of his people.
Why It Is A Good Option For Lovecraft Country Fans: Not to be confused with the "cursed" 2019 chapter of the Conjuring Universe, La Llorona incorporates the ghostly legend of folk lore into a Spanish-language drama inspired by real events of political strife in Guatemala.
Stream La Llorona on Shudder here.
Overlord (Amazon Prime, Hulu)
On the eve of D-Day, a group of American soldiers discover that terrifying rumors of the Third Reich's human experimentation is not only true, but the results are even more disturbing than they could have imagined.
Why It Is A Good Option For Lovecraft Country Fans: From producer J.J. Abrams, also one of the bigger names behind Lovecraft Country, Overlord takes a more comparatively grounded approach to its World War II-era horror concepts than the Call of Duty: Zombies adaptation many may have expected by simply exaggerating true accounts of the Nazi's grotesque experiments into a fun B-movie that combines thrilling combat with skin-crawling body horror.
Stream Overlord on Amazon Prime here or on Hulu here.
Re-Animator (Shudder, Tubi)
A strange medical student's (Jeffrey Combs) obsession with bringing the dead back to life gets the best of him when his experiments prove successful, only to spiral out of control soon after.
Why It Is A Good Option For Lovecraft Country Fans:I Imagine that Overlord might have taken a lot of inspiration from the "revivalist" themes of Re-Animator, one of the few H.P. Lovecraft adaptations actually beloved for its more campy approach and the first of several films from cult director Stuart Gordon to be based on the author's work.
Stream Re-Animator on Shudder here or on Tubi here.
Sorry To Bother You (Hulu)
Penniless Oakland man Cassius Green (Lakeith Stanfield) learns how to rise up in the ranks of his new telemarketing job by creating a new voice that makes him sound -- to put it bluntly -- "whiter" that adopting a "white voice" to speak to customers with may be the key to success he has been looking for.
Why It Is A Good Option For Lovecraft Country Fans: That brief description of musician Boots Riley's inventively zany film debut is enough to catch on to a mere fraction of its brutally honest social and economic indictments, but as to how Sorry to Bother You leans into more Lovecraftian fair is something I will let you find out on your own.
Stream Sorry To Bother You on Hulu here.
Horror Noire: A History Of Black Horror (Shudder)
Through essential clips and interviews with actors, filmmakers, and film aficionados, this documentary traces the history of how black people have been depicted in and contributed to the horror genre.
Why It Is A Good Option For Lovecraft Country Fans: To better understand Lovecraft Country's importance to the genre and other valuable lessons, it would do you good to check out Horror Noire: A History of Black Horror, a 2019 documentary exclusively released on Shudder, that also features an interview with none other than Jordan Peele.
Stream Horror Noire: A History of Black Horror on Shudder here.
What do you think? Are these movies and TV shows just what the Lovecraft Country fan needs to satisfy their hunger for an entertaining spectacle, unique political commentary, or, hopefully, a mix of both, or do you think these stories give socially conscious genre fiction (or even fiction in general) a bad name? Let us know in the comments and be sure to check back for additional information and updates about this insane HBO original series, as well as even more suggestions of what you should stream right now, here on CinemaBlend.
Your Daily Blend of Entertainment News
Jason has been writing since he was able to pick up a washable marker, with which he wrote his debut illustrated children's story, later transitioning to a short-lived comic book series and (very) amateur filmmaking before finally settling on pursuing a career in writing about movies in lieu of making them. Look for his name in just about any article related to Batman.