Avatar 2 Is Changing The Na'vi In An Intriguing Way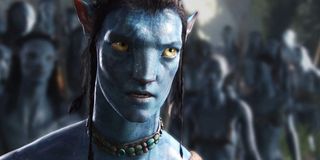 Everyone knows that in Avatar the Na'vi are the blue giants native to the planet Pandora. They have a deep connection to nature and the environment around them, so much so that they can physically connect to it through their braided hair. And now it looks like Avatar 2 is changing the Na'vi communication is an intriguing way.
Despite a series of delays, Avatar 2 continues to push forward. And with every passing day, we're getting small glimpses into what they have planned for the new movie. Recently, they posted to their official social media, revealing a new form of communication for the Na'vi. Check it out:
It looks like James Cameron and company have developed a Na'vi sign language. It'll be interesting to see how important this new form of sign language plays into the plot of Avatar 2. Since they've hired a professional to develop the language, they likely have big plans for it.
While Avatar mainly focused on Pandora's jungles, it looks like Avatar 2 will switch gears and focus on Pandora's bodies of water, instead. This comes from multiple reports that James Cameron and the production team have been doing a ton of underwater filming. This new image features deaf actor CJ Jones (Baby Driver, Castle Rock), who was hired to create the Na'vi sign language for the highly anticipated sequel.
In fact, the underwater element to the story has a part to play with the development of the sign language. According to James Cameron, they did underwater filming scenes with several child actors and had them perform this new form of sign language. This makes sense, considering the Na'vi rarely use technology to communicate.
We also know that Avatar 2 will focus on Jake Sully and Neytiri's children. A lot of time has passed between these movies and Jake Sully, Neytiri, and their kids will be forced to explore other parts of Pandora, including a new ocean-based civilization called Metkayina. Cue newcomer characters like Kate Winslet's Na'vi.
The good news for Avatar fans hungry to see Avatar 2 is that James Cameron dropped a big announcement recently. They've completed filming Avatar 2 and are about done filming Avatar 3. He suspects that when they've delivered Avatar 2, that they'll be working on finishing Avatar 3.
Over the years, Avatar 2 has been hit with countless delays, originally scheduled to release back in 2015. As of right now, Avatar 2 is set to release on December 17, 2021. Of course, that's assuming it doesn't have any more setbacks.
It's been so long since the first Avatar released, it's almost hard to imagine a sequel will ever be coming at all. But, since filming wrapped and they've been providing more updates on little details about the movie, it might actually be time to start getting excited. For more movie news, be sure to stay tuned to CinemaBlend.
Your Daily Blend of Entertainment News