Wait, Robert De Niro Never Saw Joe Pesci's Home Alone?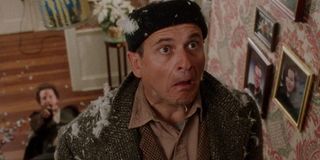 Today Home Alone easily ranks as a top Christmas movie classic. For many it's a time-honored tradition to pop in Home Alone when December comes around. But it sounds like that isn't the case for Joe Pesci's longtime friend, Robert De Niro. Which, honestly, is pretty mind-boggling when you think about it.
Joe Pesci famously played Harry, one of the Wet Bandits in Home Alone when it released in 1990. You'd think Robert De Niro would have gone to a screening when the movie came out, but he didn't. Recently, when talking about his latest movie The War with Grandpa with CinemaBlend's own Jeff McCobb, Robert De Niro admitted he'd never seen the slapstick holiday comedy:
On the one hand, it kind of makes sense that Robert De Niro didn't run out to see Home Alone when it first released and never got around to seeing it afterward. He's not really in the movie's choice demographic. On the other hand his friend Joe Pesci is in the movie, so you'd think that would be enough to check it out. De Niro just hadn't gotten around to seeing it and said later,
Believe it or not, a few months before Home Alone released, Robert De Niro and Joe Pesci's wildly popular gangster movie Goodfellas hit theaters-- which must have been surreal for Joe Pesci to be in two very different movies back to back. But that also begs the question,how did Home Alone not come up in conversation between the two?
Ironically, Robert De Niro's movie The War with Grandpa is very reminiscent to Home Alone. From the trailer you can see there's plenty of silly hijinks and slapstick comedy to go around. Plus, it has the classic generation gap and conflict between young and old.
In The War with Grandpa, Robert DeNiro's character, named Ed, moves into his daughter's home and shares the same room with his grandson, Peter. Upset that he has to share his favorite room, Peter declares war against his cranky grandpa with comedic results.
In a way, Robert De Niro, who's mostly known for acting in serious dramas, has taken a page out of Joe Pesci's playbook by hopping occasionally over to do comedies. He famously played Jack Byrnes in Meet the Parents and more recently played another grandpa in Dirty Grandpa, co-starring Zac Efron.
Of course, Robert De Niro and Joe Pesci go all the way back to Martin Scorsese's Raging Bull and have made seven movies together. They kind of owe it to each other to see these comedies, right? Perhaps to make things even, both Robert DeNiro and Joe Pesci can get together and watch Home Alone and The War with Grandpa? That'll be about square. For more movie news, be sure to stay tuned to CinemaBlend.
Your Daily Blend of Entertainment News
Your Daily Blend of Entertainment News
Thank you for signing up to CinemaBlend. You will receive a verification email shortly.
There was a problem. Please refresh the page and try again.