How To Watch 1917 On Streaming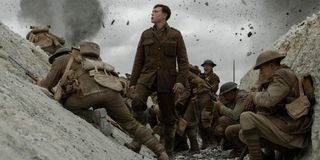 It has nearly been a year since Sam Mendes took audiences on one of the most intense and unique war stories with his World War I epic 1917. The movie, which took home Oscars for best cinematography, sound mixing, and visual effects, as well as Golden Globes for best picture and director, provided for one of the most intense cinematic experiences in recent memory with its explosive action and those amazing one-shots. Those of us who want to watch it again or missed it in theaters definitely want to know where we can find 1917 streaming so we can bite our nails quick all over again.
Where Is 1917 Available Streaming?
So, where is 1917 streaming these days? Well, starting on Thursday, November 26, anyone with a Showtime subscription will be able stream Sam Mendes' World War I epic on the premium channel's streaming service, as it scheduled to debut on Thanksgiving Day.
If you don't feel like waiting, you can find 1917 on digital platforms like Amazon (opens in new tab), YouTube, iTunes, Vudu, and many others for $5.99 with digital purchases setting you back $14.99 across those same services.
If you are more into physical media and want to buy an old-fashioned disc to enjoy the story of two British soldiers attempting the impossible, then you can do so by purchasing 4K Blu-ray, Blu-ray, or DVD versions of 1917 on sites like Amazon as well as most major retailers. Physical and digital options have been available since March, so you shouldn't have any trouble finding a copy.
Will 1917 Be On Netflix?
A question that comes up quite a lot is when will 1917 be on Netflix? In a perfect world, the movie, and everything else, would be available on the streaming giant by now, but the truth is we don't know when, or even if, the movie will show up on Netflix. With the movie scheduled to the land on Showtime at the end of November, it might be some time before it pops up on your Netflix home screen.
If You've Already Seen 1917, Here's Our Take On The Ending And Some Information On How The Movie Came Together
If you have already purchased or at least watched 1917 and you want to see how our opinions on the final moments match up with your own, then check out our breakdown of the ending. While you're there, also check out our story on how director Sam Mendes and cinematographer Roger Deakins pulled off those amazing shots, how one of the film's best moments was the result of an on-set accident, or why the production was so difficult.
In addition to all of those, you can also read up on how Sam Mendes' grandfather and his influence led the British director to make 1917 in the first place. There is so much available to read up on this truly amazing and rare World War I movie.
Now that we have so many different ways to enjoy 1917 there's really no excuse to push off one of the best movies of 2019 any longer.
Your Daily Blend of Entertainment News
Philip grew up in Louisiana (not New Orleans) before moving to St. Louis after graduating from Louisiana State University-Shreveport. When he's not writing about movies or television, Philip can be found being chased by his three kids, telling his dogs to stop yelling at the mailman, or yelling about professional wrestling to his wife. If the stars properly align, he will talk about For Love Of The Game being the best baseball movie of all time.
Your Daily Blend of Entertainment News
Thank you for signing up to CinemaBlend. You will receive a verification email shortly.
There was a problem. Please refresh the page and try again.