The Best Movies Streaming For Free On Vudu Right Now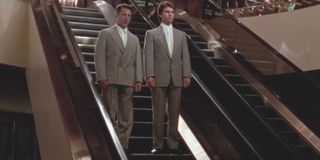 I don't know about you, but managing all of my streaming platforms is starting to get a little expensive. In a day and age when we're supposed to be "cutting the cord" to save money each month, it seems like I'm spending more than ever to watch the movies and shows I love. But in the sea of premium services like Netflix, Hulu, and Amazon Prime Video, there is a place where hundreds of great movies are streaming for free. That place is Vudu, and boy, do they have a lot of titles to choose from.
But with plenty of free titles getting added to Vudu each month, trying to decide on just one is no easy feat. Lucky for you I've put together a list of 25 of the best movies you can stream on Vudu for free right now. The only thing these movies will cost you is a little bit more of your time to watch an ad here and there.
Let's not waste any more time and dive into the vast library of movies streaming on Vudu, shall we?
City Slickers (1991)
The late, great Jack Palance only earned one Academy Award throughout his entire career and that happened to be his performance as Curly in the 1991 comedy western City Slickers. This hilarious romp centers around characters played by Billy Crystal, Daniel Stern, and Bruno Kirby, who all try to escape the dullness of city life in the American West.
Stream it here (opens in new tab).
Dead Poets Society (1989)
After nearly two decades of being one of the funniest figures in American pop culture, Robin Williams proved that he had dramatic acting chops in the 1989 coming of age story Dead Poets Society, where the late actor portrays John Keating, an influential teacher who changes his students' lives at the Welton Academy boarding school.
Stream it here.
Also try: Stand And Deliver (opens in new tab)
Dirty Rotten Scoundrels (1988)
If the 2019 comedy The Hustle left you wanting more, then why not see the movie on which it was based (which in itself is a remake) on, the 1988 crime-driven laugh fest Dirty Rotten Scoundrels. Pitting two conmen played by Michael Caine and Steve Martin against one another, the film explores just how far someone will go to pull off of con.
Stream it here (opens in new tab).
Also try: The Birdcage (opens in new tab)
Falling Down (1993)
The 1993 drama Falling Down answers the question — What happens when a mild-mannered man gets fed up with a morning rush hour traffic jam? And although Michael Douglas' character doesn't have the safest and sanest response to life beating him down, he does take his life into his own hands, even if the city of Los Angeles has to pay.
Stream it here (opens in new tab).
Thelma & Louise (1991)
Ridley Scott's 1991 crime epic Thelma & Louise is probably most remembered for the electric chemistry between its two leads Geena Davis and Susan Sarandon, but the film helped break down a lot of barriers for actresses in action thrillers moving forward as it showed they could be more than the damsel in distress in the genre.
Stream it here (opens in new tab).
Train To Busan (2016)
As everyone waits for the highly-anticipated South Korean zombie thriller Peninsula to hit theaters, now's the perfect time to watch where it all began with Train To Busan. When a businessman and his daughter get stuck on a train during the middle of a zombie outbreak, they must fight the hordes of undead (and other passengers) to survive.
Stream it here (opens in new tab).
Also try: Battle Royale (opens in new tab)
Black Hawk Down (2001)
Based on the doomed 1993 American Rangers and Delta Force mission to Somalia, Ridley Scott's star-studded military action drama Black Hawk Down provides for some of the most realistic and disturbing visuals from the battlefield, even if the battlefield is in the middle of city torn by civil unrest and distrust of the American military.
Stream it here (opens in new tab).
St. Vincent (2014)
Bill Murray stars as the titular character in the 2014 dark comedy St. Vincent about a down-on-his luck drunk who provides his 12-year-old neighbor with an unorthodox form of babysitting and education. The film also stars Melissa McCarthy who gives one of the best performances of her career.
Stream it here (opens in new tab).
Also try: Meatballs (opens in new tab)and Tortilla Soup (opens in new tab)
Rain Man (1988)
The 1988 brotherly drama Rain Man might have netted Dustin Hoffman an Academy Award for his depiction of an autistic man who's great with math, but the movie also proved that Tom Cruise was more than just an action star who could do things outside of racing cars, flying jets, and making cocktails.
Stream it here (opens in new tab).
Bull Durham (1988)
While most baseball movies focus on "The Show" so to speak, the 1988 romantic comedy Bull Durham takes place in the Major League Baseball farm system as it follows a hot-shot pitcher and his rugged veteran catcher, who are both fighting for the same woman. With Kevin Costner, Tim Robbins, and Susan Sarandon, this baseball classic is full of greatness.
Stream it here (opens in new tab).
Get Shorty (1995)
Long before Elmore Leonard's timeless crime comedy Get Shorty was turned in a television series, the book was adapted to a feature film starring John Travolta as a Miami conman trying to make it in Hollywood. This classic also features the likes of Gene Hackman, Rene Russo, and Danny DeVito.
Stream it here (opens in new tab).
Philomena (2013)
The 2013 drama Philomena shows just how far a woman will go in order to find the child she was forced to put up for adoption decades earlier. With a cast that includes Judi Dench, Steve Coogan, and numerous other talented British and American actors, this crowd pleaser is not one to miss.
Stream it here (opens in new tab).
Also try: Lion (opens in new tab)
Raging Bull (1980)
Robert De Niro took home an Academy Award for his portrayal of controversial boxer Jake LaMotta in Marin Scorsese's 1980 sports drama Raging Bull. With a number of great boxing matches and even more punches being thrown out of the ring, this intimate look at a complicated sports figure is a must-see.
Stream it here (opens in new tab).
Also try: Road House (opens in new tab)
Mr. Nice Guy (1997)
When a television chef played by Jackie Chan finds himself wanted by rival drug gangs in Hong Kong, you find yourself with the 1997 marital arts comedy Mr. Nice Guy. Little do the bad guys know but Jackie Chan can handle his own in a fight.
Stream it here (opens in new tab).
Also try: Merantau (opens in new tab)
March Of The Penguins (2005)
March Of The Penguins was a worldwide sensation when it was first released in 2005. The story of emperor penguins embarking upon a quest to find the ideal mate and start a new life in the unforgiving landscape of Antarctica is brought to life by the narration of Morgan Freeman.
Stream it here (opens in new tab).
Also try: All Dogs Go To Heaven (opens in new tab)
Singles (1992)
Set in Seattle in the early 1990s, Singles follows a group of twenty-somethings trying to find love and meaning, and features a cast that includes Bridget Fonda, Kyra Sedgwick, Matt Dillon, and Bill Pullman.
Stream it here (opens in new tab).
Encino Man (1992)
The 1992 comedy masterpiece Encino Man shows what happens when a frozen caveman, played by Brendan Fraser, is thawed in the 1990s California. Sean Astin and Pauly Shore star as two best friends who have to navigate high school and teach a prehistoric man how to live in modern times.
Stream it here (opens in new tab).
Also try: Saved (opens in new tab)
Grizzly Man (2005)
Over the course of 13 years, Timothy Treadwell spent his summers living among grizzly bears is the Alaskan wilderness. After Treadwell and his girlfriend Amie Huguenard were viciously killed by the grizzlies they had spent so many years studying, master filmmaker Werner Herzog gained access to the late bear activists extensive collection of video diaries and turned them into the 2005 documentary Grizzly Man.
Stream it here (opens in new tab).
Pi (1998)
A couple of years before Darren Aronofsky shocked audiences with the physically grueling and emotional stirring Requiem For A Dream, the young director proved that he was an artist worth watching with the 1998 black-and-white psychological thriller Pi. The film centers around a lonely mathematician played by Sean Gullette, who mistakenly comes across a mysterious number that some want to exploit for financial gain.
Stream it here (opens in new tab).
Blue Velvet (1986)
Murder, mystery, and Pabst Blue Ribbon all fill the screen in David Lynch's 1986 crime thriller Blue Velvet. When college student played by Kyle MacLachlan stumbles across a severed ear, he makes the mistake of trying to get to the bottom of the how and why of the situation. Very much like how David Lynch turned beauty and tranquility into pain and chaos with Twin Peaks, the visionary director creates a demented suburbia like you've never seen before.
Stream it here (opens in new tab).
Confessions Of A Dangerous Mind (2002)
Based on the memoir by game show host and producer Chuck Barris, Confessions Of A Dangerous Mind explores claims made by the host of The Dating Game and The Gong Show that he was a CIA operative throughout his professional career. One part comedy and one part spy thriller, this 2002 biopic stars Sam Rockwell as Barris after he is approached by an operative portrayed by George Clooney, who also makes his directorial debut here.
Stream it here (opens in new tab).
Waiting For Guffman (1996)
Christopher Guest is responsible for some of the greatest mockumentary films of all time like This Is Spinal Tap, Best In Show, and Waiting For Guffman, a 1996 film about a small town in Missouri that thinks they found the perfect way to celebrate their 150th anniversary. Like everything else created by Guest, this one is full of laughs and an all-star cast.
Steam it here (opens in new tab).
Burnt (2015)
When two-star Michelin chef Adam Jones (Bradley Cooper) ruins his career via self-sabotage, he is forced to go back to square one in order to get back on the right track in the 2015 drama Burnt. Filled with amazing food and ever better talent found in the insane cast, this film takes a look at madness and beauty in the kitchen.
Stream it here (opens in new tab).
The Intouchables (2012)
You've probably seen the American version, The Upside, but now's the perfect time to watch the original French film The Intouchables, which centers around the relationship shared by a wealthy quadriplegic and his ex-con caretaker.
Stream it here (opens in new tab).
The English Patient (1996)
In 1996, The English Patient swept audiences off their feet with the epic World War II era love story involving a mysterious soldier and a nurse who cares for him in an old monastery in Italy. This sprawling epic would go on to secure nine Academy Awards in 1997, including Best Picture.
Stream it here (opens in new tab).
Those are just 25 or so of the best movies streaming for free on Vudu. But don't worry, there are many, many more titles to choose from on the streaming service. If you're looking for more movies or shows to stream from home check back on CinemaBlend.
Your Daily Blend of Entertainment News
Philip grew up in Louisiana (not New Orleans) before moving to St. Louis after graduating from Louisiana State University-Shreveport. When he's not writing about movies or television, Philip can be found being chased by his three kids, telling his dogs to stop yelling at the mailman, or yelling about professional wrestling to his wife. If the stars properly align, he will talk about For Love Of The Game being the best baseball movie of all time.
Your Daily Blend of Entertainment News
Thank you for signing up to CinemaBlend. You will receive a verification email shortly.
There was a problem. Please refresh the page and try again.