Watch Natalie Portman Joke About Wielding Thor's Hammer In Love And Thunder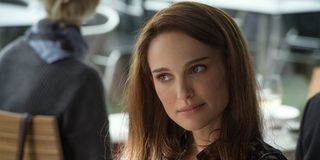 Perhaps one of the biggest stories to come out about the Marvel Cinematic Universe's Phase Four slate is the fact that Thor: Love and Thunder will not only include Natalie Portman's Jane Foster but somewhat adapt the Mighty Thor comics in which Jane Foster wields Thor's hammer. Now, Portman's not shying away from joking about the prospect of wielding such power.
Natalie Portman was noticeably absent from Thor: Ragnarok, and this made many fans wonder whether she would return to the MCU at all or would be done for good. Well, she's obviously making her return and it'll be in a big way. But that doesn't mean she can't joke and laugh about coming back on the stage with the mighty Mjolnir. In fact, she did just that while chatting about the upcoming film with espnW. Check it out:
Of course, the Mighty Thor storyline involving Jane Foster are no laughing matter. In it, Thor is deemed unworthy to wield Mjolnir ,and Jane Foster wields it instead. Except, there's a bit of a catch. During this time, she's also battling cancer and, whenever she transforms, her body is rid of chemotherapy, putting her in even worse health. It's rare that the MCU deals with these kinds of serious issues, so it'll be interesting to see if (or how) Taika Waititi handles it.
Apparently, Taika Waititi wanted Natalie Portman to return so much that he personally tried to convince her to come back. He knew she likely wouldn't want to come back and play the same character she had before and figured she'd like to shake things up. So he said to her, "Are you interested in coming back to this thing, but doing something really different?"
Anytime an actor takes on a superhero role, they naturally have the requirement of staying in tip-top shape. So to get ready for the role, Natalie Portman has already started a strict exercise and diet regimen. She recently joked about not enjoying it all that much. She told Jimmy Fallon:
Right now, other than a few details, what we know about Thor: Love and Thunder isn't much. Tessa Thompson, who will reprise her role as Valkyrie in the sequel, has said that Christian Bale will play the villain. Though there hasn't been much more information on that front, including the identity of the villain he'll play.
Right now, Thor: Love and Thunder is in pre-production and is set to start filming in March 2021 in Australia. This filming date pushed its release date back from November 2021 to February 2022. For more movie news, be sure to stay tuned to CinemaBlend.
Your Daily Blend of Entertainment News
Your Daily Blend of Entertainment News
Thank you for signing up to CinemaBlend. You will receive a verification email shortly.
There was a problem. Please refresh the page and try again.