Thor: Love And Thunder: Release Date, Cast And Everything Else We Know About Thor 4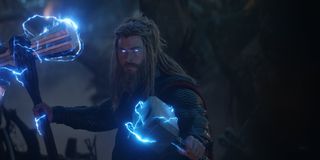 Prior to the release of Avengers: Endgame, there was a broad assumption that Iron Man, Captain America, and Thor were seeing their time in the Marvel Cinematic Universe come to an end. The three heroes had seen individual solo trilogies play out in full, and it felt like the massive capstone blockbuster would serve as a big goodbye for the trio. But while the massive film did provide a farewell for Tony Stark and Steve Rogers, Chris Hemsworth's run as the God of Thunder is not over, as he will soon be back in Thor 4 a.k.a. Thor: Love And Thunder.
The feature is easily one of the most exciting films planned for the future of the Marvel Cinematic Universe and Phase 4, and in so being it is the subject of endless questions and speculation. That in mind, we've created this guide to specifically sort out everything that we know about the film so far – with the plan being to repeatedly update it as Thor: Love And Thunder continues to develop. What will the movie be about? What characters will be featured? Who is making it? When will it be out? Find answers for all of those queries and more below!
What Is The Release Date For Thor: Love And Thunder?
When Marvel Studios announced their Phase Four film slate at San Diego Comic-Con 2019, fans were delighted to discover that Thor: Love And Thunder was being planned as the franchise's big release in November 2021... but then a little thing called COVID-19 happened. All of the MCU's plans ended up being pushed, with all of the 2020 features moving to 2021. Fortunately, this huge shift has coincided with Marvel suddenly being comfortable with the idea of releasing four movies in a calendar year, and as such we don't actually have to wait too much longer for the fourth Thor movie. Now set to be the second Marvel movie out in 2022 (following Doctor Strange In The Multiverse Of Madness), the film will be hitting theaters on July 8 , 2022.
What Is Thor: Love And Thunder' Rating?
Not being a character who speaks with a lot of adult language and isn't known for being overly excessive when it comes to violence, Thor is a hero who hasn't needed an R-rating to be himself on the big screen thus far, and there is little expectation for that to change with Thor: Love And Thunder. Every film in which Chris Hemsworth has played the Asgardian hero has received a PG-13 rating from the MPAA, and it's expected that the Thor: Ragnarok sequel will be no exception (though technically that won't be something that is confirmed until a cut of the movie has been assembled).
Who Is Directing Thor: Love And Thunder?
In the making of Thor: Ragnarok, director Taika Waititi breathed new life into what had been considered by many to be the weakest of the solo Marvel Cinematic Universe series – so it came as a surprise to literally nobody when it was revealed that Marvel Studios wanted him back for Thor 4. In addition to directing, he is also taking care of screenwriting duties, though that is a job that he is splitting with co-writer Jennifer Kaytin Robinson, who came aboard the project in February 2020. While in pre-production on Thor: Love And Thunder, Taika Waititi is also simultaneously busy directing his seventh feature film, Next Goal Wins, which is a sports comedy based on the 2014 British documentary of the same name.
What Is The Story Of Thor: Love And Thunder?
Other than the fact that Thor: Love And Thunder will pick up where Avengers: Endgame left off with the titular character, there really isn't much known about the plot of the movie. At the end of the massive 2019 blockbuster, the God of Thunder decided to depart Earth with the Guardians of the Galaxy on a mission to discover who he is beyond all of the trappings of his birthright. No longer serving as the king of Asgard, he will be on the hunt for a new purpose. What does do a nice job upping our anticipation, curiosity, and excitement, however, is that Thor 4 will see the return of Jane Foster, the character this time around getting a superhero upgrade. There is an assumption that the film will be drawing details from writer Jason Aaron's run of Thor comics, which is when Foster first took on the mantle of Mighty Thor, but little has been confirmed.
The Thor: Love And Thunder Cast
As is the case with all Marvel Cinematic Universe sequels, Thor: Love And Thunder will feature a hefty mix of both returning stars and new faces – and while we don't know about everybody who is involved in the production, these are the folks who have been confirmed to have roles in the blockbuster.
Thor (Chris Hemsworth)
Back in 2011 when the first Thor was released, Chris Hemsworth was almost exclusively known for his part playing James T. Kirk's father in the opening sequence of J.J. Abrams' Star Trek reboot, but the world has totally changed for the actor since then… and his time as the Asgardian hero has had everything to do with it. His role in the Marvel Cinematic Universe has helped him become one of the biggest stars in the world, and while the movies hasn't always been the greatest time for him as a performer, his wonderful experience making Thor: Ragnarok inspired him to make a fourth solo film as the God of Thunder.
Chris Hemsworth will have more than 10 years under his belt playing Thor by the time Thor: Love And Thunder comes out, having played the character in seven different movies during that time. We can't say for certain how much more time he will spend playing the role beyond the new Taika Watiti-helmed adventure, but we hope it's indefinite.
Jane Foster (Natalie Portman)
With Thor: Ragnarok not spending a great deal of time on Earth (save for a quick trip to Doctor Strange's Sanctum Sanctorum and a cliff in Norway), the film didn't really have any time to feature the Thor series' cast of human characters. That, however, is changing in a major way with the fourth installment. It was confirmed at San Diego Comic-Con 2019 during the Marvel Studios Hall H panel not only that Natalie Portman would be returning to play Jane Foster in Thor: Love And Thunder, but that the blockbuster will see her become worthy of the titular god's mantle and become The Mighty Thor.
Not counting the archive footage that was used in Avengers: Endgame, Natalie Portman hasn't appeared in a Marvel Cinematic Universe film since 2013's Thor: The Dark World. According to Taika Waititi, she was primarily interested in reprising the role of Jane Foster in Thor: Love And Thunder because it offered her the opportunity to do something different than what she did in her previous two go-rounds with the character – namely become a full-blown superhero.
Valkyrie (Tessa Thompson)
When we last saw Valkyrie, she was set to take on a rather hefty responsibility. With Thor deciding to do some soul searching to learn who he is beyond being a member of Asgardian royalty, he left the responsibility of ruling the kingdom (now located in Tønsberg, Norway) to her. With the character confirmed to return in Thor: Love And Thunder, we'll presumably get an update in the film on how her time as a monarch has been going.
Thor: Love And Thunder will be the third Marvel Cinematic Universe movie for Tessa Thompson following both Thor: Ragnarok and Avengers: Endgame. Off-screen in Avengers: Infinity War she narrowly escaped Thanos' initial attack on the Asgardian arc, and then was one of the heroes who wound up surviving the Mad Titan's snap with the Infinity Gauntlet. All things considered, she's had a rather good string of luck since meeting Thor on Sakaar, and hopefully that luck won't run out any time soon.
Gorr The God Butcher (Christian Bale)
It was confirmed in early January 2020 that Christian Bale was boarding the cast of Thor: Love And Thunder, and a few months later Tessa Thompson confirmed that he will be playing the villain in the film, but it wasn't until the 2020 Disney Investor Day that we learned the actor will be playing Gorr The God Butcher in the upcoming blockbuster. In the comics, the character is an alien who grew up on a desolate and superstitious planet, constantly told that he had to believe in the gods for salvation. He experiences years and years of death and tragedy with none of his prayers being answered, but things only get worse when he denounces his faith. After being cast out by his society, he discovers that gods are actually real, and furious that his calls were never answered he makes a vow to kill every god in the universe. And what gives him the ability to accomplish this task is All-Black, a powerful and deadly sword.
As many have pointed out since talk of the casting started swirling, this is far from Christian Bale's first time at the superhero movie rodeo. From 2005 to 2012 he reigned as the big screen version of Bruce Wayne/Batman in Christopher Nolan's Dark Knight Trilogy, and to this day he is considered by many to have delivered the definitive cinematic take on the character. It will definitely be interesting to see how his Marvel Cinematic Universe role winds up comparing and contrasting with his time as the Caped Crusader.
Korg (Taika Waititi)
Not only is Taika Waititi set to return as the director of the next Thor solo film, but he'll also be reprising his part as the fan-favorite Korg. We first met Korg in Thor: Ragnarok as a failed revolutionary forced to compete in the Grandmaster's gladiator fights, but his life has gotten considerably better since then. He helped the people of Asgard escape the clutches of Hela, and then became an important figure in the life of the God of Thunder when he was struck with depression following Thanos' snap. We have no idea what his part in Thor: Love And Thunder will be, but it's certainly going to provide comedic relief.
Since helming Thor: Ragnarok, Taika Waititi has kept busy both in front of the camera and behind it, most notably writing, directing, and starring in the Academy Award-winning World War II satire Jojo Rabbit. Following his appearance in Avengers: Endgame he played a supporting role in the hit Disney+ series The Mandalorian, and also has roles in the upcoming films Free Guy and The Suicide Squad.
Sif (Jaimie Alexander)
Due to commitments to her long-running network television series Blindspot, Jaimie Alexander was unable to reprise her role as Sif from the first two Thor movies in Thor: Ragnarok... but in a weird twist of fate, that scheduling conflict may have saved her character's life. In her first two appearances, Sif primarily spent screen time alongside The Warriors Three – Volstagg (Ray Stevenson), Fandral (Zachary Levi), and Hogun (Tadanobu Asano) – but all of those characters were notably killed in their last adventure when Cate Blanchett's Hela arrived in Asgard. There isn't an official canon explanation as for where the heroine has been, but we'll presumably get one soon because she is set to make her comeback in Thor: Love And Thunder.
Because she also didn't appear in either Avengers: Infinity War or Avengers: Endgame, Jaimie Alexander has spent more than half a decade away from the Marvel Cinematic Universe – her last appearance as Sif being in a 2015 episode of Agents Of S.H.I.E.L.D. We're definitely excited that she is coming back, though, and we're particularly anticipating the character's reinvention in Taika Waititi's hands.
The Grandmaster (Jeff Goldblum)
At the end of Thor: Ragnarok, the fate of Jeff Goldblum's The Grandmaster is left open-ended. The character actually gets the last word of the film, featured in the movie's post-credits stinger, but he's not exactly featured in a fortuitous position – his shipped having crashed in the wake of the revolution in Sakaar and left face to face with a gang of armed rebels. The moment left a fun question mark on the end of the blockbuster, but it seems that we'll be getting an answer regarding the character's fate in Thor: Love And Thunder.
Jeff Goldblum was one of many stars to be spotted down in Australia during the production of Thor 4, and that fact has led to wide spread speculation that he will be back reprising his role as the Grandmaster in the Marvel movie. It seems like a pretty safe bet, but it should be noted that it's not 100% official yet.
The Guardians Of The Galaxy
As noted earlier, the last time that we saw Thor he was hanging out with the Guardians of the Galaxy – requiring a ride off of Earth after leaving Asgard in the very capable hands of Valkyrie. This led to speculation regarding the possibility of the God of Thunder appearing in Guardians of the Galaxy Vol. 3... but that was before Thor: Love And Thunder was B) announced as a project, and B) announced to have a release date earlier than the James Gunn film. That shifted the conversation to the question of whether or not the Guardians would appear in Thor 4... and the answer is yes, it turns out that they will.
There isn't a whole lot of reason to believe that the Guardians of the Galaxy will have a large role to play in Thor: Love And Thunder (they literally may just drop him off some place and then quickly say goodbye), but at the very least it has been confirmed that the characters will appear. Chris Pratt (Peter Quill a.k.a. Star-Lord), Pom Klementieff (Mantis), Dave Bautista (Drax), Karen Gillan (Nebula), and Sean Gunn (Rocket/Kraglin) were all spotted in Australia during the 2022 blockbuster's production.
Where Can You Stream Thor Movies?
As noted, Thor has had seven big screen adventures to date, and all of them can be streamed online instantly provided you have subscriptions to the proper services:
Thor (2011)
If you wish to go back and watch Thor's origin story, and see how he went from conceded jerk to hero, the 2011 film from director Kenneth Branagh is now available to watch on Disney+.
The Avengers (2012)
Disney+ is also the only place where you can watch the blockbuster that totally changed the Marvel Cinematic Universe, with Thor teaming up with Iron Man, Hulk, Captain America, Black Widow, and Hawkeye to save the world from his adopted brother, Tom Hiddleston's Loki.
Thor: The Dark World (2013)
Thor: The Dark World isn't exactly considered the best film of the Marvel Cinematic Universe, but Disney+ can nonetheless witness the eponymous god's battle against Malekith (Christopher Eccleston) and his army of Dark Elves any time they want.
Avengers: Age Of Ultron (2015)
While Thor particularly specializes in extraterrestrial threats, he had the chance to battle a totally Earth-centric one rejoining Earth's Mightiest Heroes to fighting the titular villain in Avengers: Age of Ultron, and you can watch all the action now on Disney+.
Thor: Ragnarok (2017)
Taika Waititi totally changed Thor's legacy on the big screen with Thor: Ragnarok, and if you're really looking to get a sense of what to expect from Thor: Love And Thunder, rewatching the blockbuster on Disney+ is the best way to get that done right now.
Avengers: Infinity War (2018)
While Avengers: Infinity War was sold as a massive team movie, Thor really is the central hero of the story… though his strength isn't quite enough to result in a victory at the end. You can relive the devastation now on Disney+.
Avengers: Endgame (2019)
To catch up with all of the latest events in the God of Thunder's life prior to Thor: Love And Thunder, all you need to do is turn on Disney+ and check out his journey battling depression and getting revenge against Thanos in Avengers: Endgame.
Are There Any Trailers Or Teasers For Thor: Love And Thunder?
At this stage in the game, it is definitely far too early to be talking about Thor: Love And Thunder teasers and trailers. While footage does exist, in all likelihood we won't actually see anything publicly released for the feature until the months before its release (December 2021 is probably a safe bet to see a first look)
We plan to continue keeping close track of Thor: Love And Thunder as it continues to make its way through the various stages of development, and will also routinely update this feature with the latest updates. To see all of the other films that are set to arrive from the Marvel Cinematic Universe in the next few years, be sure to check out our Upcoming Marvel Movies guide.
Your Daily Blend of Entertainment News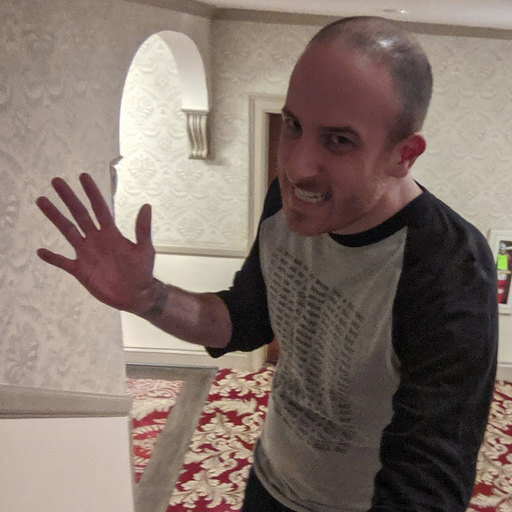 Assistant Managing Editor
NJ native who calls LA home and lives in a Dreamatorium. A decade-plus CinemaBlend veteran who is endlessly enthusiastic about the career he's dreamt of since seventh grade.