How Disney+'s Lego Star Wars Holiday Special Will Break New Ground For The Franchise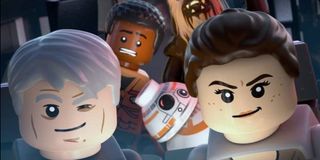 Star Wars has always been about pushing barriers and breaking new ground in special effects and storytelling. Now it sounds like Disney+'s Lego Star Wars Holiday Special will carry on that tradition, but this time it's taking things to a whole new level for the franchise. Here's the latest.
The Lego Star Wars Holiday Special is set to celebrate Life Day this year, but instead of only heading back to Kashyyyk like before for the festivities, this time Rey is going to travel through space and time across the galaxy. According to what Executive Producer James Waugh told EW, that's something that hasn't been done before in the Star Wars universe:
That means we're getting a mashup like never before, including several versions of the same character. There will be three different Obi-Wan Kenobis, two Han Solos, and the chance for Rey to meet Darth Vader. This sounds like it'll definitely be a wild ride.
The Lego Star Wars Holiday Special will take place after Star Wars: The Rise of Skywalker. Rey and BB-8 head out on a new adventure before celebrating Life Day. To gain a deeper knowledge of the Force, Rey goes to a Jedi temple and is thrust into cross-timeline adventure. But will she make it back in time for Life Day?
Another big piece of the Lego Star Wars Holiday Special will be Rey's encounter with another monumental character--a younger Luke Skywalker. Of course, in the latest Star Wars trilogy, Rey trains under an old and reclusive Luke. This time, she'll be going back in time to train under a more hopeful, younger Luke, which could prove interesting considering their relationship in the latest trilogy was complicated and strained at times.
Along with Rey and many other Star Wars characters making their return for the Lego Star Wars Holiday Special, Kelly Marie Tran will also reprise her role as Rose Tico. This is both welcome and surprising news. Kelly Marie Tran's history with the Star Wars franchise has been difficult and she even voiced that she wasn't sure if she would return, at least in another live-action feature. For the Lego Star Wars Holiday Special, she'll be joined by Billy Dee Williams and Anthony Daniels.
The Lego Star Wars Holiday Special is something of a riff on the now infamous 1978 Star Wars Holiday Special that aired on TV. While some have considered it Star Wars canon, many fans have long considered it a bizarre piece of Star Wars history. Regardless, subsequent filmmakers have tried to include it into their films, including Jon Kasdan who wrote Solo: A Star Wars Story.
The Lego Star Wars Holiday Special is set to release on November 17, 2020 on Disney+. Be sure to check it out when it lands and stay tuned to CinemaBlend for the latest.
Your Daily Blend of Entertainment News