Would Star Wars' Kelly Marie Tran Return To Play Rose Tico? Here's The Latest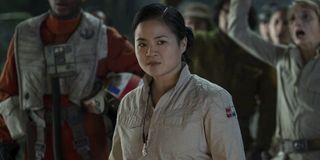 Following the controversial end of Star Wars: The Rise of Skywalker, the franchise is taking a bit of a hiatus before another feature comes out. Still, one thing fans have been wanting is a return to Rose Tico played by Kelly Marie Tran. Now, she's responded to the possibility of her making a return as the character.
Rose Tico played a prominent role in Rian Johnson's Star Wars: The Last Jedi, forming a strong connection with Finn, John Boyega's character. Her character's role was noticeably reduced in Star Wars: The Rise of Skywalker, and her experience with the franchise's fans has been rocky. So when asked by Collider if she would return, here's what Kelly Marie Tran had to say:
There's obviously a couple of ways Rose Tico could return to Star Wars, including having her appear in a future Star Wars movie. One popular idea, though, is to give her a TV series on Disney+ like The Mandalorian, perhaps following her and her sister's early days in the Resistance or her career after the events of Star Wars: The Rise of Skywalker.
The Disney+ idea has grabbed the attention of some filmmakers, notably the Crazy Rich Asians director John M. Chu. He went to Twitter last year to announce his interest in taking on that project himself, saying, "Put me in coach. Let me make this series happen." Though, you'll want to temper your excitement, as there hasn't been any other developments on that front.
Regardless, Rose Tico coming back would ultimately fall back on Kelly Marie Tran's interest, and you get the impression she's not chomping at the bit to return, which makes a lot of sense. Her character didn't sit well with some Star Wars fans after The Last Jedi, and they harassed her so much on social media that she quit all the platforms entirely.
On top of that, her role was significantly reduced in The Rise of Skywalker to 1 minute and 16 seconds in the 2 hours and 35-minute runtime. This unfortunate fact was met with considerable ire from other Star Wars fans, hoping to see more of her character, but it likely stung the actress most of all.
Whether or not she decides to return, the prospect of her coming back is always a welcome one. I, for one, would be on board to see where her journey takes her next. For more movie news, be sure to stay tuned to CinemaBlend.
Your Daily Blend of Entertainment News
Thank you for signing up to CinemaBlend. You will receive a verification email shortly.
There was a problem. Please refresh the page and try again.