Parasite Director Explains How Mad Max: Fury Road Influenced The Oscar-Winning Movie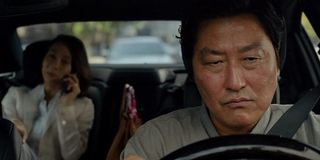 It hasn't even been a year since Parasite's historic win at the Oscars. Yet, we're still learning a lot about how director Bong Joon-ho made the Best Picture winner. Recently, he revealed that Mad Max: Fury Road made a big impact on his life, so much so that it directly influenced Parasite.
At first blush, it's hard to imagine Mad Max: Fury Road, a non-stop action movie, having inspired Parasite, a dark comedy. But, according to Bong Joon-ho on his Criterion Commentary (via Indiewire), the first time he watched Mad Max: Fury Road, he cried and felt a huge connection with the film. The way Fury Road was made left a big impression on him. Here's what he said:
This actually makes a lot of sense. Though Parasite had a different narrative structure and genre than Mad Max: Fury Road, it still had that feeling of constant movement and action, with plenty of background information that provided all the backstory an audience needed to understand both the Park and Kim families.
Despite having production problems and on-set drama, Mad Max: Fury Road turned out to be one of the best movies in the summer of 2015. And like a fine wine, it only seems to get better with age.
While they may have many differences, the other thing Parasite and Mad Max: Fury Road have in common is their Academy Award nominations and wins. Funny enough, while Parasite won some of the more prestigious awards, like Best Picture and Best Director, Mad Max: Fury Road won the technical awards, like Film Editing and Production Design.
As it so happens, this isn't the only time Mad Max: Fury Road inspired a movie that was outside its genre. Earlier this year, Unpregnant director Rachel Lee Goldenberg admitted that Mad Max: Fury Road was one inspiration for her road trip comedy. So it makes you wonder what other movies were inspired by George Miller's masterpiece.
Bong Joon-ho may be taking a bit of a break after his big win at the Oscars, but George Miller looks to be diving right back into the world of Mad Max. But, rather than doing a sequel to Fury Road, he'll be tackling a prequel revolving around a younger Furiosa, starring Anya Taylor-Joy and Chris Hemsworth.
Once that untitled movie releases, perhaps that'll give Bong Joon-ho more inspiration for his own next masterpiece? Time will tell. In the meantime, he's made plenty of great movies other than Parasite to dive into right away.
Your Daily Blend of Entertainment News
Your Daily Blend of Entertainment News
Thank you for signing up to CinemaBlend. You will receive a verification email shortly.
There was a problem. Please refresh the page and try again.