How Many Oscars Mad Max: Fury Road Probably Can Win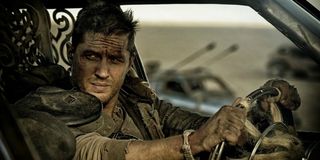 We've now all had a few hours to digest the 88th Academy Award nominations, and probably the most pleasantly surprising recognition came in the shape of the 10 nominations for Mad Max: Fury Road. Rather than just being in the below-the-lines categories (often populated by summer blockbusters), George Miller's movie also got nominations for Best Picture and Best Director. Impressive. But how many Academy Awards could Mad Max: Fury Road actually pick up next month?
Well, to start off, let's have a look at each of the Oscar nominations that Mad Max: Fury Road picked up.
Of those 10, I'm going out on a limb and say Mad Max: Fury Road has a chance at winning 5 of them, which I believe will come in the shape of Best Director, Visual Effects, Film Editing, Makeup and Hairstyling, and Costume Design.
Obviously the big two nominations are for Best Picture and Best Director. The chances of Mad Max: Fury Road taking home both of these gongs are slim to none. Sure, in eight out of the last ten years the Best Director winner has been the same as the Best Picture, but the Academy is unlikely to want to give both awards to a sequel that cost $200 million to make, and is the definition of blockbuster spectacle.
Looking at the nominations, I believe that the Best Picture battle is between The Revenant and Spotlight, with The Martian as an outsider. In fact, the horrifying lack of a nomination for Ridley Scott could see The Martian follow the path of Argo back in 2012, which won Best Picture despite the fact that Ben Affleck wasn't nominated. It's a long shot, but it could happen.
Those of us pining for George Miller to win Best Director should also look at 2012 as evidence that it could happen too. That year, while Argo picked up Best Picture, Ang Lee won Best Director for his gorgeously directed Life Of Pi, his second triumph in this category following his success in 2005 for Brokeback Mountain – which was beaten to Best Picture that year by Paul Haggis' Crash.
Like Life Of Pi, Mad Max: Fury Road is a perfect example of a director using visual effects, sound, production design, makeup, editing, cinematography, basically every facet of movie-making to elevate a film, and make it shine in a unique, dazzling, and enthralling way. The fact that George Miller did that so spectacularly deserves recognition. At the moment, he looks like an outsider in this category, with The Revenant's Alejandro G. Inarritu looking like the favorite to reclaim the award he picked up just last year for Birdman.
In the other categories, I believe that Mad Max: Fury Road should have the Best Editing sewn up, while it will be in a battle to eclipse Carol, The Revenant, and Sicario (Roger Deakins!!!) for Cinematography. It's likely that Mad Max will duke it out with Star Wars: The Force Awakens in the Visual Effects, Sound Editing, and Sound Mixing fields. We'll just have to see what pattern emerges on the night.
But if Max doesn't do so well in these technical categories early on, we'd be surprised to see it pull an upset with either Best Director or Best Picture come the end of the night. That rarely happens. We'll find out if it can do just that when Chris Rock hosts the 88th Academy Awards on February 28th.
Your Daily Blend of Entertainment News