Wait, Dermot Mulroney Plays Cello On A Bunch Of Michael Giacchino Scores?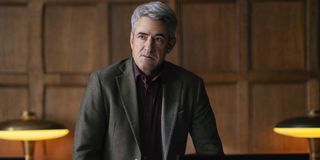 The world knows actor Dermot Mulroney from a variety of impressive performances he's given over his diverse resume of films. Films like My Best Friend's Wedding to About Schmidt, and most recently Amazon's TV adaptations of the hit podcast Homecoming and the Joe Wright film Hanna, all boast Mulroney in their casts, and the man's made an amazing career out of such an eclectic collection of roles. But there's another part he's played that audiences have definitely experienced, whether they knew it or not, as not only is Mulroney an accomplished cello player, he's also a frequent collaborator with prolific film composer Michael Giacchino.
As he's released his sci-fi concept album Travelogue Vol. 1 onto the world, I was able to speak with Mr. Giacchino on behalf of CinemaBlend to discuss that album, as well as his career at large. Being a fan of his work since the early days of the Medal of Honor franchise, as well as the hit J.J. Abrams TV show Alias, there were a bunch of things I wanted to ask the man himself about when landing the opportunity to talk. One such subject was the fact that, quite frequently, Dermot Mulroney will actually play cello for Michael Giacchino's scores, with credits for films like Mission: Impossible III, Rogue One: A Star Wars Story, and even both Dawn and War For The Planet of the Apes all peppering his musical repertoire. He not only confirmed that relationship with Mulroney, but he also explained how this partnership came to be:
After digging even further into the Dermot Mulroney/Michael Giacchino connection, the results I found were quite staggering. The man has actually played on scores for John Carter, Inside Out, Jurassic World, Tomorrowland, and even Incredibles 2! And before you even ask, yes, Mulroney's cello can be heard through the scores for both Spider-Man: Homecoming and Spider-Man: Far From Home. So if you've ever hoped Dermot Mulroney would join the Marvel Cinematic Universe, he technically already has; and should Michael Giacchino return for the scoring duties on Spider-Man 3, he probably will again.
Mulroney has been playing the cello since the age of 7, and there's even been an occasion where his talents in acting and music crossed over to great effect. Thanks to a handful of episodes that Dermot Mulroney starred in for Prime Video's defunct series Mozart in the Jungle, the character of Andrew Walsh gave the actor a chance to show off those musical chops, while also indulging in his usual levels of charm and style. You can see half of that combination in the video below, as a session of Mulroney playing to a room of artists also highlights his musical acumen:
You can see how Dermot Mulroney has kept himself in the professional company of Michael Giacchino, with cello skills like that making him a valuable collaborator on the various film's they've worked on together. Though, as the composer of other scores like Incredibles II and Mission: Impossible – Ghost Protocol would soon point out, the musical side of Mulroney's self could be the one that he finds his heart siding with the most. Giacchino explained why he feels that statement is the truth, in the following remarks:
Oh, and as you've probably guessed, both of those scores just mentioned also boast the Giacchino/Mulroney magic on them as well. Much as Michael Giacchino frequently pairs up with the same trusted roster of directors, his musical collaborators come from the same sort of magic that sees folks coming together to create new art on a regular basis. if you're an avid collector of score albums from Hollywood films, and if you've got some Giacchino greats on hand in said collection, you might want to read the liner notes a little more carefully. You never know when you'll next find Dermot Mulroney's name among the musicians that brought that music to living, vibrant life.
Michael Giacchino's Travelogue Vol. 1 is currently available on pre-order through Mondo, on both Vinyl and CD formats, which will be shipped out through November. However, if you want to listen to the album before buying it, you can currently stream it or purchase the album digitally. You can also hear his next musical score on the big screen in writer/director Thomas Bezucha's epic western thriller Let Him Go, which opens in theaters on November 6th. Last, but not least, if you're interested in getting more insight into the work and career of Michael Giacchino, take a listen to the latest episode of ReelBlend, where he was the honored guest of the week.
Up next: Michael Giacchino Talks Star Wars, Spider-Man, Pixar And More
CinemaBlend's James Bond (expert). Also versed in Large Scale Aggressors, time travel, and Guillermo del Toro. He fights for The User.
Your Daily Blend of Entertainment News
Thank you for signing up to CinemaBlend. You will receive a verification email shortly.
There was a problem. Please refresh the page and try again.