The Real 'Fun' In Watching Hamilton's Lin-Manuel Miranda And More Play Historical Figures, According To Leslie Odom Jr.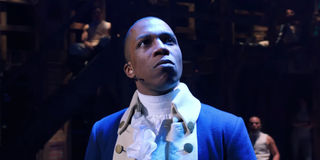 For many fans, one of the best things about Hamilton is the creative liberties Lin-Manuel Miranda took in telling the story of the American Revolution and its aftermath. For the cast of the show, it was undoubtedly a challenge -- but one that was well worth the undertaking. Just ask Leslie Odom Jr., who has shared what he found especially entertaining about watching his Hamilton co-stars bring historical figures back to life in the 21st century.
When Hamilton first premiered on Broadway in 2015, Leslie Odom Jr. was one of the original cast members. As Aaron Burr, he filled a particularly unique role -- the primary narrator of the whole show and also the friend-turned-antagonist who eventually murders the musical's titular founding father. His riveting portrayal of the former vice president earned him kudos worldwide, including a Tony Award for Lead Actor in a Musical.
Leslie Odom Jr. left the Hamilton cast in 2016, but his career has flourished. In addition to releasing his own original music, he's starred in films like Murder on the Orient Express, the upcoming One Night in Miami, and 2019's Harriet, in which he played another real-life figure, abolitionist William Still.
While you might think that portraying people that played such an important part in history could be daunting, Leslie Odom Jr. actually felt empowered when he and his Hamilton castmates took the stage. He told Variety's Awards Circuit podcast:
It seems like the uniqueness of Hamilton was consistently one of Leslie Odom Jr.'s favorite parts of his journey with the show. He's been open about the fact that he was thrilled that the original cast of Hamilton was able to film their performance and make it available on Disney+ so that it was more widely available to fans around the world. That's because it meant that many people who don't have access to live theater venues could still enjoy the magic of a staged musical.
He's also said that he became a fan of Lin-Manuel Miranda's vision for Hamilton as a diverse reimagining of America's founding fathers. While he is happy to acknowledge that the musical doesn't do a perfect job of addressing some of the more controversial aspects of the founding fathers' lives, he does believe it helps start important conversations about the history of the United States.
Your Daily Blend of Entertainment News