What Convinced Leslie Odom Jr. To Sign On The Dotted Line For Hamilton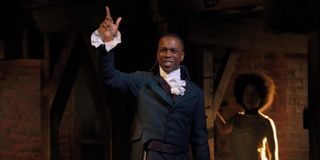 A lot has been said about the impact that Hamilton has had on creating a new generation of theater fans. It turns out the Tony-winning musical also played a pivotal role in shaping the lives of the actors who starred in it, too. In fact, Leslie Odom Jr. has revealed what aspect of Hamilton made him a lifelong fan, and made him want to sign up to be a part of the historic show.
Before Hamilton hit Disney+ this summer, and even before it hit Broadway, it had somewhat more humble beginnings. In fact, it began not as a musical at all, but as a hip-hop concept album, which gained viral popularity after creator Lin-Manuel Miranda performed the show's future opening number "Alexander Hamilton" at a 2009 White House poetry event.
Eventually, the purpose of the music shifted and became a full-fledged piece of musical theater. Lin-Manuel Miranda began the process of workshopping the show in various forms, including "The Hamilton Mixtape," which Leslie Odom Jr. was invited to see.
The performance ended up changing Leslie Odom Jr.'s life, he told guests at the virtual UB's 34th Annual Distinguished Speaker Series:
Leslie Odom Jr. didn't just sign on to become a Hamilton fan, though -- he eventually signed on the dotted line to star as the show's villain and narrator, Aaron Burr. For the actor, that role ended up changing his life:
Hamilton definitely checks all those boxes. It went on to win a slew of accolades, including the Pulitzer Prize -- Leslie Odom Jr. himself was awarded a Tony Award for his performance in 2016. It's among the highest grossing Broadway musicals) since 1982, despite the fact that it's been out for only five years.
In addition to accolades and box office success, it's also proved to have an enduring legacy and crossover appeal that few musicals have managed to obtain. The Hamilton Original Cast Recording is the best-selling cast album of all time),and is still charting on the Billboard 200, thanks in part to a recent surge in popularity from the Disney+ film.
Still, its cultural impact -- the fact that it's introduced so many new fans to musical theater and made people curious about American history -- is also something that is important to Leslie Odom Jr. It seems his initial impression of the show's potential, along with his willingness to sign on for the ride, wasn't in vain.
Your Daily Blend of Entertainment News
Your Daily Blend of Entertainment News
Thank you for signing up to CinemaBlend. You will receive a verification email shortly.
There was a problem. Please refresh the page and try again.