Jennifer Lopez's Hustlers Lawsuit Has Reached A Verdict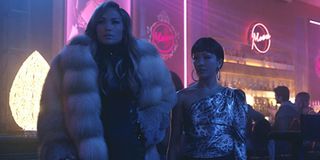 It wasn't too long ago that we heard the news that Jennifer Lopez's Hustlers and the production companies behind it were being sued by Samantha Barbash, the real-life adult entertainer that inspired the movie. But now it looks like that conflict has ended and the judge has reached a verdict on the case. Here's the latest.
A little over a year ago, Samantha Barbash filed a lawsuit against STX Entertainment, Gloria Sanchez Productions, and Pole Sisters LLC for a cool $40 million, reportedly claiming that the movie "exploits" her likeness and defames her character. But according to EW, in a major win for the Hustlers production companies, the federal judge ruled in their favor. As such, the case has been officially dismissed.
Though it was inspired by Barbash's story from an article titled The Hustlers at Scores, the court ruled that Hustlers didn't use her "name, portrait, picture, or voice" in the movie. The dismissal was issued by a judge in the U.S. District Court Southern District of New York. Previously, Samantha Barbash had voiced her distaste for Hustlers and Jennifer Lopez and believed the film was a "flagrant violation of her rights." She also thought they took her story, saying:
As it so happens, according to Jennifer Lopez anyway, she did do Hustlers for free. She said last November that she did Hustlers out of an act of love and said, "I did it for free and produced it." And her performance ended up being acclaimed upon the movie's release.
Hustlers is about Ramona Vega (Jennifer Lopez), a long-time stripper in New York City that hires other strippers to help her take advantage of their Wall Street clients by drugging them and swindling hundreds of thousands of dollars out of their bank accounts. Though the two storylines have similarities, there are quite a bit of differences between the real story to the movie. Names aside, some of the characters have different backstories, other characters are alive when in real life they would have been dead for a long time, and some relationships weren't as rosy and redeemable as portrayed on screen.
Meanwhile, Hustlers could easily be considered a surprise box office and critical success story. On a $20 million budget, it raked in roughly $157 million worldwide, a number many likely didn't expect coming from the indie film. On top of that, Hustlers proved to be a smash hit among critics, with a Rotten Tomatoes score of 87%. CinemaBlend's own, Mike Reyes, in his review, gave the movie a 3 ½ stars out of 5 and said:
Hustlers is available on streaming and demand right now.
Your Daily Blend of Entertainment News