The Fast And Furious Movies' Timeline Explained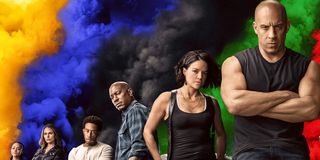 Most would think that, in a series as fast paced and action packed as The Fast and the Furious saga is, there would be a pretty easy to follow story that goes along with it all. Well, it's easy if you get to look at it all in hindsight, as watching the hard driving plot unfold in the order the films were released leads to a bit of a headache. As such, there's a bit of creative timeline thinking that needs to be laid out, in a handy to operate explanation, which is why we're here today.
Living life a quarter of a mile at a time leads to some interesting story hiccups, especially when the Fast saga requires audiences to do some mental gymnastics to make it make sense. We've covered some previous ground in this subject matter with our guide in how to watch The Fast and the Furious movies in either release order or story chronology. But here and now, we're about to explain why the timeline isn't a smooth hop, skip, and a jump if you choose to take that first path. Let's get into how the timeline of the Fast saga actually operates.
The Fast And The Furious
Year Of Release: 2001
Year Of Events: 2004
The Fast and the Furious was the start of it all. In a world where there were no smartphones, just people living in the moment, vibing, and stealing huge amounts of DVD players. There's no confusion where this film lies, as Vin Diesel and Paul Walker's Dominic "Dom" Toretto and Brian O'Conner meet for the first time. Other franchise fixtures introduced are Michelle Rodriguez' Letty Ortiz, as well as Jordana Brewster's Mia Toretto. While it's not explicitly mentioned, some math has been done to estimate that 2004 is the timestamp on the franchise's origins. That might be a bit confusing, but it'll all be explained soon enough.
2 Fast 2 Furious
Release Year: 2003
Year Of Events: TBD
We're still on a pretty straight and narrow timeline when we get to 2003's 2 Fast 2 Furious, but there's no specific year as to when this picture actually occurs in The Fast and Furious sequel canon. The greatest contribution is that we're introduced to Roman Pearce (Tyrese Gibson) and Tej Parker (Chris Bridges,) both of whom become more important in a couple of movies. But even then, references to these events are few and far between, making the exact timing a nightmare to pin down. Another interesting note: Eva Mendes' character, Monica Fuentes, technically appears again in Fast Five's post-credits sequence, but how she factors into things is still a bit of a question, as she hasn't been seen again since.
Fast & Furious
Release Year: 2009
Year Of Events: 2009
Ok, this is where things start to get complicated. In release order, 2003's The Fast and the Furious: Tokyo Drift is supposed to go here if you're watching in the franchise's order of release. However, if you're tracking the story's implied timeline, then 2009's Fast & Furious is the actual third installment in the Fast saga story.
Taking place five years after the end of The Fast and the Furious, Dom and Brian's reunion is technically set in the "present day," meaning 2009 starts a three movie run of prequels that not only see Han Lue (Sung Kang) alive and well, but already a part of Dom's team, until his death later down the road. That's not the only wrench Fast & Furious throws into the gears, as Letty's death in the franchise is dated "May 30, 2009." Which means The Fast and the Furious takes place in 2004, instead of the assumed contemporary setting of 2001. Buckle up folks, because it's about to get even more interesting with the next entry in the series.
Fast Five
Release Year: 2011
Year Of Events: 2011
This is it: the big one, the movie that folds Roman Pearce and Tej into the main storyline of The Fast and the Furious series! Fast Five is considered a huge lynchpin to the series, as it also introduces DSS Agent Luke Hobbs (Dwayne Johnson) in to the world of the Fast saga. While it was released in 2011, this fifth film in the release order is the fourth installment in story order, and takes place in the contemporary setting of 2011. This implies that despite the film opening with Dom's "release" from prison at the end of Fast & Furious, there's a two year time jump between that moment and the action proper.
Fast & Furious 6
Release Year: 2013
Year Of Events: 2013
Save for the huge example of time displacement we're going to discuss with The Fast and the Furious: Tokyo Drift's story order shift, Fast & Furious 6 keeps the series on a contemporary path. It's also the start of a trilogy of films that directly deals with the "death" of Han Lue, at the hands of Deckard Shaw (Jason Statham.) A supposed act of vengeance after the Toretto gang puts Deckard's brother Owen (Luke Evans) into a coma, this act is the thread that ties this film, and the next two, in a very tight span of occurrence.
The Fast And The Furious: Tokyo Drift
Release Year: 2006
Year Of Events: 2014
The story of The Fast and the Furious: Tokyo Drift is, allegedly, supposed to take place in 2014. It doesn't matter all that much, as the story of Sean Boswell (Lucas Black) and his introduction to both Han Lue and Dominic Toretto are all that cross over into the series at large. The film where Han's "death" actually occurs, the moment was later retconned to be shown as a consequence of Fast & Furious 6's big showdown, as well as part of the campaign of vengeance Deckard Shaw would engage in during Furious 7.
Furious 7
Release Year: 2015
Year Of Events: 2014
Are you tired of seeing Deckard Shaw kill Han? Well, too bad, because Furious 7 is going to show you that moment again. Looped into the story of this particular entry, we see that Deckard kills Han just as Brian O'Connor is about to escape a particularly explosive fate, set up by the walking and breathing Shaw brother. So that fact ties this movie into the 2014 timeframe, making Tokyo Drift's Sean Boswell the oldest teenager to have ever existed since Dick Clark himself.
The Fate Of The Furious
Release Year: 2017
Year Of Events: 2014-2015 (?)
From this point in The Fast and the Furious timeline, the Fast saga is a contemporary affair yet again. The Fate of the Furious is done with showing the death of Han Lue, and the movies have caught up with the clock of the world, seeing the present day enjoying all of the vehicular mayhem that Dominic's "family" could muster. While there are suggestions that this film takes place in a contemporary 2017 setting, the fact that Dom's baby with former girlfriend/DSS agent Elena Neves (Elsa Pataky) was conceived pretty close to the time he found out Letty was still alive pegs this film in a window of time closer to 2014-2015. Little Marcos/Brian's age in The Fate of the Furious backs this theory up pretty well, as he's still small enough to fit in an easy to juggle car seat; just ask Deckard Shaw.
Fast & Furious Presents: Hobbs & Shaw
Release Year: 2019
Year Of Events: 2019
Unless there are any more objections or retcons thrown into The Fast and the Furious timeline, it's to be assumed that Fast & Furious Presents: Hobbs & Shaw takes place in its contemporary release year of 2019. Not satisfied with getting into trouble with the Toretto family, Hobbs & Shaw beat Brixton, aka "Black Superman," like a Cherokee Drum, after becoming pretty good friends in The Fate of the Furious. We wouldn't expect this theory to change any time soon, as for obvious reasons, Hobbs & Shaw aren't expected to be seen in F9, or in the Fast saga in general, for the foreseeable future.
And now you see why the timeline that is The Fast and the Furious saga is a ball of loose yarn, gently tied together enough to make some sort of sense. So whether you watch the films in release order or story order, this guide should help piece together the bigger picture. Don't worry if you're still lost, as F9 won't be in theaters until May 28, 2021; which gives you plenty of time to rewatch the films and scratch your head to your heart's content.
CinemaBlend's James Bond (expert). Also versed in Large Scale Aggressors, time travel, and Guillermo del Toro. He fights for The User.
Your Daily Blend of Entertainment News
Thank you for signing up to CinemaBlend. You will receive a verification email shortly.
There was a problem. Please refresh the page and try again.