How LGBTQ Representation Got Happiest Season Its Stellar Cast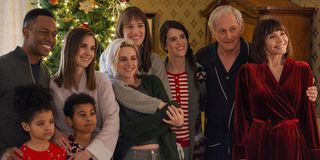 Hulu has given us a new favorite to add to our annual holiday watch lists with Happiest Season. The film follows Harper (Mackenzie Davis) as she takes her girlfriend (Abby) home to spend Christmas with her family, and reveals before they arrive that she hasn't yet come out to her family. We've all seen holiday movies with romance at the center, but focusing on a lesbian couple with this angle feels new and different. Director Clea DuVall recently shared how LGBTQ representation got Happiest Season its stellar cast.
In addition to Twilight's Kristen Stewart and The Turning star Mackenzie Davis, Happiest Season features Schitt's Creek favorite Dan Levy, Mary Steenburgen and Alison Brie to name a few. It was the important LGBTQ storyline that got them all on board. As Clea DuVall said in an interview with CinemaBlend,
How special it is to not only get to work with amazing people that are dedicated to their craft but who also all have a heart for the story. Kristen Stewart has said the film 'feels historical' referring to the moment where Dan Levy's character, John, tells his coming out story. I agree the moment with John is particularly gripping, and what I love about Happiest Season is that every character gets their own moment of emotional breakthrough.
Not only do we get to see Harper's (Mackenzie Davis) journey to acceptance, but also Abby's (Kristen Stewart) reaction. In addition, we see stories of Harper's family and learn why she chose to keep her identity secret into her adult life. Referring to the film's story as a whole, Mary Holland (who plays the younger sister of Mackenzie Davis' character) told CinemaBlend:
Evident in every single scene of this film is the passion of the cast. Knowing how excited they all were to be a part of it definitely had a hand in making Happiest Season as wonderful as it is. It's been well received by critics and fans alike, with many noting the importance of the story and very real characters alongside great humor.
Happiest Season is now streaming on Hulu (opens in new tab). For more seasonal options, check out these Christmas and holiday movies.
Obsessed with Hamilton and most things Disney. Gets too attached to TV show characters. Loves a good thriller, but will only tolerate so much blood.
Your Daily Blend of Entertainment News
Thank you for signing up to CinemaBlend. You will receive a verification email shortly.
There was a problem. Please refresh the page and try again.