The Best Romantic Movies To Watch During Christmas (And Where To Watch Them)
Don't cry shopgirl. Don't cry.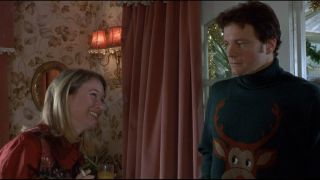 (Image credit: Universal Pictures)
If you don't have a holiday tradition that involves watching romantic comedies, now is the perfect time to start one. Netflix, Amazon Prime, Hallmark, Lifetime, and many other premium channels and streaming services offer a variety of romantic comedies and maybe even some of the best romantic Christmas movies. Romantic films may not fall precisely into the Christmas movie standards, but many have some of the key elements of the holidays: love, hope, and big gestures of affection.
For this list, I picked some romantic comedies that involve the Christmas season but in some cases, aren't considered Christmas movies, such as You've Got Mail and Bridget Jones's Diary. Nonetheless, most of these movies eventually mention or reach Christmas but the holiday may not be the main focus of the films. This list consists mostly of well-known films, including some of the best Christmas movies and the best rom-coms of all-time, but there are a few lesser known holiday romantic movies on this list.
While You Were Sleeping (1995)
Sandra Bullock plays Lucy, an adult orphan who works at the Chicago Transit Authority (CTA) token booth. Every day, she watches her crush Peter (Peter Gallagher) board the L-train. One day, Peter is mugged and put into a coma. Lucy rescues him and accompanies him to the hospital. A nurse mistakenly identifies Lucy as Peter's fiancé. She then spends Christmas with his family.
While You Were Sleeping is one of my favorite romantic comedies. It's the '90s-ness of it, Bill Pullman's attainable sex appeal, Sandra Bullock's girl next door on-screen persona, and the adorable plot line that has made this part of my holiday tradition. In my opinion, it's also one of Sandra Bullock's most memorable roles. While You Were Sleeping's unapologetic optimism makes it an intoxicatingly charming movie.
Stream While You Were Sleeping on Disney+.
Christmas In Connecticut (1945)
Barbara Stanwyck plays a woman who writes a column all about her life as a married farm wife with a child. She lives the ideal American life in Connecticut. But it's all a lie. She's really a single woman without a child or a farm. Elizabeth Lane (Stanwyck) must find a husband, child, and a farm soon because she's having a young soldier and her publisher over for Christmas. Christmas in Connecticut's cast also includes Dennis Morgan, Sydney Greenstreet, Reginald Gardiner, and S.Z Sakall.
Christmas in Connecticut is a sweet film. It starts with a love at-first-sight encounter between Elizabeth and Jefferson (Dennis Morgan). We then watch as they try to deny their growing attraction. Jefferson denies it because he believes Elizabeth is married, and she does because she wants to keep up her lie. When the two finally reveal the truth about their feelings, it's wonderful and pure. Christmas in Connecticut sets the right mood for a Christmas movie marathon because of its fun and jolly tone.
Rent or buy Christmas in Connecticut on Amazon.
You've Got Mail (1998)
Tom Hanks and Meg Ryan team up with Nora Ephron again for You've Got Mail. Despite Hanks and Ryan pairing with Ephron, this movie feels completely different from Sleepless in Seattle. In You've Got Mail, Hanks and Ryan play business rivals trying to corner the book market. Hanks plays Joe Fox, a man who runs Fox Books, a discount bookstore similar to Amazon or Barnes and Noble. Ryan plays Kathleen Kelly. She owns a small, but popular, independent bookstore. The two first meet online in an over-30s chat room. They form a bond online but despise each other in person.
You've Got Mail takes place during the holiday season, but doesn't make the holidays the big focal point of the story. The focus is on these two people who have a genuine bond but need to let go of all their real-life issues to find a true connection. Both You've Got Mail and Sleepless in Seattle work as movies to watch around Christmas because they're all about the unpredictable and guiding power of love, and isn't that one of the biggest foundations of the holidays?
Stream You've Got Mail on Tubi.
Love Actually (2003)
Love Actually features an ensemble cast and tells different interconnecting stories of love, mainly set in London. It takes place in the weeks leading up to the Christmas holiday. The Love Actually cast includes the late Alan Rickman, Hugh Grant, Colin Firth, Liam Neeson, Keira Knightley, and Laura Linney.
Love Actually showcases an array of love stories: romantic ones, heartbreaking ones, cute ones, quirky ones, etc. It includes a love story for all types of romantic movie fans, even the cynical ones. Love Actually is also a good Christmas movie because it explores themes like family, new beginnings, loss, hope, and holiday cheer. It's basically the quintessential Christmas romantic movie.
Stream Love Actually on Netflix.
Let It Snow (2019)
Let It Snow is a Netflix original movie that focuses on different teen love stories. Some of the stories involve best friends finally admitting their romantic feelings for each other, a girl being bold and going for the girl that she likes, a girl meeting a pop star and having an amazing, life-changing day with him, and even a girl meeting Joan Cusack dressed in tinfoil.
Let It Snow is based on a book written by Maureen Johnson, John Green, and Lauren Myracle. It differs from the book in a lot of ways but keeps that young adult fiction vibe with the big declarations of love, events happening at a party, and friendship as the center of some of the stories. It's a simple and sweet film that goes nicely with a hot cup of cocoa.
Stream Let It Snow on Netflix.
The Holiday (2006)
Nancy Meyers directed this holiday home swapping movie. It stars Kate Winslet, Cameron Diaz, Jack Black, and Jude Law. The women decide to exchange their homes for the holidays to escape their troubles. Iris (Kate Winslet) heads off to Los Angeles and Amanda (Cameron Diaz) flies off to London.
The Holiday is a more serious romantic comedy in that it's not filled with the same whimsical nature as many romantic comedies, instead, it deals with four people who have had their hearts broken and must now build themselves up to love again. The Holiday is a good film to watch if you want a holiday-themed romantic comedy that strays a little from the romantic movie formula.
Last Christmas (2019)
Emilia Clarke stars in Last Christmas as a woman named Kate who works as a Christmas elf. She survived a potentially fatal heart condition but now she can't seem to get her life together. She meets a man named Tom (Henry Golding) who helps her start to piece her life back together.
As someone who really enjoys Paul Feig films, and would gladly sign up for anything involving Emma Thompson, Last Christmas was never going to be terrible in my eyes. It's a little sad, and the ending was spoiled for me ahead of time, but I think it works as a romantic comedy and a Christmas movie. It's funny and a bit outlandish, but also about personal growth and finding a purpose—major holiday film topics.
Stream Last Christmas on Prime.
The Best Man Holiday (2013)
The original The Best Man crew reunites for this holiday-themed sequel. Mia (Monica Calhoun) makes sure that the friends gather for a holiday week full of activities to bond them. Things are far from what Mia hopes because there are lingering tensions and new secrets that could disrupt this already fractured group. The Best Man Holiday cast includes Taye Diggs, Sanaa Lathan, Nia Long, Morris Chestnut, and Regina Hall.
The Best Man Holiday at its core is a movie about friendship. There are plenty of romantic pairings, but the foundation of the film is how friendship helps these characters when they need it the most. It's nice to see a romantic comedy and Christmas movie that's about friendship above all.
Stream The Best Man Holiday on Peacock.
Last Holiday (2006)
Queen Latifah plays Georgia, a woman who learns that she only has a few weeks to live. In Last Holiday, Georgia decides to start living, so she quits her job and heads to the Czech Republic to have a fantastic adventure full of food, gambling, and generosity.
Georgia's luck starts to change once she accepts that she's going to die. She gains confidence and embraces new experiences. Last Holiday barely acknowledges the Christmas season. The only real evidence of it is the background decorations, and at one point, the characters mention New Year's Eve. Despite the lack of a dominant Christmas presence, the film strongly emphasizes the universal holiday messages of kindness, hope, and belief. Additionally, the film could use the term holiday to mean vacation, as in the last vacation.
There is a romance between Georgia and Sean (LL Cool J), but the main romance of this movie is with Georgia and learning to love herself.
Stream Last Holiday on Paramount+.
Serendipity (2001)
Kate Beckinsale and John Cusack star in Serendipity. Jonathan Trager (Cusack) and Sara Thomas (Beckinsale) meet one Christmas Eve in New York City. They have instant chemistry and spend a few hours together. Jonathan wants them to exchange contact information but they're both in relationships. She doesn't think the time is right. Instead, Sara convinces Jonathan to let the universe decide their fate. She writes her name and number in a used book and he does the same with a $5 bill. If they're meant to be, they'll find these things again.
Serendipity is a movie all about the possibility that the universe guides you to your soulmate. It's a nice message for people who are hopeless romantics but single during the holidays. According to Cusack and Beckinsale's characters, just ask the universe and you'll find your person.
Bridget Jones's Diary (2001)
Bridget (Renee Zellweger) is humiliated at her parent's New Year's Eve party by Mark Darcy (Colin Firth), a man her mother wanted her to date. Bridget Jones's Diary then tells the story of the rest of the year leading up to the next holiday season. Jones finds herself in a love triangle with Darcy and her boss Daniel Cleaver (Hugh Grant).
Bridget Jones's Diary has two sequels, so it's a great film to turn into a full Christmas day marathon all about Jones and her romantic struggles.
Stream Bridget Jones's Diary on Paramount+.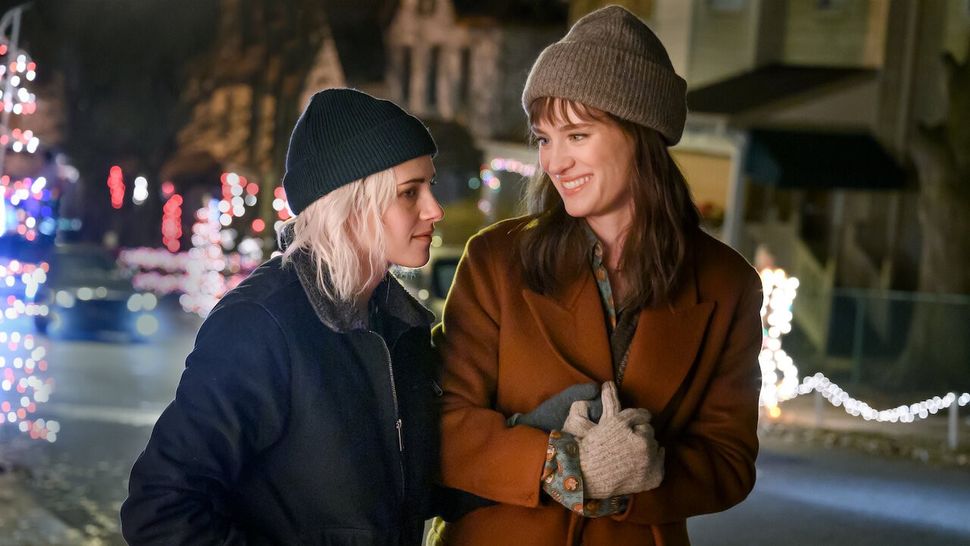 Happiest Season (2020)
Happiest Season is an LGBTQ+ romantic movie that takes place during the holiday season. Abby (Kristen Stewart) plans to spend the holidays at her girlfriend's parent's house. The major issue is that Abby's girlfriend Harper (Mackenzie Davis) hasn't come out yet to her family.
The film blends comedy and drama while showcasing this queer Christmas story. It has all the important holiday themes, such as family, love, being true to oneself, and embracing love fearlessly.
Stream Happiest Season on Hulu.
Love Hard (2021)
Netflix brings back the art of catfishing in this holiday rom-com. Natalie (Nina Dobrev) decides to step out of her comfort zone by traveling to the hometown of someone she has connected with online. She soon discovers that he's not who she thought. Natalia and Josh (Jimmy O. Yang) strike a deal to help each other both get what they want for Christmas.
In spite of the nefarious premise, Love Hard is a charming holiday movie. Dobrev and Yang deserve credit for this because their chemistry works so well. You end up rooting for them hard.
The Holiday Sitter (2022)
The Holiday Sitter is Hallmark Channel's first gay-led Christmas movie. The film delivers all the familiar Hallmark themes, including a workaholic falling for a small-town boy. However, this movie goes a little deeper with stories of adoption, divorce, and money issues. Nevertheless, it keeps its holiday whimsy.
Jonathan Bennett and George Krissa's chemistry makes this film worth watching during the holidays. You can't help but want to see more of their relationship development after it ends. This film is cheesy in the way Hallmark does best with a sprinkle of holiday magic.
Buy The Holiday Sitter on Amazon.
Your Christmas or Mine? (2022)
This wonderful Prime Original movie follows couple James (Asa Butterfield) and Hayley (Cora Kirk) as they plan to spend Christmas apart, but end up switching Christmases. She goes to his home and he goes to her home. They realize the major differences in their holiday celebrations and families.
Hayley and James spend most of the movie apart but it's a great family movie that showcases the complicated family dynamics. Additionally, even with limited on-screen time with the leads together, I really enjoyed their romance. Their quirky personalities meshed together well.
Stream Your Christmas or Mine on Prime.
Christmas movies and romantic comedies are similar in that they both believe in the whimsical, magical, and unstoppable power of love. This is what makes them a good pair, and the right combination to get into the spirit of the holidays.
Your Daily Blend of Entertainment News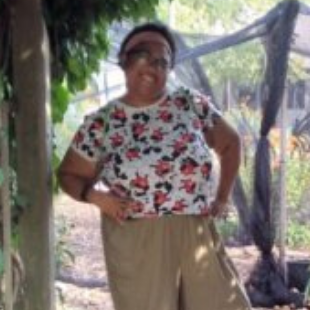 Spent most of my life in various parts of Illinois, including attending college in Evanston. I have been a life long lover of pop culture, especially television, turned that passion into writing about all things entertainment related. When I'm not writing about pop culture, I can be found channeling Gordon Ramsay by kicking people out the kitchen.