Happiest Season Cast: Where You've Seen Them Before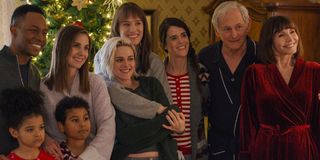 At long last, Clea DuVall's holiday romantic comedy Happiest Season is finally streaming on Hulu, and the world is a much warmer, and more awkward place because of it. The movie, which centers on a young woman named Abby (Kristen Stewart) as she sets off to enjoy the holidays with her girlfriend, Harper (Mackenzie Davis), but as we all know by now, things become much more complicated than that. And while you have have seen the movie or are planning to, some are probably wondering where they've seen the Happiest Season cast before this laugh-fest of a Christmas comedy.
You've come to right place if you fall into that camp. With actors that have appeared in films like Titanic and shows like Saturday Night Live and Curb Your Enthusiasm, the Happiest Season cast is full of big-name and rising stars. Let's take a look at this cheery bunch.
Kristen Stewart (Abby)
Kristen Stewart is front and center throughout Happiest Season as Abby, a young woman who plans on proposing to her longtime girlfriend over Christmas, only for a wrench to get thrown into the plan. Stewart, will forever be tied to Bella Swan from the Twilight movies, has been a driving force in Hollywood for what seems like decades at this point, with appearances in David Fincher's Panic Room, Jon Favreau's Zathura, and most recently in the 2020 science-fiction horror film Underwater. Stewart is next set to appear in the upcoming Princess Diana biopic, Spencer, in which she will play the Princess of Wales during the end of her marriage with Prince Charles.
Mackenzie Davis (Harper)
Right there beside Kristen Stewart's Abby in Happiest Season is Mackenzie Davis, who plays Harper, her girlfriend who has yet to tell her parents she is a lesbian or in a serious relationship. Although her career is not yet as prolific as her co-star, Davis has been on quite a tear as of late with major roles in Blade Runner 2049, the Charlize Theron-led dramedy Tully, Tim Miller's Terminator: Dark Fate, and most recently in Jon Stewart's heartwarming yet biting political comedy Irresistible. You may also recognize Davis from her small role in The Martian as well as the AMC techno drama Halt and Catch Fire, where she played Cameron Howe in all four seasons.
Dan Levy (John)
Dan Levy, who is definitely best known for his work on the Canadian comedy series Schitt's Creek, shows up as John, Abby's friend who tries to come to her rescue in Happiest Season. In addition to appearing in all six seasons of Schitt's Creek, which he also co-created and co-wrote along with his comedy legend dad, Eugene Levy, the rising star recently appeared on the HBO miniseries Coastal Elites, as well as various programs over the years, including MTV Live from 2006 to 2011. Judging by Levy's success on Schitt's Creek and his performance in this Hulu Christmas movie, this is just the beginning.
Alison Brie (Sloane)
Alison Brie does what she does best in Happiest Season: she plays the annoying and overly intense sister to Harper who's not the biggest fan of Abby. Brie, who has appeared on shows like Mad Men, Community, and GLOW, has become one of the leading comedic actresses over the past decade or so, and is constantly appearing in movies like The Disaster Artist, The Little Hours, and The Lego Movie, though she has also tried her hand at more dramatic roles in films like The Post.
Mary Holland (Jane)
Mary Holland, who co-wrote Happiest Season alongside Clea DuVall, also appears as Jane, Harper's supportive yet awkward sister in the Christmas romantic comedy. Throughout her career, Holland has shown up in some of the biggest comedy television shows of the modern era, including Silicon Valley, Curb Your Enthusiasm, and Veep. You may also recognize Holland from her appearance on Michael Bolton's Big, Sexy Valentine's Day Special, the 2017 Netflix variety show that still has a lot of people baffled three years later.
Aubrey Plaza (Riley)
Aubrey Plaza, who has become the queen of deadpan comedy over the course of the past decade, shows up in Happiest Season as Riley, Harper's wealthy ex-girlfriend. Following a one-off appearance on 30 Rock back in 2006, Plaza has become one of the biggest names in comedy with a starring role on Parks and Recreation, multiple episodes of Drunk History, and movies like Dirty Grandpa. Plaza has also done some more dramatic work in shows like Legion and movies like About Alex and the 2019 remake of Child's Play.
Mary Steenburgen (Tipper)
Mary Steenburgen, who is no stranger to comedies with large ensemble casts, portrays Harper's unassuming mother Tipper in Happiest Season. Steenburgen, who often appears alongside her real-life husband Ted Danson in Curb Your Enthusiasm, has had a prolific career in both film and television, with comedies like The Proposal, Step Brothers, Elf, and Melvin and Howard (which netted her an Oscar for Best Supporting Actress), but has also shown up in dramas like the 1993 Tom Hanks AIDS story Philadelphia and 2002's I Am Sam.
Victor Garber (Ted)
Victor Garber appears in Happiest Season as Harper's caring yet oblivious father, Ted, which makes for some extremely awkward and close calls throughout the holiday season romantic comedy. For some, Garber will always be Thomas Andrews, the shipbuilder who goes down with his unsinkable masterpiece in Titanic, Elle Woods' professor in Legally Blonde, and one of the victims of his own making in The First Wives Club. Over the years, Garber has also had major roles in shows like Alias and Legends of Tomorrow, as well as film projects like Argo, Sicario, and Dark Waters.
Ana Gasteyer (Harry Levin)
Happiest Season even features the longtime Saturday Night Live cast-member Ana Gasteyer in a supporting role as Harry Levin, a wealthy political donor. Between 1996 and 2002, Gasteyer was one of the most recognizable faces on the long-running sketch comedy program where she made a name for herself with impressions of Martha Stewart and Barbra Streisand, but her most iconic SNL skit has to be the 1998 skit "Delicious Dish: Schweddy Balls" alongside Molly Shannon and Alec Baldwin. Since leaving Saturday Night Live, Gasteyer has appeared in movies like The Women, Mean Girls, and Wine Country alongside several other SNL alums.
Burl Moseley (Eric)
Burl Moseley appears as Eric, Sloane's husband in Happiest Season, but the new Hulu romantic comedy is the only place you've seen the rising star. In addition to having small one-off roles on shows like NCIS, Dexter, and Monk, Moseley has had more prominent appearances on comedies like Crazy Ex-Girlfriend, where he played the obnoxious attorney Jim Kittsworth throughout the musical-comedy's run on The CW.
Sarayu Blue (Carolyn)
Another standout from the cast of Happiest Season is Sarayu Blue, who plays Carolyn McCoy in the movie. Over the years, Blue has appeared in smaller roles on Bones, Hawthorne, and Grey's Anatomy, but most might recognize her from the 2020 followup to the surprise Netflix romantic comedy hit To All the Boys I've Loved Before, titled To All the Boys: P.S. I Still Love You, as well as the 2018 John Cena dirty comedy Blockers, in which she portrayed the wife of the wrestler-turned-actor who remained the voice of reason as his character did everything he could to stop his daughter's prom night plans.
Jake McDorman (Connor)
Jake McDorman portrays Connor, Harper's high school boyfriend in Happiest Season. Over the years, McDorman has bounced between more comedic roles in shows like Greek and the 2018 revival of Murphy Brown, but he has also appeared in action flicks such as Live Free or Die Hard and dramatic roles in Clint Eastwood's American Sniper. After leading the CBS drama series Limitless from 2015 to 2016, McDorman currently portrays real-life American astronaut Alan Shepard in the Disney+ limited series The Right Stuff, which is loosely based on Tom Wolfe's 1979 novel and the 1983 movie of the same name.
Michelle Buteau (Trudy)
Michelle Buteau portrays Trudy, the tour guide, in the Hulu Christmas romantic comedy Happiest Season. Buteau, who is a standup comedian in addition to having an acting career, is probably best known for her hosting duties on the Netflix version of the insane reality competition series The Circle. The comedian has also taken on roles in shows like Russian Doll, The Tick, 2 Dope Queens, and the television adaptation of First Wives Club.
Timothy Simons (Mall Security Guard Ed)
Yes, that was Veep's Timothy Simons as one of two angry mall security guards in Happiest Season. Besides playing Jonah Ryan on the award-winning HBO political comedy series, Simons has shown up in movies like Inherent Vice, Yes, God, Yes and The Hustle
Lauren Lapkus (Mall Security Guard Crystal)
The second angry mall security guard in Happiest Season is played by none other than Lauren Lapkus, who recently had a lead role in the Netflix comedy The Wrong Missy. Before that, Lapkus showed up in everything from Jurassic World to Orange is the new Black.
Clea DuVall
Clea DuVall co-wrote and directed Happiest Season. Throughout her career, which goes back to the mid 1990s, DuVall has appeared in teen comedies like She's All That and Can't Hardly Wait, as well as more dramatic roles like in Zodiac, 21 Grams, and Argo. Over the years, DuVall has also appeared in various horror movies like The Faculty, The Grudge, and Ghost of Mars. Happiest Season is DuVall's second feature-length film, having made her directorial debut with 2016's The Intervention.
That about catches us up with the cast of Happiest Season. Since you're here, let us know what you think of the Hulu romantic comedy in the comments below.
Your Daily Blend of Entertainment News
Philip grew up in Louisiana (not New Orleans) before moving to St. Louis after graduating from Louisiana State University-Shreveport. When he's not writing about movies or television, Philip can be found being chased by his three kids, telling his dogs to stop barking at the mailman, or yelling about professional wrestling to his wife. If the stars properly align, he will talk about For Love Of The Game being the best baseball movie of all time.