How Adam Sandler Helped Method Man Improve His Skills As An Actor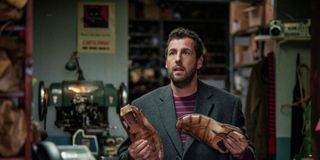 Whenever a famous artist makes a crossover, it's a bit of a risk. Method Man did just that when he chose to begin an acting career after years as a musician. That choice has opened him up to an entirely new phase of his career -- but it also proved to be challenging. Luckily, according to Method Man, he's been able to pick up some great tips from stars like Adam Sandler, who he credits with helping him improve his acting skills.
Method Man co-starred with Adam Sandler in the 2014 film The Cobbler. The premise of the story -- that Adam Sandler's titular footwear aficionado is able to step into other people's shoes and become them -- is pretty out there and gave all of the actors on set a bit of a challenge. Method Man played Leon Ludlow, the first person that Adam Sandler's cobbler Max Simkin transforms into. The musician and actor recently admitted on an episode of PeopleTV's Couch Surfing (via EW) that he found the task of giving a convincing performance in The Cobbler particularly daunting for a couple of reasons:
Method Man said that ultimately, taking a step back and focusing on how Adam Sandler was portraying his character helped him figure out the best, well, method for his own approach:
The Cobbler wasn't exactly a hit with critics or moviegoers. It did give Method Man a chance to expand his acting horizons, though, and he told the Couch Surfing crew that his experience on set played an important role in his decision to take acting seriously.
Of course, fans of Method Man would note that he'd already made some impressive moves prior to his role in The Cobbler. The former Wu-Tang Clan member turned heads when he made a foray into acting and logged notable appearances in critically acclaimed TV series like OZ and The Wire and unforgettable comedies like How High.
It seems as though he's diligently applied that newfound dedication to his career. In the past few years, he's played himself several times in everything from the indie film Paterson to the beloved TV series Difficult People. He's also taken impressive turns in HBO's The Deuce and Starz' Power Book II: Ghost. It will be interesting to see what he tackles next.
Your Daily Blend of Entertainment News
Thank you for signing up to CinemaBlend. You will receive a verification email shortly.
There was a problem. Please refresh the page and try again.