Wu-Tang Clan's Method Man: His Best Contributions To Movies, TV And Hip-Hop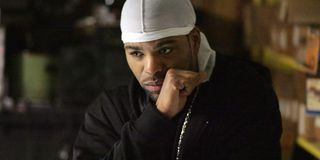 M-E-T-H-O-D, Man! M-E-T-H-O-D, Man! The one and only Method Man of the Wu-Tang Clan has had an interesting and lengthy career. Debuting on 1993's classic album, Enter the Wu-Tang (36 Chambers), Method Man (Born Clifford Smith, but a.k.a. Johnny Blaze, a.k.a. Iron Lung, a.k.a. Mr. Mef) has pretty much done it all.
So, it's kind of hard to pick his best contributions to movies, TV, and Hip-Hop. At first, I was just going to go with his roles in movies, but how could I possibly exclude his work in Hip-Hop? And what about television? The Ticallian Stallion pretty much made a home for himself on HBO with appearances on three major shows (all of which will appear on this list). Let's just get into it, shall we? And always remember – protect your neck! Oh, and spoilers ahead.
OZ
It's no place like home in Em City. While not a regular on the HBO show, Method Man's character, Tug Daniels, still played a pretty memorable role on OZ. Attempting to murder Supreme Allah with a toothbrush shank (and then eventually siding with him), Method Man didn't last very long as a character, but I'll never forget him for the very short time that he had on the series.
Method Man has always been menacing on the mic, but OZ was the first time that we really got to see him in an extended role on a TV show. And, with his four-episode stint, we got to see that the man could actually act. Burr Redding got you good though, man. He got you good.
Tical
The first solo Wu project to come out after Enter the Wu-Tang (Though, The GZA's, Words From the Genius predates Enter the Wu-Tang, and the first Gravediggaz album, 6 Feet Deep, predates Meth's debut), Tical was a monster hit, and one of the greatest albums of the '90s. Hell, Meth even won a Grammy for his hit song, "I'll Be There For You/You're All I Need to Get By," featuring Mary. J. Blige, with this album. What couldn't this guy do?
The album, Tical, and his song, "Method Man" off of Enter the Wu-Tang kind of established Meth as one of the major faces of the group. Sure, the Wu was one full unit, forming like Voltron (arm, leg, leg, arm, head) but Tical was proof that Meth would do just fine on his own as a solo artist.
Method Man & Redman: Blackout!
Honestly, it's hard to think about Method Man without his partner in rhyme, Redman. Their first joint album together, Blackout!, totally lived up to the hype. Featuring some of my all-time favorite Method Man songs, such as the hilarious "Cereal Killer" and of course "Da Rockwilder" (That beat!), there's probably no better pairing in all of Hip-Hop than Method Man and the Funk Doctor Spock, Redman.
Blackout! proved that while Meth's heart belonged to the Wu-Tang Clan, he could branch out even further and stretch his legs with creative projects such as this.
How High
Speaking of Method Man and Redman, the two of them also starred in a stoner comedy together back in 2001 called How High. The plot is absolutely bonkers the way most stoner comedies are. Method Man plays a piss poor student named Silas who's visited by the spirit of his dead friend, Ivory. After certain circumstances happen, Silas and his buddy Jamal (played by Redman) smoke Ivory's ashes, which causes Ivory to appear and help them in their studies so that they get into Harvard.
Yeah, that's...just nuts, but Method Man employed some of that trademark humor that he often snuck into his songs to make a stoner comedy that's almost on par with modern classics like Harold and Kumar Go to White Castle and Pineapple Express. And that ain't bad.
The Wire
Method Man had a much longer stint on The Wire (He appeared in Seasons 2, 3, 4, and 5!) than he did on OZ, but The Wire had such a large ensemble cast that you might have forgotten how big a role he had on the show. Playing Melvin "Cheese" Wagstaff, Cheese was one of Proposition Joe's chief drug traffickers. Whether he was lighting cars up in flames or shooting his dog in the head, Cheese was always making his presence known.
Method Man played the role so well. Being such a bit player in a huge drug trade actually highlighted his acting abilities, because it showed the ground floor of Baltimore, and all the moving pieces. By essentially playing a mid-tier drug dealer, Method Man brought life to the man on the corner in a way that isn't often, if ever, seen on TV.
Red Tails
Method Man in a historical war film? Sure, why not. Method Man plays Corporal Sticks in Red Tails, which is about the Tuskegee Airmen who fought and flew in World War 2.
While a small role to be sure, the great thing about this performance is that you can sit and watch the movie and not even realize that Method Man is in it. That's because he's ditched his trademark swagger and is just acting cleanly. In that way, you kind of get lost in his performance, which is the trademark of any great actor. I didn't know you had it in you, Mef!
The Deuce
Created by two of my favorite writers, David Simon and George Pelecanos, The Deuce is about the Golden Age of pornography. So, what role could Method Man possibly play in all this debauchery, you ask? Well, he's a pimp, of course. Duh.
Rodney the Pimp is another one of those bit players in an ensemble cast that Method Man plays so well. The beauty of his performance is that he doesn't go over the top with it. He's not jiving or doing anything ridiculous. Instead, he does a more nuanced portrayal of a pimp. But, alas, just like in OZ and The Wire, things don't go so well for Rodney. Oh, well. At least Method Man dies like a champ on all of these shows.
Method Man is an icon, and whether it's in music, movies, or TV, I can't wait to see what he has in store for us next.
This poll is no longer available.
Rich is a Jersey boy, through and through. He graduated from Rutgers University (Go, R.U.!), and thinks the Garden State is the best state in the country. That said, he'll take Chicago Deep Dish pizza over a New York slice any day of the week. Don't hate. When he's not watching his two kids, he's usually working on a novel, watching vintage movies, or reading some obscure book.
Your Daily Blend of Entertainment News
Thank you for signing up to CinemaBlend. You will receive a verification email shortly.
There was a problem. Please refresh the page and try again.