5 Ways To Support Movie Theaters During The Coronavirus Pandemic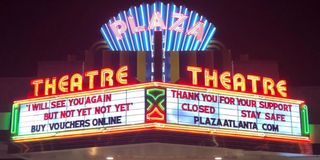 Movie theaters are at a precarious point in their history. Since the coronavirus pandemic hit in March, theaters have either been shut down—many have been forced to close their doors permanently—or operating at a reduced capacity and relying on mostly legacy and indie titles, save, for example, Tenet or The Croods: A New Age, which have drawn a substantially reduced box office. The continued presence of COVID-19 into 2021 isn't the only threatening factor, as Warner Bros. announced last week that the HBO Max streaming service would release all of the studio's' 2021 films the same day online as in theaters.
There likely has never been a more dangerous or potentially industry-shifting time for movie theaters. But, for anyone who misses the movie theater experience and is eager for it to return, there are a number of ways to support movie theaters in their time of need. Here are five examples of how you can give back to movie theaters during the coronavirus pandemic.
Make Your Voice Heard With The #SaveYourCinema Campaign
Congress is currently working toward a new stimulus package to support individuals and businesses economically impacted by the coronavirus pandemic. A potential component of the relief package could be the Save Our Stages proposal, which would provide $15 billion in support to musical venues, live theater and movie theaters.
The Save Our Stages proposal does have bipartisan support, as well as the backing of many influential names in Hollywood, but we as individual, film-loving citizens can give an extra boost of support by writing to our representatives and asking them to support the effort. And the National Association of Theater Owners (NATO) has made it an easy process with the #SaveYourCinema campaign.
The #SaveYourCinema campaign has already written out the letter sharing the details of the plan and the impact it would have for theaters, all you need to do is provide some basic information and you can help in the process of giving movie theaters federal relief. Add your voice in the fight to save movie theaters.
Buy A Ticket At A Virtual Cinema
If you have a local independent theater you love and have missed frequenting these last nine months, virtual cinema programs have been created that let you rent a movie online from home with part of the proceeds going to these smaller theaters.
Distributors like Magnolia Pictures, Grasshopper Film, Film Movement and Kino Lorber—where I found the hidden gem Bacurau (pictured above)—are making their latest and library films available through virtual cinemas, with viewers able to search for their local theater to benefit. Some local theaters are hosting their own virtual cinemas, as well.
Support a mom-and-pop or smaller theater in need, discover new independent titles that those movie theaters are known to spotlight all while staying safe at home? That's what I call a win.
Rent Out A Theater For A Private Screening
Wonder Woman 1984, while set to be available to HBO Max subscribers at home on Dec. 25, is a movie that was made to be seen on the big screen. One way to have that experience in this environment is to rent out a movie theater for a private screening.
AMC, Cinemark, Alamo Drafthouse and other theater chains are offering entire movie theaters to be rented out for a screening of Wonder Woman 1984 or any other movie currently playing at the theater, new or classic. The cost, as well as how many people are able to be included in a private screening, varies depending on the chain/venue.
Even for private rentals, masks are required unless eating or drinking a concession. Make any return to the theater special with safe health practices during these times.
Nab Film Collectibles From Mondo And Alamo Drafthouse
Whether it's to add to your own personal collection or to snag a last-minute holiday gift for a fellow film-lover, Mondo and Alamo Drafthouse are selling film collectibles and posters, with all of the proceeds going toward paying Alamo Drafthouse staff and paying debt and expenses occurred during COVID-19 closures, said Alamo Drafthouse co-founder and Executive Chairman Tim League on the Alamo Drafthouse blog.
Part of the special sale, billed by League as "Invading the Alamo Basement," is a special auction of Mondo posters. Fifteen years worth of Mondo collectible posters are being auctioned off starting at $1 until Dec. 13. Mondo posters are known for their unique and beautiful designs of new and classic movies—as exhibited by the originally Star Wars trilogy posters shown above—and are made in limited capacities. This is a rare chance to access Mondo posters that may have long since been out of stock.
Other great movie collectibles are available to purchase and support Alamo Drafthouse, including officially licensed enamel pins of famous movies and characters; movie-inspired t-shirts; Alamo Drafthouse swag; action figures and figurines; and more.
Buy A Gift Card To Prepare For Theaters Reopening
In an interview with NATO's Phil Contrino during the early days of the coronavirus pandemic, he highlighted a simple and easy way to support local theaters through these tough times: buy gift cards.
Gift cards require no middle man. It is a straight transaction between you and the theater, with all of the proceeds from it going entirely to the theater. While it may require some patience on the consumer's part until theaters widely open again or the next big title is released, theaters get that immediate boost to support themselves and their staff during these difficult times.
We don't know how people will feel about going to movie theaters when things are "back to normal" with all this time away and the streaming habits that have been created. But having a gift card burning in your pocket could be an incentive to give theaters a try and maybe reignite a love for the movie theater experience.
Your Daily Blend of Entertainment News
D.C.-based cinephile. Will dabble in just about any movie genre, but passionate about discovering classic films/film history and tracking the Oscar race.