Jason Momoa And Josh Brolin Lend Support To Dune's Theatrical Release After Denis Villenueve Speaks Out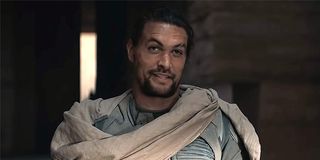 To put it mildly, Warner Bros.' decision to release its entire 2021 line-up simultaneously in theaters and on HBO Max has been controversial. As some have questioned what this will mean for the future of cinema, others with a deeply personal stake in the films that will be affected are speaking out. After Denis Villeneuve made his displeasure at the development clear, two Dune cast members, Jason Momoa and Josh Brolin have spoken out in support of him.
Denis Villeneuve's long-awaited adaptation of Dune is one of the films that is slated for a joint theatrical and streaming release. On December 10, the director shared a letter that detailed his concerns about Warner Bros. decision. The next day, Josh Brolin shared an excerpt from the letter in a post on Instagram. While he didn't go into detail about his own feelings on the matter, Josh Brolin did voice his support for Denis Villenueve:
Josh Brolin shared a link to the original Variety article in his Instagram bio. Soon after, Jason Momoa reposted his Dune co-star's Instagram post in solidarity. In the letter, Denis Villeneuve speaks honestly about how carefully his team has worked to optimize Dune for a theatrical experience. He also expressed worries that Warner Bros.' plan will limit Dune's ability to be financially successful and make it easier for fans to pirate the film.
The Dune crew aren't the only Hollywood heavyweights who've voiced disapproval of Warner Bros. 2021 plans. Legendary Entertainment is considering taking legal action against the studio for failing to notify filmmakers about the decision ahead of time. Christopher Nolan, a strong proponent of supporting movie theaters worldwide, offered a scathing rebuke of WB, stating "They don't even understand what they're losing."
By now, it's clear that many in Hollywood are uneasy about what the future will look like as far as film distribution is concerned. Before the pandemic, there was already a debate as to the role that streaming services like Netflix and HBO Max play in how films are distributed and consumed.
This year has brought unprecedented challenges, as studios grappled with how to get movies to the masses when it wasn't safe to sit in theaters. While it makes sense to pivot to streaming services in the short term, it's natural to wonder how long movie theaters will survive if fans are given a longer-term option to stream new films from the comfort of their homes.
Filmmakers and actors voicing their opinions on this matter can help us make sense of what's at stake. For studios, it's the desire to maintain financial stability and, for filmmakers, it's the art they put countless hours of their lives into.
Your Daily Blend of Entertainment News
Thank you for signing up to CinemaBlend. You will receive a verification email shortly.
There was a problem. Please refresh the page and try again.