One Night In Miami: Where You've Seen The Cast Of Regina King's New Drama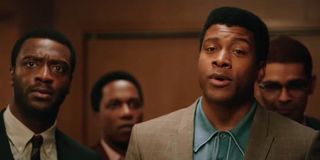 It isn't every day you get to see a movie that offers a hypothetical situation in which four of the most prominent and influential figures in the American Civil Rights movement get together for memorable night out on the town. And while the events of Regina King's feature-length directorial debut were all dreamed up in the head of playwright and screenwriter Kemp Powers, the One Night in Miami cast is so committed to their craft and portrayals of Malcolm X, Cassius Clay (just before he became Muhammad Ali), Jim Brown, and Sam Cooke, you would think you were watching a documentary if you didn't know any better.
After catching One Night in Miami at your local movie house or deciding to wait until the movie premieres on Amazon Prime Video in January 2021, you may be asking yourself where you've seen this crop of extremely talented and versatile actors before. There are some up-and-comers in the cast, but that shouldn't take away from what some of these names have been able to accomplish in such a short time. With those fresh faces there are also some of Hollywood's most notable character actors, who also get a time to shine in this imaginative period piece. Let's see who's who in One Night in Miami.
Kingsley Ben-Adir (Malcolm X)
Portraying the American Muslim minister and human rights activist Malcolm X in One Night in Miami is Kingsley Ben-Adir, who has been on quite a roll as of late after taking on some fairly large roles in a number of television programs and feature films. In 2020 alone, Ben-Adir appeared in the Showtime original miniseries The Comey Rule in which he played former United States President Barack Obama, an episode of the HBO Max original series Love Life, a recurring role as Russell "Mac" McCormack on the Hulu series adaptation of High Fidelity, and a one-off performance on the AMC series Soulmates.
Prior to his busy 2020, Kingsley Ben-Adir appeared on shows like The OA, Peaky Blinders, and Deep State, as well as the Disney+ original comedy Noelle and Guy Ritchie's 2017 Camelot re-imagining, King Arthur: Legend of the Sword.
Eli Goree (Cassius Clay)
The plot of One Night in Miami takes place just after boxing legend Cassius Clay lands a surprise victory over Sonny Liston, and playing "The Greatest" in the 2020 period drama is Eli Goree. A longtime television actor with appearances on shows ranging from Riverdale, where he has a recurring role as Munroe "Mad Dog" Moore, to The 100, Goree has also shown up in titles like Legends of Tomorrow, GLOW, and Supernatural over the years.
Surprisingly, One Night in Miami is Eli Goree's third credit in a feature film, having previously appeared in a very small capacity in 2014's Godzilla, and in a more notable performance as Olympic track star Dave Albritton in the 2016 sports drama Race, which chronicled Jesse Owens' winning a record-breaking four gold medals at the 1936 Berlin games.
Aldis Hodge (Jim Brown)
Of the four main actors who make up the central cast of One Night in Miami no one has more credits to their name than Aldis Hodge, who portrays American football icon Jim Brown. Hodge is probably best known for his portrayal of MC Ren in the NWA biopic Straight Outta Compton, or perhaps for playing Levi Jackson in the inspiring NASA story Hidden Figures, both of which came out in 2016.
But those are just two of the dozens of movies, television shows, and video games in which Aldis Hodge has been featured throughout his career, which goes all the way back to 1994's Die Hard with a Vengeance. Also included in that long list are shows like Friday Night Lights, The Walking Dead, and The Blacklist. He will next appear as Hawkman in Black Adam.
Leslie Odom Jr. (Sam Cooke)
Sam Cooke, the American soul singer best remembered for his highly emotional song "A Change Is Gonna Come," (which was inspired by his 1963 arrest in the Jim Crow South) is portrayed by none other than the sensational Leslie Odom Jr. of Hamilton fame. In addition to being the first actor to take on the role of Aaron Burr in Lin-Manuel Miranda's Broadway sensation, Odom has been in everything from theatrical productions of Rent, Dreamgirls, and Jersey Boys, to movies like Harriet, Only, and Red Tails, and television shows like Law & Order: Special Victims Unit, Grey's Anatomy, and CSI: Miami.
On top of all of that, Leslie Odom Jr. has also released multiple studio albums, including two Christmas records, the most recent having come out in November 2020. For some, however, Odom will always been remembered for his career-defining performance in Hamilton all those years ago.
Lance Reddick (Brother Kareem)
Outside of its four main stars, the One Night in Miami cast is made up some pretty impressive talent, including Lance Reddick, who takes on the role of Brother Kareem, Malcolm X's bodyguard and confidante. It is impossible to go through any streaming service and not see at least one movie or television program featuring Reddick in some capacity. Whether it be in shows like The Wire, Fringe, and Bosch or film appearances, like in the John Wick franchise, the Baltimore native has been one of the hardest working actors in the business since getting his start in 1992.
Nicolette Robinson (Barbara Cooke)
Nicolette Robinson makes her film debut in One Night in Miami, in which she plays Barbara Cooke, the wife of soul singer Sam Cooke, but this is far from the first entry on her impressive list of credits. With major roles on shows like The Affair, Hart of Dixie, and Perfect Couples, the wife of co-star Leslie Odom Jr. has also had success on the stage, including her 2018 Broadway debut with Waitress. Robinson also recently appeared in the Freeform series Love in the Time of Corona.
Michael Imperioli (Angelo Dundee)
Michael Imperioli, the Primetime Emmy Award-winning actor best remembered for his portrayal of Christopher Moltisanti on The Sopranos, appears in One Night in Miami as Cassius Clay's longtime trainer and cornerman Angelo Dundee. Between the iconic HBO series and Regina King's new period drama, Imperioli has shown up in everything from Law & Order to The Office, with film credits that include The Lovely Bones, Shark Tale, and Spike Lee's 2013 remake of Oldboy.
Beau Bridges (Mr. Carlton)
Beau Bridges shows up in One Night in Miami as a wealthy Georgia man by the name of Mr. Carlton who shows up briefly to have a pointed conversation with Aldis Hodge's Jim Brown on the southerner's plantation home. The multi Golden Globe and Primetime Emmy award-winning actor has appeared in hundreds of movies, television programs, and other productions throughout his career, which spans all the way back to 1948, including Gunsmoke, Stargate SG-1, and Alexander Payne's 2011 drama The Descendants.
Joaquina Kalukango (Betty Shabazz)
Joaquina Kalukango appears briefly in One Night in Miami as Malcolm X's supportive and committed wife Betty Shabazz, a.k.a. Betty X. Kalukango, who has since gone on to appear in HBO's supernatural social examination, Lovecraft Country, previously portrayed Shabazz in a yet-to-be-released 2015 short film titled I Had a Dream.
Lawrence Gilliard Jr. (Drew 'Bundini' Brown)
Drew Bundini Brown, the longtime assistant trainer for Cassius Clay, is portrayed by Lawrence Gilliard Jr. in One Night in Miami. Gilliard, who appeared in The Wire as D'Angelo Barksdale, the ill-fated lieutenant in his cousin's drug-dealing operation, has shown up in everything from The Walking Dead to The Deuce in recent years, but in the past, the accomplished actor has taken on memorable roles in comedies like The Waterboy and psychological thrillers like The Machinist.
Aaron D. Alexander (Sonny Liston)
Sonny Liston, the boxing legend who is defeated by Cassius Clay in One Night in Miami, is portrayed by Aaron D. Alexander. The actor has not only appeared in small roles on shows like Scandal, Ballers, and American Crime, but has also performed stunt work in Marvel projects like Captain Marvel, Inhumans, and Agents of S.H.I.E.L.D.
Jeremy Pope (Jackie Wilson)
American soul singer Jackie Wilson is brought to the big screen in One Night in Miami by Jeremy Pope, who has performed in various stage productions both on and off Broadway, as well as the 2020 Netflix series Hollywood, in which he played Archie Coleman. Throughout his career, Pope has been nominated for Tony, Grammy, and Primetime Emmy awards for his various performances.
Christopher Gorham (Johnny Carson)
Regina King's One Night in Miami features dramatizations of some of the most iconic figures of 1960s America, and the movie wouldn't be complete without someone playing the former king of late night TV, Johnny Carson. Christopher Gorham, whose film credits mostly consist of voice work for various DC Comics animated features, has the honor of portraying talk show legend in the 2020 star-studded affair. In addition to voicing Barry Allen on multiple occasions, Gorham has appeared on shows like Ugly Betty, Modern Family, and Buffy the Vampire Slayer.
This is just a dozen or so of the talented actors that make up the cast of Regina King's One Night in Miami. If you've already seen the movie and want to know what else is coming out the final days of the year, check out CinemaBlend's 2020 release guide for all the latest.
Your Daily Blend of Entertainment News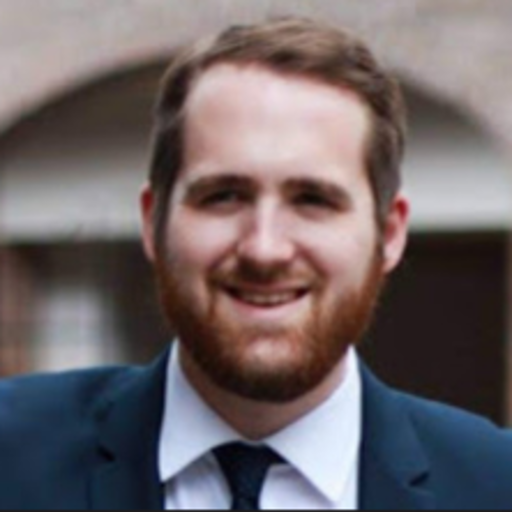 Philip grew up in Louisiana (not New Orleans) before moving to St. Louis after graduating from Louisiana State University-Shreveport. When he's not writing about movies or television, Philip can be found being chased by his three kids, telling his dogs to stop barking at the mailman, or yelling about professional wrestling to his wife. If the stars properly align, he will talk about For Love Of The Game being the best baseball movie of all time.