Showtime's The Comey Rule: Where You've Seen The Cast Before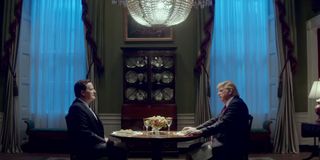 The new showtime limited series The Comey Rule follows former FBI director James Comey in the lead-up to the 2016 presidential election and the final few months of his tenure before being fired by President Donald Trump. After watching the first episode of the two-night event, or at least watching its star-studded trailer, it's easy to see that the show is stacked with talented actors. And though Jeff Daniels and Brendan Gleeson are easy to spot as Comey and Trump respectively, some faces in The Comey Rule cast may be hard to point out. With that being said, here is where you've seen the cast before.
Jeff Daniels (James Comey)
Veteran actor of the screen (both big and small) and stage Jeff Daniels portrays former FBI director James Comey at two stages of the final years of career with the bureau in The Comey Rule. Prior to landing the lead role in the Showtime miniseries, Daniels appeared in everything from HBO dramas like The Newsroom, for which he won a Golden Globe for his portrayal of embattled news anchor Will McAvoy, to slapstick comedies like 1994's Dumb and Dumber with Jim Carrey. Other credits to Daniels' name include Terms of Endearment, Gods and Generals, and the Matt Damon-led sci-fi "comedy" The Martian.
Brendan Gleeson (Donald Trump)
Under all that makeup and that absurd wig is Brendan Gleeson in his portrayal of the 45th President of the United States Donald Trump, who is seen both before and after his 2016 election. Gleeson is no stranger to over-the-top characters like the one he plays in The Comey Rule, as he has spent much of his career showing up in everything from the Harry Potter franchise as Alastor "Mad-Eye" Moody, Gangs of New York, and In Bruges. Gleeson, the father of Domhnall Gleeson, is also known for his roles in Braveheart, Cold Mountain, and 28 Days Later. Poor Frank.
Holly Hunter (Sally Yates)
Academy Award winner Holly Hunter portrays Sally Yates, who served as the United States Acting Attorney General for 10 days at the start of the Trump Administration. Hunter, who has the distinction of being up for two acting Oscars in the same year, has been a driving force in Hollywood for nearly 40 years now. With roles in Raising Arizona, Broadcast News, The Piano (which netted her an Oscar), The Firm, and Batman v Superman: Dawn of Justice, Hunter has done it all. And if her voice sounds familiar that's because of her turn as Elastigirl in The Incredibles and its 2018 sequel.
Michael Kelly (Andrew McCabe)
Michael Kelly, who is no stranger to political dramas, plays Andrew McCabe the former deputy director of the FBI from 2016 to 2018. Prior to landing the role of the FBI official who was fired just hours before he was set to retire, Kelly made a name for himself as Doug Stamper on House of Cards, before that having appeared in a number of movies including two Zack Snyder films: Man of Steel and Dawn of the Dead. Kelly most recently appeared in Season 2 of the Amazon original series Jack Ryan.
Jennifer Ehle (Patrice Comey)
Jennifer Ehle portrays James Comey's wife Patrice in The Comey Rule, in a role that comes off as her husband's conscious. Jennifer Ehle, a two-time Tony winner (The Real Thing in 2000; The Coast of Utopia in 2007) has appeared in a number of prestigious films, television programs, and stage productions over the course of her 30-year career, but she is probably best known for her turn as Elizabeth Bennet in the 1995 BBC production of Pride and Prejudice. Outside of that, Ehle is known for her roles in Contagion, The Ides of March, Zero Dark Thirty, and the Fifty Shades franchise.
Peter Coyote (Robert Mueller)
Peter Coyote portrays former FBI director and former special counsel for the United States Department of Justice Robert Mueller in The Comey Rule. Coyote may not have the most recognizable face, but listen to his voice for a few seconds and it's hard to easy to remember hearing his narration of several of Ken Burns' documentaries, including Country Music, The Vietnam War, The National Parks, and countless others. In addition to his voice work, Coyote has appeared in everything from Erin Brockovich to E.T. the Extra-Terrestrial.
Steven Pasquale (Peter Strzok)
Steven Pasquale appears in The Comey Rule as former FBI agent Peter Strzok, who was in charge of investigating Hilary Clinton's use of a private email server ahead of the 2016 election and was later put on Robert Mueller's Russia investigation until text messages between Strozk and attorney Lisa Page were uncovered. Pasquale has long been a fixture on televisions thanks to roles on Six Feet Under, Rescue Me, The Good Wife, and The People v. O.J. Simpson: American Crime Story, in which he played detective Mark Fuhrman. He is also married to Hamilton star Phillipa Soo.
Oona Chaplin (Lisa Page)
Oona Chaplin portrays former FBI attorney Lisa Page, one of the two former members of the bureau caught up in the text message scandal surrounding criticisms of President Donald Trump during the Russian investigation. Chaplin, the granddaughter of Charlie Chaplin, is probably best known for her turn as Talisa Maegyr in Game of Thrones before her character was brutally murdered in the "Red Wedding." Since leaving the HBO fantasy series, Chaplin has gone on to show up in the FX drama Taboo, the Nicholas Sparks romance The Longest Ride, and will be featured in Avatar 2 and Avatar 3.
Scoot McNairy (Rod Rosenstein)
Scoot McNairy plays former deputy attorney general Rod Rosenstein in The Comey Rule. McNairy is probably best known for his role as Joe Stafford in the Academy Award-winning thriller Argo, Batman v Superman: Dawn of Justice, and the Netflix series Narcos: Mexico. He also gave a scene-stealing performance as grieving father Tom Purcell in Season 3 of True Detective.
William Sadler (Michael Flynn)
Hot off his appearance in Bill & Ted Face the Music, longtime Frank Darabont collaborator William Sadler portrays former national security advisor Michael Fly in Showtime's political drama. Prior to showing up as the embattled Flynn, Sadler showed up multiple times as President Matthew Ellis in the Marvel Cinematic Universe, including Iron Man 3, Ant-Man, and Agents of S.H.I.E.L.D. Sadler has also appeared in movies like The Shawshank Redemption, The Mist, and Die Hard 2.
T.R. Knight (Reince Priebus)
T.R. Knight portrays former Republican National Committee chairman and former White House Chief of Staff Reince Priebus in The Comey Rule. Before playing President Donald Trump's short-lived chief of staff, Knight cut his teeth on Grey's Anatomy where he took on the role of Dr. George O'Malley in the long-running medical drama's first five seasons. Since then, Knight has shown up in shows like The Good Wife, 11.22.63, and Will & Grace, as well as movies like the 2013 Jackie Robinson biopic, 42.
Kingsley Ben-Adir (Barack Obama)
You can't have a political drama partially set in 2016 without including the 44th President of the United States Barack Obama, and The Comey Rule has Kingsley Ben-Adir taking on the role. Prior to joining the cast of the Showtime limited series, Ben-Adir appeared on a number of television programs, including Peaky Blinders, The OA, and High Fidelity. He's also had roles in movies like World War Z, King Arthur: Legend of the Sword, and Regina King's One Night in Miami.
Joe Lo Truglio (Jeff Sessions)
Joe Lo Truglio is almost unrecognizable as former United States Attorney General Jeff Sessions, but that's the Brooklyn Nine-Nine star under the wig and makeup. Over the course of his nearly 30-year career, Truglio has remained one of the funniest yet underrated comedic actors in film and television. From his early days on The State to random appearances on Reno 911!, and even his role as Neil in Wet Hot American Summer (and it's Netflix continuations), Truglio's ability to make us laugh knows no bounds.
Jonathan Banks (James Clapper)
Jonathan Banks plays former Director of National Intelligence James Clapper in The Comey Rule. Banks is probably best known to modern television viewers as Mike Ehrmantraut on Breaking Bad and Better Call Saul, but the veteran actor has been showing up on various programs as far back as the 1970s. Banks also appeared in the 2001 comedy Crocodile Dundee in Los Angeles.
Michael Hyatt
And then there is Michael Hyatt, who takes on the role of former attorney general Loretta Lynch. Hyatt is probably best known for her take on Brianna Barksdale in the first four seasons of the hit HBO crime series. Hyatt also stars as Cissy Saint on the FX series Snowfall. Other credits include The West Wing, Oz, Veronica Mars, Dexter, and Glee.
Well, that's the central cast of The Comey Rule and places where they've shown up in the past. If you're looking for more shows to watch check out the CinemaBlend Fall 2020 TV Premiere Schedule for all the latest information.
Your Daily Blend of Entertainment News
Philip grew up in Louisiana (not New Orleans) before moving to St. Louis after graduating from Louisiana State University-Shreveport. When he's not writing about movies or television, Philip can be found being chased by his three kids, telling his dogs to stop barking at the mailman, or yelling about professional wrestling to his wife. If the stars properly align, he will talk about For Love Of The Game being the best baseball movie of all time.