Netflix's Hollywood Nearly Showed Full-Frontal Nudity From Male Stars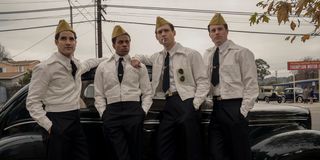 Mild spoilers below for Ryan Murphy's Netflix drama Hollywood.
Hollywood, Netflix's seven-episode limited series, has its fair share of sex scenes. In fact, the first couple of episodes were especially laden with them and. Though considering two of the characters were sex workers taking their clients to "Dreamland" under the cover of working a gas station, it's not hard to understand why there was so much nudity. Still, it appears Hollywood came close to being even more salacious than its final cut, as an early draft of the script indicated audiences were set to be shown full-frontal nudity from its male stars.
In Hollywood, David Corenswet's Jack Costello and Jeremy Pope's Archie Coleman started at the bottom of the totem pole, with Jack as an aspiring actor who kept getting overlooked for gigs, while Archie had written a script that had been passed over. Things obviously changed when they became sex workers that shmoozed with Hollywood's famous faces and powerful studio executives. Naturally, that meant they had to bare all, and speaking with Seth Rudetsky's Stars in the House— a YouTube livestream set up to raise money for the Actors' Fund — Corenswet and Pope recalled actually having to be fitted for prosthetics for full-frontal nude scenes. Only, the actors completely misunderstood the situation.
Here's what Jeremy Pope had to say about his misguided initial reaction to the prosthetic implications:
What's more, David Corenswet also thought that he was being fitted for a face prosthetic, as opposed to something more dangly. Though the first draft of the Hollywood scripts were far more raunchy, it sounds like neither Corenswet or Jeremy Pope were prepared for what was actually in store. Luckily for them, if no one else, the show pulled the plug on those full-frontal nude scenes.
Speaking of those more explicit early scripts, the cast recalled being quite surprised by how graphic the descriptions were. Glee alum Darren Criss, who played film director Raymond Ainsley, was very surprised by the "super-charged sexuality" following his first read-through. In his words:
Darren Criss conceded that the changes weren't so much about the actual descriptions in the script, but more about how the sex scenes were ultimately filmed. That made a world of difference in the end, but that didn't change the fact that reading the initial script nearly knocked everyone's socks off, along with other articles of clothing.
Hollywood is currently available to stream on Netflix. For more on what to watch in the coming months, be sure to check out our 2020 summer TV premiere guide, as well as our Netflix schedule.
Your Daily Blend of Entertainment News