Wonder Woman 1984's Patty Jenkins Reveals Other Superhero Films She'd Like To Tackle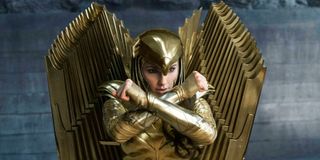 For fans of DC movies, Patty Jenkins' name has become synonymous with Wonder Woman. She's been at the helm of both the 2017 smash hit and its recently released sequel, Wonder Woman 1984. Even though the director has an obvious affinity for the beloved Justice League member, it sounds like she wouldn't be opposed to directing other superhero movies in the future. She even has a couple of characters in mind that she would like to tackle next.
It took a very (very) long time for fans to finally get a chance to see Wonder Woman 1984. Now that it's finally screening in theaters and available to stream on HBO Max, Patty Jenkins is considering her next move.
Warner Bros. may have just made the decision to move forward with Wonder Woman 3, but it's understandable that the director might be hoping to expand her horizons a bit at some point down the line. It looks like she's not ruling out other superhero projects in the future, if her answer to a fan's recent question on Twitter is any indication:
Patty Jenkins' answer is interesting, to say the least. Since she already has a history with DC, it's no surprise that she'd be keen to give Superman's story a whirl -- she's even admitted she's noticed the similarities between Clark Kent and Diana's stories. Given her proclivity for taking on stories focused on women, her interest in Black Widow isn't a huge surprise, either, even though taking on an Avenger's story would mean she'd cross franchises into an entirely different territory.
It is hard to gather whether or not the other MCU character she mentioned, Spider-Man, would be her best bet if she is seriously considering branching out. It seems like Marvel is pretty up-in-the-air about whether or not there will be a follow-up to Black Widow. But they haven't committed to another Spider-Man installment yet following the upcoming third film.
Though she didn't say so explicitly, it would be interesting to see her in the director's chair for a superhero ensemble film. She's gone on record saying she didn't love Joss Whedon's Justice League, so maybe she'd take a chance to put her own spin on things. That would give her the chance to reunite with Gal Gadot's Wonder Woman and explore Superman's storylines, too.
Of course, it's all conjecture, ultimately. Warner Bros. does seem to be pleased with Wonder Woman 1984's box office and HBO Max reception, though. And while even Patty Jenkins acknowledges it likely won't turn a true profit, Wonder Woman 3's recent confirmation could bode well for her chances of taking on another superhero property.
Do you think Patty Jenkins should explore another superhero story? If so, what would you like her to take on next? Let us know in the comments!
Your Daily Blend of Entertainment News
Your Daily Blend of Entertainment News
Thank you for signing up to CinemaBlend. You will receive a verification email shortly.
There was a problem. Please refresh the page and try again.