The Top 10 Movies Of 2020, According To Sean O'Connell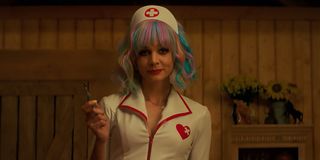 Were there any good movie released this past year? For months at a time, it seemed like no movies were being released at all, as we hunkered down in our homes and dealt with the new reality of differing ways to consume entertainment. But Hollywood did figure out how to get new movies in front of audiences (though a heavily balance of streaming, and the occasional branch out into safe-as-possible theatrical distribution), and a handful of them were truly great.
My Top 10 list for 2020 feels so very unusual, which is an accurate representation of the year, itself. There are traditional storytelling powers, major studio fare, some indie darlings, and the best films that I saw on streaming services. But because this year was so nontraditional, I couldn't think of any other way to capture, via snapshot in time, the bizarre year we just lived through. Looking back on 2020, these are the ten films that moved me, inspired me, spoke to where I was as a person, and entertained at a time when we were all desperate for distractions. These are the 10 best movies I saw this year.
10. Uncorked
I'm a sucker for "chase your dreams" fables. Heck, I write about movies full time, so clearly I had some lofty dreams that I've been lucky enough to fulfill. Then, as writer-director Prentice Penny's inspirational Uncorked unfurled, it pushed every personal button for me as an audience member, and just as a person in general. Obsessed with wine, Elijah (Mamoudou Athie) aspires to be a top-ranked Master Sommelier. His father (the always wonderful Courtney B. Vance) instead wants Elijah to take over the family's barbecue business. You had me at "wine," Uncorked! You have to go and throw "BBQ" into the mix?
Even if you think you know where Uncorked is going, the steps along the journey delight and inform. I learned a ton about wine. I invested in the dramatic squabbles of the family. I rooted for Elijah, and connected with every obstacle. Open up a bottle of red and settle in for Uncorked if you haven't yet seen it. It's a warm-blanket of a movie that I'll revisit often.
9. Borat Subsequent Moviefilm
No one thought we actually needed a sequel to Sacha Baron Cohen's Borat until we finally saw Borat Subsequent Moviefilm. As it turns out, this was exactly the type of controversial, envelope-pushing, boundary-tearing exercise in social and political lunacy that 2020 deserved. It's the first movie I can recall watching in 2020 that I immediately wanted to start over as soon as it was done because I couldn't fully process what I had watched. Did that abortion clinic scene really happen? Did Cohen really disrupt Mike Pence's rally? What was Rudy Giuliani really doing in that hotel room?!
Above all else, Borat Subsequent Moviefilm is outrageously funny. Like, "grab your sides and scream out loud" funny. You laugh, but remain in shock at the ridiculous things Borat convinces people to do, with very little prodding. The sequel lands on my Best list, though, for the enormous amount of heart that it also brings, courtesy of the relationship between Sacha Baron Cohen and newcomer Maria Bakalova, playing Borat's daughter. She's 2020's comedic MVP, and if she found her way into the Oscar conversation, I wouldn't be mad.
8. The Trial of the Chicago 7
An Aaron Sorkin courtroom drama has a damn good chance of making it onto my list just by simply existing, but the Oscar-winning screenwriter behind The Social Network, Moneyball, TV's The West Wing and the masterpiece A Few Good Men backed up the promise of The Trial of the Chicago 7 with a star-studded historical drama that landed numerous punches aimed at the events of our own time. It was surreal watching America's streets being clogged with police protests in the Summer of 2020 as Sorkin spun this true-life story about the fallout from police-brutality protests in 1968. Everything old is new again.
Restaging a tense trial is one thing. Sorkin's movie stands out for the compelling ways that he weaves us into the lives of everyone participating in the circus, from the warring attorneys (Joseph Gordon Levitt and Mark Rylance) to the irascible judge (Frank Langella) to the colorful political voices whose lives and reputations were on the line. Good luck picking the best performance in this stunning ensemble, but I do want to note Sacha Baron Cohen for playing both Borat and Abbie Hoffman, and doing it so well that both movies made my Top 10.
7. One Night in Miami
Here's the continuation of a trend for 2020: Movies set in the past that say just as much about our present as they do about the time in which they take place. The four icons speaking their truths in One Night in Miami -- Cassius Clay (Eli Goree), Malcolm X (Kingsley Ben-Adir), Jim Brown (Aldis Hodge) and Sam Cooke (Leslie Odom Jr.) -- wrestle with the cultural and civil issues of 1964. But the conversations strike chords in 2020, and it's the connections made by screenwriter Kemp Powers and director Regina King that force One Night in Miami to linger in our conscience.
Also, hot damn Regina King. The Oscar-winning actress has directed television episodes prior to this feature-film debut. She arrives for One Night in Miami with confidence and swagger, keeping Powers' stage play from feeling like a stage adaptation. She divides her focus between all four men, and is just as comfortable in a boxing ring following Clay as she is in the hotel room where the action is largely set. Miami is a knockout, a calling-card film that declares King as a storyteller to watch for years to come.
6. Da 5 Bloods
The aforementioned trend of 2020 continues with Spike Lee's latest masterpiece, a thrilling tightrope walk through history that feels like the movie Lee has been preparing to make his entire career. The Brooklyn legend loves shining a spotlight on our nation's past indiscretions, this time going all-in on the Vietnam conflict, and the toll it takes on African-American soldiers shipped overseas to die.
Lee's entry into the commentary this time, though, also works as an exciting treasure hunt that has close friends and former war colleagues returning to Ho Chi Minh City to unearth gold they'd buried back during the fight. Lee recruits a murderer's row of talent for Da 5 Bloods, unleashing Jonathan Majors, Clarke Peters, Norm Lewis, Isiah Whitlock Jr., the late Chadwick Boseman and the devastating Delroy Lindo on a brilliant screenplay that connects racial injustice of the 1960s to the Black Lives Matter movement of 2020. This is Spike Lee at his most important, and that's saying something.
5. Promising Young Woman
I can't remember the last time a movie grabbed me by the collar and just shook me as hard as Emerald Fennell's Promising Young Woman. The writer-director serves up a vicious anti-date-rape PSA that's cloaked in a pitch-black comedy, made all the more depressing that lessons included in Promising Young Woman have to be repeated at all in 2020.
Not that Fennell is preaching at her audience. Quite the opposite. She merely turns the keys over to her ingenious lead, Carey Mulligan, and lets the versatile Oscar-nominee dance vividly through the uncomfortable realities included in this eye-opening story, right up until the very last twist. Mulligan has been turning heads with performances like this for years. I'm amazed that this is Fennell's feature-film directorial debut, and will be curious to see if this was her passion project, or if she'll bring the same wit, style, bravado and sass to future stories, because damn, this one packs a wallop.
4. The Kid Detective
Too many people slept on Evan Morgan's brilliant, unpredictable The Kid Detective, even though the films that it resembles -- The Nice Guys, Kiss Kiss Bang Bang, and Brick -- are routinely celebrated as underappreciated comedic film noirs. Hopefully like those films, The Kid Detective builds its audience over time, because it's fantastic.
Evan Morgan essentially has made a grown-up Encyclopedia Brown movie, casting Adam Brody as a once-beloved child crime solver who has outgrown his gimmick but still seeks to unravel mysteries. Kid Detective creates one of those worlds that you simply want to inhabit, soaking in the quirky details and spending more time with the colorful array of weirdo characters. I had such a blast with this movie, and didn't see the conclusion coming, which helped to make this one of the best movie experiences I had in 2020.
3. News of the World
We spent so much time in 2020 debating whether or not movies could play on the big screen, where they belong. Paul Greengrass's News of the World, to me, was the only one that fully deserved to be witnessed on the biggest screen possible. The United 93 director re-teamed with his Captain Phillips star, Tom Hanks, to rejuvenate the classic Western, and cinematographer Dariusz Wolski uses every tool in his kit to capture the vast expanse of the American frontier.
What took Hanks so long to make a Western? The history buff seamlessly transitions into the mood and tone of this timeless genre, and Greengrass matches his energy to make a vintage frontier tale about heroism, compassion, trustworthiness in our news providers, and the hope that comes from the bonds of friendship (or newfound family). News of the World is top-notch filmmaking from every contributor, leading to one of the most exhilarating, entrancing and rewarding features released this year.
2. Tenet
I've only seen Christopher Nolan's Tenet once. That's a crime, as I know that the structure of this mind puzzle will only be rewarded by repeat viewings. Knowing where the story is going and understanding how/why things play out will make more sense the number of times that you return to this riveting spy thriller, but you shouldn't HAVE to watch a movie more than once to have it work.
Thankfully, even on the first pass, Nolan's Tenet is groundbreaking visual and mental storytelling, asking the audience to perform acrobatic leaps to reach jaw-dropping conclusions, while the director executes mind-blowing action set pieces that literally other directors aren't even capable of dreaming up. John David Washington cements himself as a badass but sophisticated leading man. Kenneth Branagh hams it up as an old-school Bond villain. Tenet will be remembered as the movie that pushed the theatrical conversation to the forefront, but I think that overshadows the mastery of Nolan's accomplishments in this film. It's astounding.
1. Soul
By now, we should expect this from Pixar. Especially from director Pete Docter, who has used the animation art form to explore such beautifully human topics as grief (Up), loneliness (Inside Out) and fear (Monsters Inc.), still running them through the family-friendly Pixar lens. Those were appetizers for Docter. Soul is the main course, and it's nothing short of life-changing.
It starts with death. Joe (Jamie Foxx) dies at the worst possible time… as if there's ever a good time to die. But Joe was just about to achieve his life dream. However his trip through The Great Before teaches him that his "life dream" might have been the wrong quest, which will have all of us wondering if we've used our time on this Earth wisely. Soul swings for the fences, and connects over and over. It's a glorious exploration of expectations, both those that we have in some things, and those that people have in us. It's creative, emotional, hilarious and heartfelt. It's the best movie that I saw in 2020.
Your Daily Blend of Entertainment News
Sean O'Connell is a journalist and CinemaBlend's Managing Editor. He's frequently found on Twitter at @Sean_OConnell. ReelBlend cohost. A movie junkie who's Infatuated with comic-book films. Helped get the Snyder Cut released, then wrote a book about it.