A History Of August Wilson's Pittsburgh Cycle, Including Fences And Ma Rainey's Black Bottom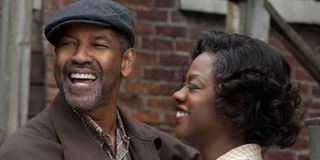 So, you loved Fences and just watched Ma Rainey's Black Bottom. What's next? Well, in case you didn't know, you've actually just watched two whole decades worth of the black experience, as these two films make up 20% of the famous playwright, August Wilson's, Pittsburgh Cycle, which is also known at the Century Cycle.
Back in college, I was obsessed with two playwrights named August, and they were August Strindberg and August Wilson. And while Strindberg definitely messed with my headspace with plays like Miss Julie and A Dream Play, it was August Wilson who I actually connected with, which is why I've read every play in the Century Cycle. So, I just wanted to give you a little history lesson of each play in chronological order, as well as which actors and actresses might be a good fit to fill in key roles, for the ones that haven't been adapted. Denzel Washington has gone on record saying that he wants to turn every one of these plays into a movie, so I thought I might just give some suggestions on who to pick for which roles. Alright now. Let's get started.
Gem Of The Ocean (1900s)
Gem of the Ocean is one of the last plays August Wilson ever wrote even though it's the first story in the Cycle. Performed in 2003, Gem of the Ocean is one of August Wilson's most ambitious plays. It concerns the 285-year-old former slave, Aunt Ester, who heals those who come to her house of absolution, and then guides their souls to the City of Bones on a slave ship called Gem of the Ocean.
Like Joe Turner's Come and Gone, Gem of the Ocean deals with slavery and the ramifications it's had on black Americans. Phylicia Rashad was nominated for a Tony for her role as the fiery Aunt Ester, so, um, yeah. I would cast her for the movie version as well. Either her or Tyler Perry wearing a dress. I kid, I kid. I love August Wilson! I don't want him spinning in his grave.
Joe Turner's Come And Gone (1910s)
First performed in 1988, Joe Turner's Come and Gone is my English teacher, Professor Miller's, favorite play of August Wilson's, but it's also probably the most complex (which is why I'm sure he likes it!). The story deals with a boardinghouse, and recently freed slaves coming and going through the establishment. Its lead character, Seth Holly, was born free in the North, and when he sees recently freed slaves coming up from the South, he looks down upon them and thinks they won't find any work, even though they're looking for it.
But it's also a play about spiritual journeys, racial discrimination, and even the concept of what it means to be black in America. Oh, and Joe Turner is not so much a character, per se, as he is an idea about racism. Yeah, heady stuff, indeed.
Tenet, I get. But Joe Turner's Come and Gone, I only partially get. That's why I really don't know who to cast for the role of Solly. Maybe Samuel L. Jackson? Solly kind of reminds me of his character from Django Unchained, just toned down a little bit. And yeah, you know which character I'm talking about.
Ma Rainey's Black Bottom (1920s)
Chadwick Boseman's final performance is also one of his best as he plays an ambitious musician in Ma Rainey's Black Bottom, which also stars Viola Davis as the titular Ma Rainey. The story is about a jazz singer (Davis) who wants to record an album, but members of her band tend to get in the way. It also deals with how black music was often reappropriated by white musicians and fed into the industry.
Ma Rainey's Black Bottom translates well to the screen, so I understand why it was the second story picked in the Cycle. It's an interesting story and a great movie overall.
The Piano Lesson (1930s)
August Wilson won the Pulitzer Prize for this play that premiered in 1987. The story is about two brothers who are arguing over selling a piano that was used as an exchange for their great grandfather when he was a slave. It's a family drama in both the present, and the past. So, again, heady stuff!
Denzel Washington has already stated in a New York Times article that this is his next project in the Century Cycle, and that he wants Samuel L. Jackson and his own son, John David Washington, to fill in for the characters. He also wants Barry Jenkins to direct. So, yeah. We'll just have to wait and see for this one.
Seven Guitars (1940s)
Another "musical" play like Ma Rainey's, in that some of the characters play music and it deals with musicians, Seven Guitars is mostly told in flashback. It's about a famous Blues singer who dies and the friends who reminisce over him. There's a killed rooster involved that I have a sneaking feeling is symbolic of something, but I'm not quite sure what. To be honest, I felt like I was reading Ibsen's The Wild Duck all over again and totally missing something important when I read Seven Guitars.
As for casting, I kind of pictured Chiwetel Ejiofor to play a character named Hedley who is not the lead, but is pretty damn important, especially in regards to why the funeral occurs in the first place. He's brutal, but also insightful. I think Mr. Ejiofor could pull it off.
Fences (1950s)
I understand why Denzel Washington started off with Fences, which was first performed in 1987. It's the most accessible play in the Cycle, and it also won the Pulitzer Prize, so there's that. It's about a hard man who missed his opportunity as a baseball player in the integrated Major Leagues, so he takes it out on everybody else around him.
Denzel Washington was nominated for an Oscar for his performance, and Viola Davis won an Oscar for her performance as his wife. It's my favorite play in the Cycle, and it's pretty much the perfect movie. So, let's move on.
Two Trains Running (1960s)
First performed in 1990, Two Trains Running takes place on the cusp of the '70s as it occurs in 1969. The story mostly takes place in a restaurant which is on the verge of being bought out. Meanwhile, customers wax philosophical about what it means to be black in a time of social unrest after Dr. King was assassinated. Fences may be my favorite play in the Cycle, but Two Trains Running is a close second.
Laurence Fishburne played a character named Sterling who's trying to drum up enthusiasm for a protest rally in the stage production, so I want him again here. It also has my favorite line in any of the Century plays of, "He gonna give me my ham." Well, we'll see.
Jitney (1970s)
Being performed in 1982, Jitney is the first play August Wilson wrote in the Cycle, even though it's chronologically the eighth story. But it's said that Wilson worked and reworked on this play, so it obviously meant a lot to him. The story is about a man who runs a Jitney business (Jitneys are illegal, unlicensed taxis) and the people who work for him. It's a pretty simple story well told about grief and responsibility.
I'd actually like Denzel Washington to play Jim Becker, the manager of the Jitney company, and his son, John David Washington, to play his son, Booster, in the film adaptation. With the father-son pairing, it would be like After Earth, but good.
King Hedley II (1980s)
King Hedley II is probably the most depressing play in the Century Cycle. It deals with an ex-con who's trying to make it during the Reaganomics years. He wants to open up a video store, but things don't go as planned, as you could likely imagine.
King Hedley II is narratively connected to Seven Guitars, so I think that movie should come out before this one, even though Denzel Washington is kind of hopping around the Century Cycle. And I'm sure Denzel Washington will pick Stephen McKinley Henderson, who also starred in Fences, to play Stool Pigeon, but I'd kind of like to see Morgan Freeman in the role. That's who I pictured in my head when I read the play anyway.
Radio Golf (1990s)
Radio Golf is the last play in the Cycle and also the last play August Wilson ever wrote, as it was first performed in 2005, which is the same year that Wilson died. It's actually interesting that this story bookends the Cycle, as Gem of the Ocean, which begins the Cycle, was the penultimate play that Wilson wrote.
The story concerns an Ivy-Leagued black man named Harmond Wilks who wants to start a new development in Pittsburgh, and also wants to be the first black Mayor in the city. But problems arise, and he starts to realize that maybe he's kind of wiping out the history of the area, making him question his plans. I envision Anthony Mackie in the role. He has a lot of depth, and I could see him knocking this performance out of the park.
Phew, so there you have it. Each play in the Century Cycle. I applaud Denzel Washington for wanting to get every one of these stories out to a mainstream audience, but I kind of wish he started at the beginning, chronologically, and worked his way up. But if August Wilson could jump around in the century, I don't see why Denzel Washington can't, too. I hope you enjoyed learning about the Century Cycle if you didn't know anything about it before. There will be a test on it next week. Class dismissed.
This poll is no longer available.
Your Daily Blend of Entertainment News
Rich is a Jersey boy, through and through. He graduated from Rutgers University (Go, R.U.!), and thinks the Garden State is the best state in the country. That said, he'll take Chicago Deep Dish pizza over a New York slice any day of the week. Don't hate. When he's not watching his two kids, he's usually working on a novel, watching vintage movies, or reading some obscure book.
Your Daily Blend of Entertainment News
Thank you for signing up to CinemaBlend. You will receive a verification email shortly.
There was a problem. Please refresh the page and try again.