Sleepless In Seattle: 11 Behind-The-Scenes Facts About The Tom Hanks And Meg Ryan Movie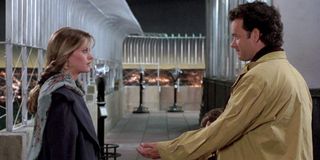 It has been nearly 30 years since we watched Tom Hanks and Meg Ryan in love (for the second time) in Nora Ephron's 1993 romantic comedy Sleepless in Seattle, but the timeless classic remains just as much of a fan favorite now as it did upon its release. Some of us have have grown up watching Annie Reed and Sam Baldwin fall in love from opposite sides of the country, yet there are some behind-the-scenes facts about how it all came together that still slip by even those who have watched the movie countless times.
There are revelations from the making of Sleepless in Seattle that director Nora Ephron exposed years later on the DVD commentary track, random moments that have come up in retrospectives from the film's stars and producers, and so much more that make the story of two lonely people whose love and chemistry (despite never having met) draw them together with a force that can only be called love. Here are some of those stories.
Nora Ephron Crafted The Character Of Annie With Meg Ryan In Mind
It is hard to imagine anyone but Meg Ryan, with her signature charm and sensibility, playing Annie Reed in Sleepless in Seattle, and although several actresses were up for the role, the When Harry Met Sally star was always the person producer Gary Foster and writer/director Nora Ephron wanted. During a special discussion in honor of the film's 25th anniversary, Foster and Ryan sat down to discuss its legacy, and during that conversation, the producer revealed that when he hired Ephron to work on the script and direct, she said she was "writing it for Meg" because she felt the actress had to play the part.
Annie Was Originally Coming Out Of A Bad Relationship, But Sam's Backstory Was Tragic Enough
The director's commentary track on the DVD release of Sleepless in Seattle is a treasure trove of behind-the-scenes information for those of us who are absolutely obsessed with the movie. As she discussed the movie, the late director revealed that Annie's backstory was originally supposed to be much different than the one we saw in the finished product. In an early draft of the script, Meg Ryan's character was supposed to be coming out of an unhappy love affair (that means no Bill Pullman), but the director decided to change things up considering how insignificant it all seemed compared to Sam's tragic backstory of losing his wife at a young age. Already having enough tragedy, that section was cut entirely.
The Door Annie Walks Out Of In Baltimore Is The Same One In A Scene With Sam In Seattle
Another little tidbit of clever trivia from Nora Ephron's commentary track on Sleepless in Seattle has to do with a door that is used on multiple occasions throughout the movie (the one in the picture above). When discussing the movie, Ephron pointed out that the door that Annie walks out of Dennis Reed's office (Frasier's David Hyde Pierce) in Baltimore is the very same door that Sam exits when he and Jay Mathews (Rob Reiner) exit while in Seattle. If you watch the scene with Annie talking to her brother, she leaves through the door and the scene immediately cuts to Tom Hanks and Rob Reiner's characters in Seattle, exiting the exact same door.
Nora Ephron Called On Her Sister Delia To Punch Up Gaby Hoffman's 'NY' Scene
In a movie that is filled with great scenes, there are some that eclipse the memorable status and are full blown iconic. One of those is the scene in which Jessica's (Gaby Hoffman) parents are interrogating her after Jonah Baldwiin (Ross Malinger) goes behind his dad's back and flies to New York to meet Annie. In the commentary track, Nora Ephron revealed that her sister, Delia Ephron, who would later help co-write and produce multiple films, helped punch up the scene by adding the following exchange after Jessica said "NY":
Nora Ephron explained adding the three lines of dialogue helped make the scene work.
Nora Ephron Appeared As One Of The Callers On Dr. Marcia Fieldstone's Radio Show
It isn't all too rare for directors to make cameos in their own movies, but eagle eye viewers need not to scour through each frame of Sleepless in Seattle because this time around as you won't see her on screen, instead you'll hear her voice. In the 25th anniversary special mentioned up above, producer Gary Foster revealed that Ephron's voice can be heard as "Disappointed in Denver," one of the many callers heard during the Dr. Marcia Fieldstone segments peppered throughout the movie.
The Use Of Red And Lack Of Blue In Sleepless In Seattle Wasn't By Chance
Something else that directors (and production designers) really like to play with in movies is color, and it was no different for Nora Ephron and Jeffrey Townsend in Sleepless in Seattle. Throughout the first hour-plus of the movie, the color red isn't used all that much, but that changes when Sam and Annie first cross paths at the Seattle airport, as Ephron revealed in the director's commentary:
Once Annie and Sam's paths cross at that moment, there's an abundance of red - the soccer players, Jonah's coat, and then Annie's run to the Empire State Building in the film's final moments. So much red, so much love, so much passion shared by the pair as they finally meet and fall in love.
Rita Wilson Originally Auditioned For A Completely Different Role
Rita Wilson's portrayal of Sam Baldwin's sister, Suzy, gave audiences one of the best instances of acting in Sleepless in Seattle with her famous recounting of An Affair to Remember, but the real-life wife of Tom Hanks originally auditioned for the role of Annie Reed's best friend, Becky. As we all know, however, that role went to Rosie O'Donnell, who Nora Ephron really wanted for the role. During the director's commentary, Ephron explained that she was so impressed with Wilson's audition that she ended up casting her as Sam's sister. She said it worked out tremendously especially when you consider that Wilson was already in Seattle with Hanks at the time of shooting.
Tom Hanks And Victor Garber Improvised The Dirty Dozen Crying Scene
Shortly after Rita Wilson breaks down into tears when discussing the plot of An Affair to Remember in Sleepless in Seattle, her on-screen husband (played by Titanic's Victor Garber) and real-life husband (Tom Hanks in all his early '90s glory) have a little break down of their own (only joking this time) as they discuss The Dirty Dozen. Nora Ephron revealed in her commentary track that the exchange where Garber and Hanks become hysterical and begin banging on the dining table was entirely the product of the acts improvising and bouncing off each other's reactions.
Seattle's Signature Rainy Weather Was Nowhere To Be Seen So Rain Trucks Were Brought In
There is a scene early on in Sleepless in Seattle where Dennis Reed (David Hyde Pierce) tells Annie that it rains nine months out of the year in Seattle, but that unfortunately was not the case for the production crew, as Nora Ephron revealed during the DVD commentary. The movie was filmed over the summer in Seattle (when it doesn't rain much), so trucks equipped with huge water tanks and sprinklers were brought in for those rain scenes featured throughout the movie.
The Waitress Featured In The Woman's Industrial Exchange Lunch Scene Wasn't Just An Extra
Nora Ephron, who will forever go down as the queen of writing great lunch scenes, explained in the director's commentary for Sleepless in Seattle that the waitress seen in Baltimore's Woman's Industrial Exchange (which is sadly no longer open) featuring Annie and Becky (Rosie O'Donnell), wasn't just an extra. In fact, Marguerite Schertle, the waitress in question, had quite the history at the restaurant:
"Miss Marguerite," as she was called by her adoring customers for nearly 80 years, was a presence at the Woman's Industrial Exchange in downtown Baltimore until her retirement in 1995. Schertle passed away in April 2001, per the Baltimore Sun.
The Ending At The Empire State Building Originally Looked Much Different
The final moments of Sleepless in Seattle (Annie finally properly meeting Sam at the top of the Empire State Building) make for an all-time great romantic comedy ending, but Nora Ephron admitted during the commentary that she initially had trouble when working on that section of the script. And just like she did with the "NY" scene earlier in the movie, the director called on her sister, Delia Ephron to help make the scene work.
Initially, Sam and Jonah had already exited the Empire State Building by the time Annie had gotten there, but the Ephron sisters just didn't like the way it played out. After thinking it over, Delia Ephron came up with the idea of having the father and son still at the building but on their way back to the top just as Annie was able to head down.
This is just a small sampling of everything that went into Sleepless in Seattle. If there is something you think we left off, make sure to add it in the comments below. If you still want more Sleepless in Seattle content after reading this story, check out this piece on some of Tom Hanks' greatest on-screen meltdowns.
Philip grew up in Louisiana (not New Orleans) before moving to St. Louis after graduating from Louisiana State University-Shreveport. When he's not writing about movies or television, Philip can be found being chased by his three kids, telling his dogs to stop yelling at the mailman, or yelling about professional wrestling to his wife. If the stars properly align, he will talk about For Love Of The Game being the best baseball movie of all time.
Your Daily Blend of Entertainment News
Thank you for signing up to CinemaBlend. You will receive a verification email shortly.
There was a problem. Please refresh the page and try again.