6 Reasons Why Sleepless In Seattle Is A Perfect Christmas Movie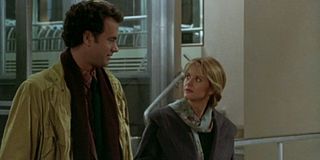 Many families have Christmas and holiday traditions that involve watching their favorite Christmas movies--the usual Christmas classics, like It's A Wonderful Life, A Christmas Story, Home Alone, etc. However, there are a lot of beloved movies that don't exactly get labeled as holiday movies but fit into that category. Sleepless in Seattle is one of those films. Meg Ryan and Tom Hanks make Sleepless in Seattle a must-see romantic comedy, but I believe it's also a must-see Christmas movie.
Sleepless in Seattle isn't a straightforward holiday movie because it doesn't quite follow the Christmas movie tropes but many of the main themes, its message, and tone make it a perfect movie to watch during the Christmas holiday. Let's examine a few of the factors that make Sleepless in Seattle the right choice for Christmas movie binging.
Christmas Is The Catalyst For The Events In Sleepless In Seattle
I think most people, myself included, associate Sleepless in Seattle with Valentine's Day. It fits in the Valentine's Day movie category. However, the movie starts on Christmas Eve. Annie (Meg Ryan) goes to visit her family for the holidays to announce her engagement to Walter (Bill Pullman). Annie's conversation with her mother on Christmas Eve about destiny and how she met Annie's father is kind of what makes her question if she's making the right decision by marrying Walter.
Sam (Tom Hanks)'s son Jonah (Ross Malinger) also decides to call the radio station because it's the holidays and his dad is especially lonely around this time of year. The radio phonecall is what brings Annie and Sam into each other's orbit.
Most of Sleepless in Seattle plays out from December 24th to February 14, so it shows Christmas and New Year's before it reaches Valentine's Day. The movie can be associated with Christmas, New Year's, and Valentine's Day. It works as a movie for all the major love holidays.
Sleepless In Seattle Is A Romantic Movie That Believes In Destiny
Annie starts the movie as a secret romantic. She wants herself and others to believe that she's very practical when it comes to love, hence marrying stable, nice, reliable, slightly boring Walter. However, right after she discusses destiny with her mother, Annie's true hopeless romantic side begins to show. We see her quickly swept up into Sam's story and the idea of meeting him and possibly being his soulmate.
We also see how much Annie and best friend Becky (Rosie O'Donnell) love An Affair To Remember, so much so that they use meeting on the Empire State Building as part of Sam and Annie's meetup plans. Sleepless in Seattle then confirms that Annie is right to believe in destiny because so many signs point them to one another, including how Sam immediately feels drawn to Annie the moment he sees her at the airport, and how Jonah's bag is left on top of the Empire State Building and Annie finds it.
Fate and destiny play a major role in many holiday romantic movies, especially those on Hallmark.
Meg Ryan And Tom Hank's Chemistry
If you're going to spend an hour and a half to two hours watching people fall in love, then you at least want them to have good chemistry. There is a reason Tom Hanks and Meg Ryan appeared in multiple movies together: they have great on-screen chemistry. They are a classic movie pairing because they work and you want to see them together.
Even though Sleepless in Seattle is about Annie and Sam's love story, they barely share screen time, but the few times they are together, you get giddy and want them to work out. Any romantic movie, whether it's a Christmas one or just a normal one, fails or succeeds by the main actors' chemistry.
Because Ryan and Hanks have such great on-screen chemistry, it sparks the feeling of holiday romance, whether you have someone or not during the holidays, Ryan and Hanks make you want to be in love, or appreciate the one or ones that you love.
Sleepless In Seattle Centers Around Hope And Letting Go
Almost all Christmas movies are about hope. And many of the Christmas dramas are about letting go, whether that's letting go of a deceased loved one, past mistakes, or material possessions. Sleepless in Seattle deals with hope and letting go in various ways. The most obvious is Sam finally letting go of his wife and opening his heart again. By doing this, he finds hope again in the possibility of falling in love.
Annie must let go of her fear of taking chances and she becomes a more hopeful person because she's willing to do things that could put Sam and her together. Sam and Annie both have to have faith and hope that they can work out all their obstacles when they finally meet.
Children Act As Matchmakers In Sleepless In Seattle
It's hard to find a holiday movie that doesn't involve a dog or a child. The child or children are usually doing some type of meddling in the lives of the adults. Jonah and Jessica (Gaby Hoffmann) could give the Scooby-Doo gang a run for their money in terms of meddling.
Jonah and Jessica work very hard to make sure Annie and Sam end up together. Jonah even books a flight to New York on his own to find Annie and make sure she ends up with Sam. It's cute in the movies, but it would be terrifying if your small child ran off to New York to meet a stranger. Luckily, it is a movie and it works out. Jessica and Jonah's matchmaking worked out perfectly for Sam and Annie, so their meddling wasn't that bad.
Sleepless In Seattle Is A Joyful Movie
During the Christmas season, I don't want to watch heavy dramas or depressing movies, I want to watch happy films. Movies that make you believe in miracles, have hope for the future, encourage people to take chances, and most of all, make you believe in true love.
Sleepless in Seattle is one of those movies that just makes you happy when you watch it. It's partly due to Nora Ephron's talent for comedy and romance, and the likability of Tom Hanks and Meg Ryan. Sleepless in Seattle is just one of those feel-good movies that's the right amount of sweet and romantic.
Sleepless in Seattle is currently available to stream on AMC+, which is available as an add-on channel to your favorite VOD streaming service, like Prime Video and AppleTV. Stream it here (opens in new tab). You can also rent it on all major VOD services. Rent it here (opens in new tab).
Your Daily Blend of Entertainment News
Spent most of my life in various parts of Illinois, including attending college in Evanston. I have been a life long lover of pop culture, especially television, turned that passion into writing about all things entertainment related. When I'm not writing about pop culture, I can be found channeling Gordon Ramsay by kicking people out the kitchen.