Frasier: 11 Behind The Scenes Facts About The Series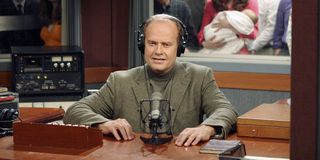 A spin-off series to a hit TV show can prove to be a bit of a gamble, with some attempts (i.e. All in the Family inspiring The Jeffersons) more successful than others (i.e. NBC following up Friends with Joey). Fortunately, Frasier would secure itself as part of the latter category, lasting an astounding 11 seasons, during which it earned a once unprecedented record of Emmy nominations, and inspiring a forthcoming reboot. There are actually quite a few behind the scenes facts only make the beloved sitcom even more fascinating.
For instance, some fans may not have realized the vast distinctions between Kelsey Grammer's role as psychiatrist Frasier Crane on Cheers and who the character became when his own show debuted on NBC in 1993, particularly in regard to his backstory. In fact, the inconsistencies go further than that as some series regulars had shared the stage with Grammer on the Boston bar-set sitcom before appearing on Frasier as entirely different people.
Maybe this seems a bit confusing, but I am sure I got you pegged with curiosity about which cast members I am referring to. Learn all about that and more of what what went on behind the scenes of Frasier with these 11 lesser-known details that will have you hearing the blues a-calling again.
Frasier's Theme Song Came From Instruction To Avoid Specific References To Psychiatry
Speaking of "hearing the blues a-calling," ever wonder what the deal was with the lyrics to the theme song, performed by star Kelsey Grammer? A listener of the "Hollywood and Levine" podcast, hosted by former Frasier writer Ken Levine (not to be confused with the creator of the BioShock games), wondered the same thing. Levine reached out to the tune's composer, Bruce Miller, who explained its origin on the writer's blog in 2012:
So, as it turns out, the ear worm of a theme actually has more to do with the show than we may have realized. Either way, one thing it will always remind folks of is Frasier's title sequence depicting a crude drawing of the Seattle skyline, which could have been the Rocky Mountains had the setting not changed.
An Anti-Gay Law In Denver Convinced The Creators To Set The Show In Seattle Instead
To avoid to associating Frasier with Cheers' Boston-setting, creators David Angell, Peter Casey, and David Lee wanted to set the series in a whole different part of the country, originally settling on Denver, Colorado. However, as Lee explained to Vanity Fair's oral history, the state had "passed this egregious anti-gay amendment." He adds that they "couldn't in good conscience base the show there," and decided that Seattle, Washington, better reflected the progressive ideals they were looking for.
John Mahoney Was Only 15 Years Older Than Kelsey Grammer
British-born actor John Mahoney, who passed away in 2018 at the age of 77, was best known for his Emmy-nominated role as Martin Crane on Frasier, but what few fans may have realized is that the he and his onscreen son, Kelsey Grammer, were only 15 years apart. The difference is actually not so different from their characters' implied ages, as Martin turned 65 in Season 5 and Frasier is labeled a 41-year-old in the first season, meaning he would have been born when Martin was 19 or 20. However, that does not explain how a man of astonishing resemblance to Martin could have made a prior appearance on Cheers.
Frasier Stars John Mahoney And Peri Gilpin Previously Played Different Characters On Cheers
Despite its sharp wit, Frasier is actually notorious for a few narrative inconsistencies from the series it spun-off of, particularly Frasier's claim on Cheers that his late father was a research scientist, despite showing up as a living retired cop on his show. Frasier holding a grudge against his dad was the explanation provided in an episode featuring Ted Danson as Sam Malone, but does not clear up how John Mahoney is seen as an entirely different character on Cheers in its final year. In fact, Peri Gilpin made an appearance in the same season prior to her casting as Roz, which is an intriguing story on its own, too.
Lisa Kudrow Was Originally Cast as Roz Doyle In Frasier
Up against Peri Gilpin for the role of Frasier Crane's radio producer Roz Doyle was Lisa Kudrow, who actually did get the part until the writers began to question if the otherwise "brilliant" comedic actress was the right fit for the character during early rehearsals. The offer was transferred back to Gilpin, who recalled to Vanity Fair how Kudrow called to congratulate her friend soon after losing the Frasier role to her. Yet, I would say we can all agree that it worked out for the best as it is hard to imagine anyone else playing Phoebe Buffay on Friends, and to Emmy-winning fame, mind you.
Frasier Was Originally An Only Child Until The Discovery Of David Hyde Pierce
Speaking of perfect casting, not only was David Hyde Pierce the first and only choice to play Frasier's brother, and fellow psychologist, Niles Crane, the character never even existed before he was cast. In fact Frasier was depicted as an only child on Cheers and the spin-off creators intended to keep it that way, but all that changed in one moment as David Lee explained to Vanity Fair:
Yet another last minute decision led to one of the most essential ingredients to Frasier's success. Not to mention, without Niles Crane, we would have never gotten one of the series' funniest running gags.
Frasier's Writers Did Consider Casting Maris Crane Before Deciding To Keep Her Unseen
Niles Crane's first wife, Maris, had a decidedly important role on Frasier despite existing almost purely through conversation, at least to the audience's perspective. The character's offscreen presence was not always meant to last, but was set up as, per David Lee's description to Yahoo, "a fast one on the audience," convincing them she would remain unseen "like Norm's wife, Vera, in Cheers" until she made a surprise reveal. Ultimately, that reveal never materialized because, as Lee added, "Two or three episodes in, she was already so bizarre, she was uncastable."
Daphne Was Given An Overeating Disorder on Frasier To Hide Jane Leeves' Pregnancy
Of course, Frasier fans can be thankful to have seen Niles Crane find happiness with his brother's maid, Daphne Moon, played by English actress Jane Leeves, who actually became pregnant during the show's eighth season. This explains why her character suffered from an overeating disorder, resulting in subsequent weight gain, at the time. Fun fact: Daphne would eventually visit a weight loss spa and claim to lose "9 pounds and 12 ounces," which is how much her daughter, Isabella, weighed at birth.
Celebrities Requested To Make Voice Cameos As Frasier's Call-In Guests
A fun game you can play while watching Frasier is to guess the celebrities voicing Frasier's patients, who have included former Tonight Show host Jay Leno, Superman actor Christopher Reeve, and even rock star Eddie Van Halen, to name just a few. Securing these A-list cameos became a much easier feat over time, as casting director Jeff Greenberg revealed to The Chicago Tribute in 1995, claiming that the likes of Sharon Stone and Halle Berry, among others, would reach out him for a voice spot as the series became more successful.
Kelsey Grammer Memorized Lines Just Moments Before Shooting Frasier Scenes
The multiple awards that Kelsey Grammer won as the title character of Frasier, among other roles, must be proof that his "requisite disrespect for the craft" of acting is a success, despite it being "insanity" to David Hyde Pierce and others. According to a profile for Us Weekly (via MaryEllenMark.com), the method requires Grammer to rehearse only once and have his lines just barely memorized before shooting, giving him "a slightly wide-eyed kind of energy" in the moment by raising the stakes of his ability to recall the dialogue, as he claims. It may sound a bit overbearing to the average performer, but apparently the real "diva" on set was the dog.
Moose, The Dog Who Played Eddie On Frasier, Was Later Replaced By His Own Son
Kelsey Grammer once thanked Moose, who starred as Eddie the dog on Frasier, in his acceptance speech at the 1994 Emmys, but later claimed to The Enterprise that John Mahoney, who played the Jack Russell Terrrier's owner, hated him in real life. Well, he would only have to act alongside the "diva" until 2000 when Eddie was recast with Enzo, who was actually Moose's own son, in the role until the series 2004 finale.
Did this list of Frasier trivia pique your fancy, or do you think it stinks and is total BS? If so, we wish you good mental health and hope you let us know more of what you think in the comments, as well as check back for additional information and updates on the future of the sharp sitcom, and even more insider looks at your favorite movies and TV shows, here on CinemaBlend.
Your Daily Blend of Entertainment News
Jason has been writing since he was able to pick up a washable marker, with which he wrote his debut illustrated children's story, later transitioning to a short-lived comic book series and (very) amateur filmmaking before finally settling on pursuing a career in writing about movies in lieu of making them. Look for his name in just about any article related to Batman.
Your Daily Blend of Entertainment News
Thank you for signing up to CinemaBlend. You will receive a verification email shortly.
There was a problem. Please refresh the page and try again.