13 Great Tom Hanks Movies Streaming Or Available To Rent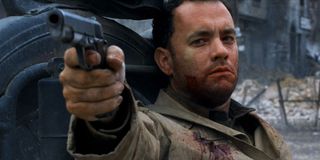 Tom Hanks is everyone's surrogate best friend, father, cousin, uncle, and neighbor. He is just this likable guy that happens to be extremely wealthy and famous. Hanks' likability on-screen and off-screen is why so many enjoy Tom Hanks movies. He's someone you can depend on for an entertaining movie and trust to give a strong performance. Tom Hanks is a public figure that people will gladly tune in to or buy tickets to any of his projects. Luckily for fans of the Forest Gump actor, streaming services like Netflix, Amazon Prime, HBO Max, and others have plenty of Tom Hanks movies to stream.
Many other Tom Hanks films are available to rent on Amazon or other Video-On-Demand services. For this list, I mainly selected some of Tom Hanks's most beloved and popular movies but there are a few that are lesser-known and may be new to you.
Forrest Gump
Simple-minded but kind Forrest Gump leaves his mark on history and all those that he encounters. Forrest Gump tells the story of Gump's extraordinary life all leading him back to his childhood sweetheart Jenny (Robin Wright).
Why Tom Hanks Fans Will Like It: Tom Hanks fans appreciate this touching drama because it connects with people and offers optimism and a great Hanks performance. The film is one of Hanks' most well-known movies and one that people still reference and revisit because it warms the heart and challenges people to take a different approach to life.
Stream it on Starz here.
Rent it here.
You've Got Mail
Meg Ryan and Tom Hanks star in You've Got Mail, a romantic comedy about two rival bookstore owners who fall in love online but are rivals in the real world. The film follows these two as they grow because of each other and start to really get to know their mortal enemy.
Why Tom Hanks Fans Will Like It: You've Got Mail was released when online dating just began to hit its stride. Now, do people even meet people in real-life anymore? The film is a fun look at how technology can help people find their soulmates. It's also a great Tom Hanks movie because it allows him to play the romantic lead who isn't perfect, but willing to become better for love.
Stream it on HBO Max here.
Rent it here.
Philadelphia
Tom Hanks played Andrew Beckett in Philadelphia. Andrew is diagnosed with HIV and hides that and his homosexuality from his law firm colleagues. Andrew is suddenly fired, which he believes was because he is gay. So Andrew sues the company for discrimination. Denzel Washington plays Joe Miller, the lawyer who defends Andrew.
Why Tom Hanks Fans Will Like It: Philadelphia earned Hanks his first Academy Award for this role. The role is one of Hanks' best as he makes you feel, understand, mourn, and rage with Andrew. You want him to win this case and you want him to survive, but you know only one is probably possible. Philadelphia is also great because of the combines powerhouse of Hanks and Washington, two of the greatest actors of our time.
Stream it on Starz here.
Rent it here.
A Beautiful Day In The Neighborhood
Tom Hanks takes on the role of beloved children's programming host Fred Rogers in A Beautiful Day in the Neighborhood. The film depicts a moment in Rogers's life when he met journalist Lloyd Vogel (Matthew Rhys) and helped him deal with his own fears about fatherhood, and he helped him reconcile with his estranged father.
Why Tom Hanks Fans Will Like It: Hanks gives another strong performance. He gives a fairly accurate rendition of Rogers's gestures and mannerisms. It's also fitting that one of the most likable famous people played another iconic likable figure.
Stream it on Starz here.
Purchase it here.
The Toy Story Movies
The first Toy Story film follows a group of toys that come alive when humans aren't around. Sheriff Woody (Tom Hanks ) is his owner Andy's favorite toy, but when new spaceman Buzz Lightyear (Tim Allen) arrives, Woody starts to feel jealous and neglected. Toy Story currently has three sequels.
Why Tom Hanks Fans Will Like It: Like many Pixar films, Toy Story is kid-friendly but has a message, humor, and formula that adults can enjoy. Toy Story also has four films in the franchise (not including the TV movies and shorts), so it's a great film series to binge. Woody is also one of Hanks's few animated characters and one of his most memorable characters.
Stream it on Toy Story on Disney+ here (1, 2, 3, 4).
Sleepless In Seattle
This Nora Ephron film pairs Tom Hanks and Meg Ryan as two people inescapably drawn to one another. Sleepless in Seattle starts on Christmas and follows Annie (Ryan) and Sam (Hanks) over the course of a few months. Sam is trying to get back into the dating scene after his wife died, and Ryan heard Sam on the radio and must find him.
Why Tom Hanks Fans Will Like It: There is no denying Hanks and Ryan's on-screen chemistry. The two only share a few scenes together, but all through the film, you yearn for their happy ending. Sleepless in Seattle is a good Hanks's film for hopeless romantics.
Stream it on AMC+ here.
Rent it here.
Saving Private Ryan
Steven Spielberg directed Saving Private Ryan. The film follows Captain John Miller (Tom Hanks) as he and his men face danger on their quest to find Private Ryan (Matt Damon). Ryan's brothers have all died, and Miller and his crew want to make sure at least one son returns home to his mother.
Why Tom Hanks Fans Will Like It: Saving Private Ryan is a film with enormous stakes as these men face so many obstacles. Hanks is the perfect man to lead this movie as you're instantly invested in him. You feel the weight of this journey from the start, and some relief as the film reaches its end. Saving Private Ryan is an action war movie, but it's also a movie with a lot of heart and character.
Rent it here.
Splash
Allen Bauer falls in love with a beautiful woman named Madison (Daryl Hannah). Things seem great, but she hides one big secret: she's a mermaid.
Why Tom Hanks Fans Will Like It: Splash is a fantastical love story about a young man and a mermaid. It's a very sweet story that helped to cement Hanks as an appealing romantic lead. Without Splash, we may never have gotten all those other great Hanks romantic comedies, and that would have been a crime.
Stream it on Disney+ here.
Rent it here.
The Burbs
Tom Hanks, Bruce Dern, Carrie Fisher, Corey Feldman, and Rick Ducommun star in The Burbs. The Burbs is a movie about a man who suspects that his new neighbors are murderers. He then gets himself in trouble as he tries to prove his suspicions.
Why Tom Hanks Fans Will Like It: Hanks has done more serious dramas than comedies lately, but many of his early films were comedies, so this is a good throwback Hanks film. The Burbs is also one of his funniest films. It's a great movie to watch for those wanting a hilarious comedy and to watch a Hanks 80s classic.
Stream it on Showtime here.
The Green Mile
Based on a Stephen King novel, The Green Mile tells the story of a death-row inmate who has magical powers. Michael Clarke Duncan plays the gentle giant John Coffey. Tom Hanks plays Paul Edgecomb, a death row corrections officer.
Why Tom Hanks Fans Will Like It: The Green Mile is a story of how one man makes everyone who he comes in contact with change for the better. This movie is one of those dramas that can easily reduce you to a puddle of tears.
Stream it on Max Go here.
Rent it here.
Big
13-year old Josh Baskin (David Moscow) makes a wish on an arcade fortune teller machine to be an adult. Josh gets his wish and becomes the adult version (Tom Hanks) of himself. He must navigate the complicated world of adulthood, while still having the mentality of a child.
Why Tom Hanks Fans Will Like It: Big isn't Hanks' first movie, but it feels like the one that launched his career. He received his first Academy Award nomination for his role in Big, and it was just onward and upward from there. Big is quintessential viewing if you're a Tom Hanks fan. Not only is it one of his most popular films, but it's just an overall entertaining movie.
Rent it here.
Catch Me If You Can
Tom Hanks teams up with Steven Spielberg again for this biographical crime flick. In Catch Me If You Can, Leonardo DiCaprio plays Frank Abagnale, a teenage con artist. Hanks plays Carl Hanratty, the FBI agent trying to capture Frank.
Why Tom Hanks Fans Will Like It: Catch Me If You Can is a very playful movie about a fascinating real-life character. It's a stylish film that is extremely entertaining and lighthearted.
Rent it here.
Greyhound
Tom Hanks stars in and wrote the screenplay for Greyhound. It follows Commander Ernest Krause (Tom Hanks) on his first wartime assignment. He must defend a merchant ship that's under attack.
Why Tom Hanks Fans Will Like It: Greyhound is clearly a passion project for Hanks because he wrote the script and was disappointed when it didn't make its originally-intended theatrical run. It's the type of high stakes film that gets your blood rushing.
Stream it on Apple TV here.
These are just some of the great Tom Hanks movies available streaming. You can also catch Saving Mr. Banks and Cloud Atlas on Netflix. Meanwhile, Amazon Prime has The Da Vinci Code.
Tom Hanks can next be seen in News of the World when it's released on December 25, 2020.
Your Daily Blend of Entertainment News
Spent most of my life in various parts of Illinois, including attending college in Evanston. I have been a life long lover of pop culture, especially television, turned that passion into writing about all things entertainment related. When I'm not writing about pop culture, I can be found channeling Gordon Ramsay by kicking people out the kitchen.