5 Upcoming Disney Projects We Still Hope Are Happening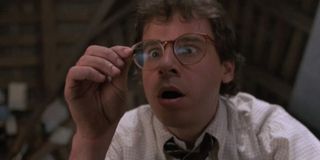 At the end of last year, the Walt Disney Company held a special Investor Day event where, in addition to touting the company's overall success, a whole host of upcoming projects were discussed. Most were Disney+ movies or series, but a number of theatrical films were either confirmed or announced as well. However, what I noticed more than anything wasn't the massive list of what was announced, but the handful of projects that were not mentioned.
The fact is that a lot of what Disney announced in December were projects that we already knew were on the way. Many of them had never been confirmed by Disney until that day, but they had been reported by reliable sources as projects that were in various stages of active development. Some projects that were not mentioned that day, like the Star Wars movie being produced by Kevin Feige, have seen new information drop since the Investor Day, but we're still largely in the dark on a lot of other projects, like the ones below.
Rian Johnson's Star Wars Movie(s)
One of the biggest Star Wars projects has been one that was announced years ago, and we've heard basically nothing about it since then. Following Star Wars: The Last Jedi, Rian Johnson was supposed to be writing, and possibly also directing, a new Star Wars trilogy, something entirely separate from the then-still-in-production Sequel Trilogy. There have been rumors that the project is dead, and while Johnson had previously dismissed those rumors, it's been a while since anybody has brought up the films. It's possible that Rian Johnson is the mystery writer of Patty Jenkins' recently announced Rogue Squadron movie, as whoever is handling that script is still in the shadows. But if not, it's unclear where this project really is or when we might see it, with Jenkins, Taika Waititi and Kevin Feige apparently all with Star Wars movies that are more active.
Monsters At Work
Monsters at Work is an interesting one because we've technically been waiting for almost two years for this one. At the previous Disney Investor Day, in the spring of 2019, when Disney+ was first unveiled to the world, Pixar CCO Pete Docter told us we would be getting Pixar's first original series, telling the story of what happened to Mike, Sully, and company following Monsters Inc. Pixar announced a number of new projects at the 2020 Investor Day, However, this particular series was not mentioned. Originally, the series was supposed to drop in 2020, and if it's delayed, that's understandable. But the fact that the series wasn't given a new date has us wondering if something is up. Considering that projects were announced that are years away, the fact that Monsters At Work wasn't one of them has us questioning the plans.
Pirates of the Caribbean
The Pirates of the Caribbean film series has been one of the most successful franchises that Disney has going, so despite the fact that the franchise star Johnny Depp is done with the series, it would be a shock if we were told that the franchise was done too. Quite the contrary, as it's been reported that there are two separate Pirates films currently in the works. One will reportedly star Margot Robbie and be written by Birds of Prey scribe Christina Hodson, and the other is being written by Ted Elliot and Craig Mazin. Considering that a lot of what we got from the Disney Investor Day was confirmation of what we already knew was coming, getting some sort of confirmation that these films are in the works would not have been out of place. Even if they're too far out for a release date, a confirmation that a new entry in a successful franchise is planned is the sort of thing investors love to see.
Shrunk!
In the category of "worst kept secrets in Hollywood," we know that Rick Moranis is set to reprise his role in a new Honey, I Shrunk the Kids reboot/sequel that will star Josh Gad as the adult son of Moranis' character. Considering Moranis' popularity, as well as the fact that he's semi-retired, this was big news. And yet, there was no mention of it last month. Considering that the movie is expected to hit Disney+ rather than theaters, and the Investor Day was mainly focused on the streaming service, you'd think we would have received confirmation that this was, in fact, happening, even if it's still years away. Even if there was no new information about the film, confirmation of what's been reported would seem like an obvious thing to do. Unless what's been reported isn't entirely accurate?
Knights Of the Old Republic
While we don't have a lot of details about these other projects, they still seem likely to be happening unless there was a complete breakdown behind the scenes. One project that seems less certain, but is no less exciting, is a Knights of the Old Republic movie, that was reported to be in the works, with a screenwriter attached, back in 2019. We're coming up on two years since this was reported, and we really haven't heard much about it since. Of the items on this list, this might be the one most likely to be dead. Assuming, of course, that it actually ever existed at all. Still. we want it to be true.
Anything can happen in Hollywood, and so it's certainly possible that any or all of these projects, while completely legit at one time, have been dropped for any number of reasons. The fact that we haven't heard much about them for months or even years could mean something, or it could end up meaning nothing at all. The problem is that often when these projects die, they're just ignored and not brought up again, leaving fans wondering if there's a chance they could be made someday, when there is really not. Sometimes movies and TV shows get delayed, but eventually make their debut. Hopefully that's what will happen here, and fingers crossed we get some sort of new information about these projects confirming they are happening later this year.
CinemaBlend's resident theme park junkie and amateur Disney historian. Armchair Imagineer. Epcot Stan. Future Club 33 Member.
Your Daily Blend of Entertainment News
Thank you for signing up to CinemaBlend. You will receive a verification email shortly.
There was a problem. Please refresh the page and try again.