Before His Rumored Sex Message Scandal, Did Armie Hammer Have An Affair With Lily James?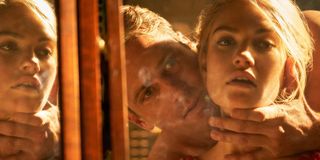 Armie Hammer has stepped down from his latest movie after unconfirmed reports he may have been sending messages both sexual and cannibalistic in nature to women who were not his then-wife. Now, tabloids are reporting more about his alleged sexual preferences and possible flirtations outside his marriage, also noting that while married, he may have had an affair with Lily James while the two were working together on Netflix's Rebecca. Ultimately, we don't know exactly what's going on. We may never know exactly what happened, but since the rumors are now out there, let's talk about what we know and what we don't know.
The reports come some months after Armie Hammer split with his wife Elizabeth Chambers in July of 2020, which is a fact; the two did split up and he came home to Los Angeles while she stayed in the Cayman Islands. The two had been married for a decade at the time of the split. About three months later, in October of 2020, Lily James was seen by cameras canoodling with married actor Dominic West in Italy. Those two hit it off while filming the projects The Pursuit of Love together.
However, prior to that Lily James was working with Armie Hammer on the Netflix film Rebecca, where rumors have indicated the two also allegedly hit it off. While no affair came out or was mentioned when Hammer and Chambers split earlier this year, over the last few months the rumor mill has been rampant with the idea that an affair between the two Rebecca actors may have been what split up the marriage.
Unconfirmed reports indicated that Elizabeth Chambers may have found texts from a woman mysteriously referred to as Adeline, which admittedly doesn't mean much at face value. But The Daily Mail and other outlets stated that Lily James was referred to on the call sheets for Rebecca as Adeline, a nod to another Dauphne Du Maurier novel and the connective tissue between James and the rumors.
The rumor mill on this topic had died down more recently, but then this week Armie Hammer stepped down from the upcoming production of Shotgun Wedding, which would have starred himself and Jennifer Lopez and is also expected to be produced by Lopez and Ryan Reynolds. Ergo, it was a pretty big gig. His reason? He called unverified claims that he had sent sexual texts during his marriage that were cannibalistic in nature "bullshit," but said he needed to take a step back to spend some time with his family.
Then, Page Six also unearthed some comments from 2013 in which Armie Hammer described himself as someone who did have a bit less vanilla taste in bedroom activities.
The new messages that have emerged -- but again have not been conclusively tied to the actual Armie Hammer -- have seemed to indicate multiple flirtations outside of his marriage to then wife Elizabeth Chambers. One such message reportedly thanked someone, calling them "kitten" before mentioning, "My wife is with me or else I'd have you come meet me, plug in and hungry for daddy."
Armie Hammer has said the texts cannot be attributed to him, but another of his verified exes, Courtney Vucekovich -- whom he dated briefly -- said that this sort of sexually aggressive language was normal during the tenure of their relationship. She shared a look with The Daily Mail Hammer allegedly wrote that read, "I am going to bite the F K out of you."
And so Armie Hammer has a bit of a pr nightmare on his hands. Did he cheat with Lily James? Did he send these messages with other women? Is some of this true and some of it false? It's all pretty murky at this point, but unfortunately for James herself, people are all too willing to believe a rumor given the Dominic West stuff that came out earlier this year. Sexual preferences are no crime, of course, but if there's anything people on the Internet love, it's talking about the possibility of a juicy affair.
Your Daily Blend of Entertainment News
Reality TV fan with a pinch of Disney fairy dust thrown in. Theme park junkie. If you've created a rom-com I've probably watched it.