Ben Affleck Talks Having To Make It In Hollywood Twice When People Thought He Sucked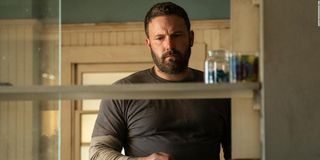 Ben Affleck has been a mainstay in Hollywood for more than two decades. While his career has seen plenty of highs, he's also endured his fair share of professional lows. At one point, he knows, a lot of people thought he really sucked at his job -- and while he's on more stable footing these days, Ben Affleck admits that having to build his career up twice was no easy feat.
While Ben Affleck got his start as an actor in the 1980s, he truly broke out with Good Will Hunting. Winning an Oscar for screenwriting with your breakthrough film has to come with a unique kind of pressure -- and in the following years, he struggled to maintain a consistent profile in Hollywood.
Films like Daredevil and Gigli gave moviegoers a less-than-favorable opinion of Ben Affleck as an actor, and his romantic life became a tabloid obsession. All together, the trajectory of his personal and professional lives made it challenging for Affleck to maintain his career. He recently told The Hollywood Reporter's Awards Chatter podcast that at some point, he felt like it was a struggle to build himself back up:
Battling against rumors and bad reviews can't have been easy, and making it in Hollywood once is hard enough. But there's no denying Ben Affleck was able to accomplish the near-impossible feat of establishing himself as a worthy presence in the industry. In the interview, he also admitted that he felt motivated to beat the odds:
Ben Affleck's second chance in Hollywood hasn't been all smooth sailing. The actor has struggled through divorce and addiction and has also weathered backlash for some of his most high-profile roles, like Batman.
He's also had many of his most impressive career highs in recent years, though. His foray into directing has caused many -- including the Academy -- to see his talent in a new light. So all in all, it's safe to say his comeback, though challenging, was successful.
Your Daily Blend of Entertainment News
Thank you for signing up to CinemaBlend. You will receive a verification email shortly.
There was a problem. Please refresh the page and try again.