Ben Affleck Has Yet Another Directing Gig Lined Up, This Time At Disney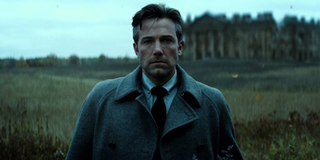 Ben Affleck is a man of many talents, to say the least. The Massachusetts-raised actor has earned two Academy Awards, one for screenwriting and another for Best Picture over the course of his career. Although it's been more than four years since the release of Live By Night, the last film he directed, he's decided recently to get back into the directing game. Now, he's announced a new effort with Disney.
In fact, it seems the actor-turned-director has a number of directorial projects lined up now. The latest announcement will have Affleck taking his talents to Disney with an adaptation of Keeper of the Lost Cities, based on a 2012 fantasy novel by Shannon Messenger.
First reported by Deadline, Ben Affleck is set to take on the New York Times bestseller, currently in development with the House of Mouse. It's unclear where it will land on the actor and director's increasingly busy schedule. Keeper of the Lost Cities follows a telepathic twelve year old as she races against time to discover where she gained her powers and why she has them. This won't be the first time Ben Affleck has directed a novel adaptation, as The Town, Argo and Live By Night are all based on novels in some fashion.
In 2013, Argo was critically acclaimed and nominated for several awards, including seven nominations at the 85th Academy Awards. The historical drama won three Academy Awards, including Best Picture. Ben Affleck was famously not considered for the Best Director category, despite the widespread praise. Perhaps this next time will be the charm.
Working with Disney will likely also mean that Affleck will have to tone down the violence as all of the feature length films he's directed have been rated R by the MPAA. The ratings come as no surprise considering the terrifying films he previously said he likes to watch before hopping into the directors chair. In addition Keeper of the Lost Cities, Ben Affleck is slated to direct Ghost Army, which is in pre-production and is an adaptation of Rick Beyer's book The Ghost Army of World War II.
On the acting front, he has a number of upcoming films, including Zack Snyder's Justice League, where he will reprise his role as Bruce Wayne. DC fans shouldn't worry though, his stint as the Caped Crusader doesn't end there, as he's signed on for Andy Muschietti's upcoming Flash movie.
Fans won't have to wait long to see the actor outside of the cowl. He has two films scheduled for 2021. Deep Water, in which he stars in alongside his girlfriend and Knives Out star Ana De Armas, is scheduled for August 13th, 2021 and follows a couple who begin to suspect one another as those around them mysteriously die. He's also set to play King Charles VI in The Last Duel, which details the sordid story behind England's last sanctioned duel. Ben Affleck is teaming up with fellow Goodwill Hunting star and co-writer Matt Damon for the film, which is set to release on October 15th, 2021.
Ben Affleck isn't the only one who will have a busy 2021, as delays due to COVID-19 have pushed numerous films into this year's schedule. Check out the full list of films with our upcoming release calendar.
Your Daily Blend of Entertainment News
Into tracksuits by Paulie Walnuts, the Criterion Channel and Robert Eggers.