That Willy Wonka Prequel Has A Release Date And Some Big Actors In Mind For The Title Role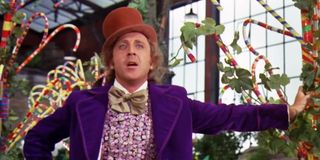 Back in 2018, it was reported that Warner Bros. was going to be revisiting the magical world of Willy Wonka & the Chocolate Factory with an origin story titled Wonka. At the time, there were big name actors being considered for the iconic role of Willy Wonka. Ryan Gosling, Donald Glover and Ezra Miller were the then-prospects for Ronald Dahl's famous confectioner. None of those leading men ended up taking the role, but that's how the cookie crumbles, as they say. Now Warner Bros. has confirmed a release date for Wonka, and there's also some serious talent reportedly being considered for the leading role.
Wonka is scheduled to release March 17, 2023, which is plenty of time to land the all-star talent capable of capturing the magic of Mr. Wonka. It's currently being reported that Dune star Timothee Chalamet and the MCU's web-slinging Tom Holland are being considered to bring the younger Willy Wonka to life.
According to Collider, while neither star has actually been offered the role, they are in consideration to lead a potential franchise. It makes sense considering that both Tom Holland and Timothee Chalamet are among the biggest leading men in Hollywood right now.
Timothee Chalamet was noticeably absent from the 2020 slate due to multiple project delays in light of the COVID-19 pandemic, including Wes Anderson's The French Dispatch. He is fresh off Denis Villenueve's upcoming Dune adaptation, which is set to release this October after being delayed almost a full year. The last release with the Oscar-nominated actor in a leading role was in Netflix's The King. Chalamet also appeared in Greta Gerwig's Oscar-winning Little Women, but took a backseat to the rest of the impressive cast.
Tom Holland has been keeping busy as well, making a slew of on-screen appearances in the last couple of years. His biggest projects have been in the MCU as Spider-Man, most recently with 2019's Avengers: Endgame and Spider-Man: Far From Home. Holland has also shown interest in branching out into more challenging, dramatic roles with 2020's The Devil all the Time and the Russo Brothers' upcoming Cherry.
It's no surprise Warner Bros. may be looking at two of the most talented leading men of their generation to portray young Willy Wonka, as the last two actors to don the signature top hat carry impressive resumes. It's been over 15 years since the candy man was last portrayed by Johnny Depp in 2005's Charlie and the Chocolate Factory. The late Gene Wilder originally starred as Willy Wonka in 1971's Willy Wonka & The Chocolate Factory.
Gene Wilder leaves big shoes to fill considering he wasn't particularly impressed with Johnny Depp's portrayal. Hopefully either Timothee Chalamet or Tom Holland, if either are offered and accept the role, will be able to do the sultan of sweets justice. While 2023 is a long way off, both actors have projects coming out later this year. Tom Holland's Cherry releases on Apple TV+ on March 17. Chalamet fans can see him back in action with Dune on October 1.
For the rest of this year's upcoming movies, be sure to check out CinemaBlend's 2021 release schedule for the latest on the biggest films coming to the big (and small) screen.
Into tracksuits by Paulie Walnuts, the Criterion Channel and Robert Eggers.
Your Daily Blend of Entertainment News
Thank you for signing up to CinemaBlend. You will receive a verification email shortly.
There was a problem. Please refresh the page and try again.