Looks Like Walt Disney World Is No Longer Social Distancing On Some Rides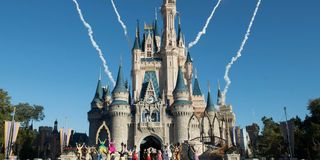 It's been a few months since Walt Disney World reopened its gates and welcomed fans back in - albeit in a socially-distanced capacity. While the park has maintained standards to attempt to prevent the spread of COVID-19, some have continued to express concerns about safety, particularly as the pandemic has continued to rage across the United States. Now, it appears as though guests can board some rides without the park's previous social distancing measures in place.
In March 2020, Walt Disney World parks were among those that closed due to the global pandemic. It was a historic move by Disney, one that lasted for several weeks and had significant financial effects on the company. When the park reopened this summer, it looked very different from the Walt Disney World many fans know and love -- in addition to reducing capacity and implementing sanitization stations, the park also enforced socially distanced lines and rides did not run with every row filled.
Now, according to Attractions Magazine, at least one attraction at Walt Disney World parks is no longer requiring guests to social distance when they are riding. In December, Expedition Everest at Disney's Animal Kingdom was seating guests in every row of the ride.
Given that COVID-19 cases in the United States are still on the rise, the relaxation of social distancing standards is notable. Disney responded to questions about rides running at full capacity, stating that park practices are constantly evolving and any decisions have been made in consultation with Florida health experts.
To that point, Disney officials have explained that Walt Disney World reopened with science-based health and safety protocols in place. As of a result of this measured approached, the company has to evaluate its plans and make adjustments as time has passed based on changing circumstances and recommendations from health officials. And due to some attractions' ride designs, the park is now boarding every ride seat, a choice that has reportedly received support from public health entities. Expedition Everest in particular is known to have sufficient ventilation. Officials also say capacity has not changed since the company's last earnings call.
It's also worth noting that Disney Parks is not the only theme park company to make these kinds of adjustments to their attractions. Universal made similar changes this past summer with the help and support of local health officials.
Disney is also still encouraging other social distancing measures, including mask wearing and is still maintaining other measures like temperature screenings and increased cleaning and disenfecting. They've even brought in some backup to help with enforcement. That will likely be the case for the foreseeable future -- in fact, the Disney Parks Chairman has acknowledged that some of its pandemic-related changes will be here to stay.
These changes have undoubtedly caused some tension for guests at Walt Disney World. Reports of altercations have made headlines, though it's worth pointing out that incidents like that have been few and far between. While there's still a debate as to whether a visit to an amusement park is worth the time and potential risk, it hasn't stopped fans from making the trek. Walt Disney World was reportedly nearing capacity as recently as a couple of weeks ago.
Would you feel comfortable riding an attraction that was full today? Are you planning on visiting Disney before the pandemic is over? Let us know in the comments!
Your Daily Blend of Entertainment News