Amber Heard's Legal Team Wants To Rope In Disney About Johnny Depp's Behavior On The Set Of Pirates Of The Caribbean And More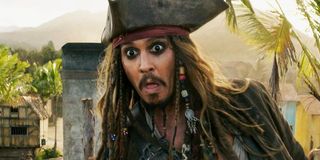 It's a well-known fact that Disney and Johnny Depp have had a long working relationship, particularly on blockbusters like Pirates of the Caribbean and Alice in Wonderland. However, the House of Mouse had seemingly cut ties (though not in any official capacity) with the actor before his recent court cases in both the U.K. and the U.S. became big news. Now, however, it seems that Amber Heard's legal team wants to rope in Disney individuals in the know about Johnny Depp's behavior on set and more.
A recent subpoena regarding the upcoming suit and countersuit filed by both Johnny Depp and Amber Heard's legal teams in the state of Virginia has been making the rounds. The subpoena allegedly wants access to a slew of information related to Johnny Depp's time on the set of Pirates of the Caribbean, which was previously a focal point in Depp's U.K. libel case when Amber Heard claimed Depp took her "hostage" during one of the franchise's film shoots.
Now, Amber Heard's legal team is requesting someone at Disney be involved in a virtual deposition about Johnny Depp, Pirates of the Caribbean: Dead Men Tell No Tales, and any information Disney might know related to Depp's behavior during that timeframe. If it happens, the deposition would occur on February 18.
Meanwhile, Amber Heard's legal team is also requesting a slew of documentation from Disney. Per the information Deadline obtained, the team is looking for "incidents of drug or alcohol use," "any delays or tardiness caused by Mr. Depp," "any incidents of violence or abuse by Mr. Depp" and more. The team is also reportedly looking intently at what happened when Pirates of the Caribbean: Dead Men Tell No Tales was filming. Heard's team wants information on "disagreements" of all sorts, including about how Johnny Depp handled possible issues with "hiring" and "casting" in the film, not to mention with "writers, directors, or producers" in the franchise.
That's a lot of information and it's not all, as Amber Heard's legal team wants Disney to cede literally any communications they had with Johnny Depp over the last few years, between January 1, 2018 and when the request was made. Pirates of the Caribbean: Dead Men Tell No Tales came out in 2017 and Johnny Depp had been at work on the Fantastic Beasts films as well as a few other movies in the time since his last turn playing Captain Jack Sparrow, but could have still been communicating with Disney during that time.
Again, formally Disney did not sever ties with Depp. He was not asked to step down from Pirates of the Caribbean like Warner Bros. asked him to do with his Grindelwald role and there was even some recent speculation that the studio might be or have been looking to get Johnny Depp to cameo in a new movie. This was even after reports came out the company may be moving forward with a reboot that would be fronted by Margot Robbie. It's unclear what any of this could do with the case between Amber Heard and Johnny Depp, but Heard's legal team is asking for the information regardless.
Depp is suing for $50 million after Amber Heard wrote an Op Ed in which she discussed being abused, though she didn't expressly name her ex-husband Johnny Depp in the piece. She later alleged he had abused her as part of the court case Depp ultimately lost in the U.K. She is also countersuing the actor for $100 million.
We'll have to wait and see if any of these requests pan out as the court case moves forward, though that should be less of an issue than it once was. A while back, one big obstacle to the Virginia case was Johnny Depp filming Fantastic Beasts 3 at a time that was opposite the months when Amber Heard was allegedly due to film Aquaman 2. Now that Depp is out as Grindelwald, this should be less of an issue moving forward.
Your Daily Blend of Entertainment News
Reality TV fan with a pinch of Disney fairy dust thrown in. Theme park junkie. If you've created a rom-com I've probably watched it.