Dwayne Johnson And Southland Tales May Have Prevented An Alternate X-Men Movie From Happening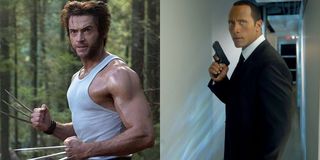 CinemaBlend participates in affiliate programs with various companies. We may earn a commission when you click on or make purchases via links.
When you land a smash indie hit like Donnie Darko, the world can't help but take notice. A mind-bender like the iconic Jake Gyllenhaal-starring sci-fi thriller almost always makes waves for a talent like writer/director Richard Kelly, and when Hollywood came a'callin in one particular instance, we could have seen an alternate X-Men sequel happen with his talents applied that very project. However, there was a huge lesson that Kelly learned when it came time for him to turn down that rather promising gig: when you have a movie as weird as Southland Tales on deck, and you have an embarrassingly awesome ensemble that includes an early performance from Dwayne "The Rock" Johnson, you can't turn your back on what you have in front of you.
This fitting conversation took place during a phone call with Richard Kelly, as he was promoting Arrow Video's new Blu-ray for Southland Tales, which now has the fabled Cannes Cut of the film released into the wild for the first time. On behalf of CinemaBlend, I was given the opportunity to discuss what's become a cult classic over the years, but in my research, I came across the fact that if it wasn't for this audacious sci-fi comedy, we could have seen Kelly tackling what would have been his version of 2006's X-Men: The Last Stand. Not sure if this was one of those older news items that somehow grew through a years-long game of telephone, I asked him about that prospect, and Richard Kelly not only confirmed that this was a true story, but he explained why he ultimately had to turn it down:
Looking back at the names that were in contention for X-Men: The Last Stand's director's chair, it really was a wild time to be making a follow-up to the insanely successful X-2: X-Men United. When then-franchise steward Bryan Singer left his director's chair, Kingsman's Matthew Vaughn, mother! director Darren Aronofsky and even Zack Snyder himself were part of the wide net considered to helm this early comic book film juggernaut. But looking at Richard Kelly's unique skill set, his version of a story where mutant outcasts struggle and lash out in the quest for acceptance would have been the stuff of dreams.
Imagine an X-Men sequel where Jake and Maggie Gyllenhaal could have played vastly different versions of Quicksilver and Scarlet Witch, way earlier than their eventual appearance in Avengers: Age of Ultron. While that possibility isn't drawn from any sort of fact, having Richard Kelly bring his Donnie Darko experience to the world of Professor Xavier's School for Gifted Youngsters could have branched off into that very dream scenario. But even with the lack of details as to how he would have approached the world of the X-Men, a Kelly-written and directed sequel would have been absolutely wild.
However, two roads diverged in Richard Kelly's career path, and he could not walk both. It was either play with Marvel's mutants or make a crazy thrill ride with Dwayne Johnson piecing together a doomsday conspiracy. And while the dreams above are sweet ones, the reality of his underrated Southland Tales being brought into the world are even sweeter. A uniquely weird movie that satirized politics and social media through the lens of metaphysical science-fiction, it's a movie that only Kelly could have made; and even he's not entirely done with it yet. But does this mean we'll never see Richard Kelly dip his toes into the world of mega-comic book franchises? Well, not entirely, as he addressed that potential with a very optimistic outlook:
Considering Richard Kelly has teased that the world of Donnie Darko is one of those ideas he's been revisiting over the past couple of years, and with an expanded two-film experience in mind for his full and complete version of Southland Tales, it sounds like his personal sandbox is blazing with content waiting to burst out into the world. The X-Men series will always have a fair share of creators looking to leave their stamp on that world. But creators like Kelly building their own worlds of mystery and illusion are at a premium, as we can always use a movie as weird as his unfairly maligned masterwork.
This, of course, makes now a perfect time to revisit Southland Tales, both in its theatrical and Cannes Cuts, as they are available on Blu-ray, courtesy of Arrow Video. Oh, and don't forget to never, ever, turn your back on Dwayne "The Rock" Johnson; because unless you really deserve it, he wouldn't do that to you.
This poll is no longer available.
CinemaBlend's James Bond (expert). Also versed in Large Scale Aggressors, time travel, and Guillermo del Toro. He fights for The User.
Your Daily Blend of Entertainment News
Thank you for signing up to CinemaBlend. You will receive a verification email shortly.
There was a problem. Please refresh the page and try again.