Turns Out Christopher Nolan Gave A Key Piece Of Advice For Jake Gyllenhaal's Donnie Darko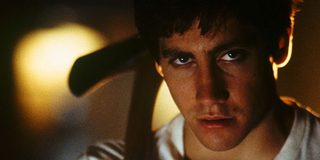 When talking about films with a cult following, 2001's Donnie Darko is bound to find its way into the conversation. Originally premiering at the 2001 Sundance Film Festival, it almost went straight to home video before securing a last minute theatrical release. The film had a solid return at the box office for an independent film, taking home $7.5 million on a $4.5 million budget and spawned a sequel. It also helped launch the career of Jake Gyllenhaal, who was only 19 when Donnie Darko was filmed. In addition to the impressive cast, another Hollywood juggernaut helped the movie secure its place in cinema history. It turns out that Christopher Nolan (a fan of time manipulation himself), had a hand in securing a theatrical release in addition to giving one piece of advice that made Donnie Darko easier to understand.
Writer and director Richard Kelly recently revealed that Christopher Nolan and his wife played a pivotal role in making one change to Donnie Darko that had major implications for understanding the film. That idea?
In his interview with The Ringer, Richard Kelly identified Christopher Nolan and his wife as the brains behind the parenthesis in the iconic title cards for the film. That may seem minor from the outset, but fans of Donnie Darko may remember the film transitions over the course of 28 days, with a small parenthetical below the date letting viewers know exactly how much time is left before the world ends. It looks like this:
The defining parentheticals help viewers understand the complex time travel in the film, and the choices Donnie makes as he navigates the tangential reality he finds himself in. Although the ending reveals exactly what was going on throughout the film, it can easily leave viewers scratching their heads upon first viewing. Without going too far into dissecting the time travel of Donnie Darko, it's clear that the small addition of time remaining for Donnie is a huge help in digesting the film.
It wasn't just the title card change that Christopher Nolan had his hand in. After failing to secure a theatrical distributor after the Sundance premiere, Richard Kelly invited Newmarket executives, Christopher Nolan and his wife to a screening. In his interview he mentions just how pivotal those invites were to finally getting Donnie Darko into theaters:
The suggestion by the pair worked and the rest is history, as they say. Unfortunately, Donnie Darko saw minimal marketing as it went to theaters just after 9/11. The trailer, which featured the jet engine crashing through a suburban home, was hardly advertised due to the similar subject matter.
Despite the lack of advertising, Donnie Darko saw success at the box office and on home video and retains its cult-following status to this day. Fans of Richard Kelly can revisit his iconic film for free on PlutoTV right now. As for upcoming film fare, be sure to check out CinemaBlend's 2021 release schedule for the latest on this year's movie slate.
Into tracksuits by Paulie Walnuts, the Criterion Channel and Robert Eggers.
Your Daily Blend of Entertainment News
Thank you for signing up to CinemaBlend. You will receive a verification email shortly.
There was a problem. Please refresh the page and try again.